USA

The Rising Utilization of Yoga and Meditation

IN NOVEMBER OF 2018, THE National Center for Complementary and Integrative Health (NCCIH), released its report of a recent survey detailing the rise in yoga and meditation practices among adults and children in the US over the past five years. The report compares surveys taken in 2012 and 2017. According to David Shurtleff, Ph.D., acting director of NCCIH, "The 2017 NHIS survey is the most current and reliable source of information on the use of specific complementary health approaches by US adults and children. The survey data suggest that more people are turning to mind and body approaches than ever before."

One of the greatest increases was that of meditation among children (ages 4-17), which rose from 0.6 percent in 2012 to 5.4 percent in 2017, while the use of yoga among youth increased from 3.1 to 8.4 percent. Among US adults, yoga continues to be the most commonly used complementary health approach, and has increased in usage from 9.5 percent in 2012 to 14.3 percent in 2017. Meditation among US adults has risen more than threefold, from 4.1 to 14.2 percent. If trends continue, we are likely to see more and more Americans enjoying the proven benefits of both practices.
MUSIC

Evolving the Nagaswaram

THE MOST MEMORABLE sound from any South Indian tem ple event might well be the nagaswaram. This double-reed instrument, among the world's loudest woodwinds, has an ancient place in Hindu temples. Its origin is as elusive as that of the whole of Carnatic music, but there are hints to its precursors in the ancient Rig Veda scripture, which describes wind instruments called Nadi Santhanam being used at fire ceremonies.
Through the ages, various styles have emerged, the two primary being timiri and baari. Timiri is a smaller, high-pitched version, while the baari, of lower pitch and is about two to two and a half feet long. They are commonly made of fromebon wood harvested from the forests of Thanjavur and other nearby areas. Playing the timiri nagaswaram, in particular, requires enormous effort. Nagaswaram player Enjikudi E.M. Subramaniam told The Hindu in a recent article, "Timiri was needed when there were no loudspeakers. Singers also rendered songs in a high pitch to reach out to the man sitting in the last row." According to Thiruvavaduthurai T.N. Rajarathinam Pillai, a famed nagaswaram player of the early 1900s, the timiri is unable to properly play the mathyama shruti (a specific interval between notes). Inspired by this lack, he commissioned instrument maker N.G.N. Ranganatha Asari to re-imagine the instrument for modern times. Ranganatha succeeded, producing the pari nagaswaram, which has a pleasing sound and is much easier to play than its predecessor. December 2018 marked Ranganatha's birth centenary. At Narasingampettai, a small town in the Thanjavur district, his sons continue to make nagaswarams today.
INDIA

Shivakumara Swami Attains Mahasamadhi at age 111

ON JANUARY 22, AT 111 YEARS of age, Sree Sree Dr. Shivakumara Swami left his earthy frame. Swami was the recipient of the 2013 Hindu Renaissance Award as "Hindu of the Year" for his exemplary leadership, with an impact not only in Karnataka but around the world. When Swamiji was born, Mahatma Gandhi was a 39-year-old lawyer in South Africa and Swami Sivananda a 21-year-old medical student in Tanjore. World War I ended when he was 11; the Soviet Union formed when he was 14; World War II began when he was 37 and Neil Armstrong landed on the Moon when he was 61.

By the 1990s, Sree Sree Dr. Shivakumara Swami was in his 80s—well beyond normal retirement age, but far from retired. As head of Siddaganga Math, one of the foremost Lingayat maths in Karnataka, he continued to not only fulfill his religious duties, as he had since 1941, but was also teaching mathematics, Sanskrit and English in the Siddaganga school system. He remained fully immersed in the affairs of the math, overseeing the running of its 132 educational institutions, which serve 9,000 students drawn from the poorest regions of the state, and seeing to the needs of hundreds of thousands of devotees. For our story on Swamiji and his work, from the Apr/May/Jun, 2013 issue of HINDISM TODAY, go to: bit.ly/Siddaganga (case sensitive).
MUSEUMS

The Playful Protector

A RECENTLY ORGANIZED EXHIBITION at the Denver Art Museum brought forward Hinduism's beloved Lord of Art and Science. "Ganesha: The Playful Protector" introduced museum guests to this portly elephant-faced God with one of the earliest known Ganesha statues from mainland Southeast Asia. The 29-inch tall Ganesha, on loan from the National Museum of Cambodia as the centerpiece for the exhibit, is dated between the 7th and 8th centuries. The Denver Art Museum's own collection of Ganesha-related sculptures, paintings and textiles were also on display. The exhibition ran from October 1, 2018, to January 13, 2019.
ECONOMICS

Owning Up to Plunder

AN ESSAY RECENTLY PUBLISHED IN THE COLUMBIA University Press tackled the intriguing question of just how much wealth Britain took from India over its 200-year rule. The essay's author, Utsa Patnaik, is a respected economist who has done ample research on the tax and trade data between colonial Britain and India. She has concluded that what was drained from India between 1765 and 1938—in terms of taxes and trade goods such as textiles, precious metals, teas, spices and more—amounts to just under $45 trillion. Not million, not billion, but $45 trillion. The net worth of the UK's economy in 2016 was just shy of $10 trillion. If India had that much money today, it could buy the entire UK four and a half times.
FOOD

The Rise of Plant-Based Dining

IF YOU'RE A VEGETARIAN OR vegan in the United States, you might be familiar with the challenge of finding decent restaurant options that fit your diet. While countries like India have long had ample options for those wanting to avoid harming animals or who simply want to stay healthy, many Western countries have a long-standing culture of meaty menus. Thankfully, there appears to be a trend towards plant-based meals as more and more restaurants are finding it crucial to maintain vegetarian and vegan items on their menus to avoid losing customers.
A recent survey by the National Restaurant Association asked 700 chefs from the American Culinary Federation for their thoughts on what the most popular culinary concepts for 2019 would be. Of the chefs, 64 percent gave high importance to the use of plant-based protein such as vegan sausages and burgers, with three of five chefs giving mention of substituting veggies where one would usually see starches. Other important trends were the use of vegetable-forward cuisines, menus that provided hyper-local, all natural ingredients, and a growing commitment to food waste reduction. Even McDonalds is moving towards providing plant-based options, such as their recent release of a veggie Happy Meal in the UK.

Though not one's idea of "eating out," if you've ever found yourself in a hospital, then you probably know just how unappetizing hospital food can be. However, there might be a brighter, hospital-food future in the works if current trends continue. In September of 2018, California Governor Jerry Brown signed into law a first-of-its-kind bill, SB 1138, which requires licensed California health care facilities and state prisons to make available plant-based meal options containing no animal products or by-products, including meat, poultry, fish, dairy or eggs. According to an article published in AP News, California Physicians Committee president Neal Barnard, MD, stated, "Thanks to Sen. Nancy Skinner and Gov. Jerry Brown for passing this historic law that will provide plant-based options to hospital patients looking to fight heart disease, diabetes and obesity—or who simply want a more healthful meal. Now, it's time for California hospitals to start putting into practice the plant-based meals recommended by the American Medical Association and the American College of Cardiology."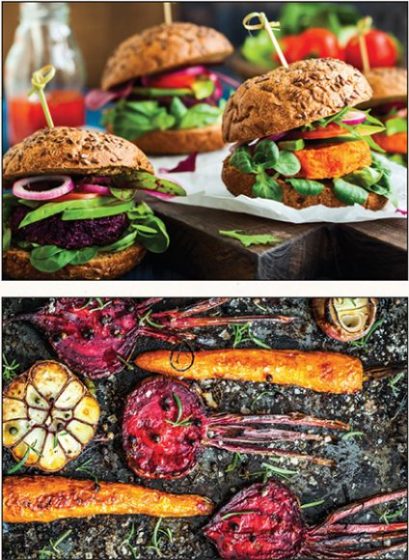 This follows a 2017 declaration from the American Medical Association calling on US hospitals to improve the health of patients, staff and visitors by providing plant-based meals.
Briefly…
COMMEMORATING THE 20TH DEATH anniversary of Hindu thinker and scholar Shri Ram Swarup, the Indic Academy has instituted a Ram Swarup-Sitaram Goel Memorial Fund for promoting Indic research and publication. Shri Ram Swarup and Shri Sitaram Goel are towering intellectuals, widely regarded as the pioneers in Indic history research and politics in the post-Independence time frame. The memorial fund, established with an initial corpus of approximately US $28,600, is aimed at the propagation, research and publication of studies in different areas of Indic history.

ON DECEMBER 4, 2018, THE HINDU American Foundation launched a new campaign, "I Am Hindu American" to improve awareness of the Hindu religion and Hindu Americans. The multi-platform initiative includes a social-media campaign, a 30-second PSA, and a companion website to provide valuable resources about Hinduism and Hindu Americans. In collaboration with more than 300 community partners around the country, the PSA is being distributed through social media networks nationwide to boost awareness and clarify common stereotypes and misunderstandings about Hinduism.
Global Dharma
news provided by

HINDU PRESS
INTERNATIONAL

Subscribe to a free daily
news summary about
Hinduism worldwide at
hinduismtoday.com/hpi