INDIA

Amarnath Yatra Concludes

THIS YEAR'S TWO-MONTH-long Amarnath yatra was peacefully conducted and the traditional prayers were made at the famous cave shrine of Lord Siva, reports The Tribune (India). Puja was held when the Chhari Mubarak (holy mace) depicting Lord Siva and Goddess Parvati arrived at the shrine. "We prayed for peace in the state as well as the country," said Mahant Deependra Giri, custodian of the mace, who had led a group of sadhus to the cave shrine. According to Bhupinder Kumar, Additional CEO of the Shri Amarnathji Shrine Board, over 285,000 yatris performed the pilgrimage this season, compared to 260,000 last year. The yatra begun on June 28, amid security concerns over inclement weather that posed various challenges, causing periodic closures of the route. During the first two weeks, several pilgrims had to go back from the base camps without completing the yatra. Weather conditions later improved later and the yatra proceeded smoothly.

The Amarnath yatra follows two arduous paths, the Pahalgam and Baltal routes. The shrine itself is nestled in the South Kashmir Himalayas at an altitude of 13,500 feet.

Logistics this year included 40,000 security personnel, of which 15,000 were of the Central Armed Police Force. Ten emergency centers, 30 medical centers and five base camp hospitals were set up along routes, and 110 CCTV cameras with live streaming watched over the two routes.
UNITED KINGDOM

Ganesha Visits Oxford

THE LOCAL HINDU COMMUNITY was joined by people of various other cultures on September 15, 2018, in celebration of Oxford's first Ganesh Utsav festival, held in Botley, England, a village of about 31,000 just outside the Oxford city limits.

As reported by the Oxford Mail, the festival was organized and paid for by husband and wife Sesh and Jyoti Parimi as a way to give back to the community for the warm welcome they recieved when they moved to here a few years ago.

The celebration, which drew about 400 people, began with the Pranapratishtha, "bringing to life" ceremony—the priests' invoking of the Deity into the clay murti by chanting traditional Sanskrit mantras. The festival included wonderful performances by traditional Indian dancers, a catered lunch, lots of street food and the enthusiastic singing of bhajans. It all ended with the traditional parade to a nearby river to immerse the Ganesha murti into the water, symbolizing the eventual return—not only of Ganesha but of all existence—to the Source of all.

Ganesh Utsav, also known as Ganesha Chaturthi, is an annual festival celebrated by Hindus worldwide as the birthday of the elephant-headed God Ganesha. Hindus believe in one Supreme God (called by various names), who created all that exists—including great inner-plane beings such as Ganesha, who are also known as Gods but not confused with the Supreme God Himself/Herself (though in one tradition Ganesha is Supreme God).
Mrs. Parimi said Oxford, a renowned hub of education and intelligence, seemed a fitting place for this festival, as Ganesha is revered as the lord of intelligence, prosperity and dharma (good conduct and virtuous and moral living). The Parimis want to make this an annual celebration here, and many have already offered to contribute to next year's event.

NEPAL

Manakamana Temple Rebuilt

ACCORDING TO A SEPTEMBER 15, 2018, article in the Kathmandu Post, restoration is now complete on Nepal's beautiful Manakamana Temple, a popular pilgrimage site and tourist attraction that was badly damaged during the earthquake of April 25, 2015. Perched on a hilltop in the Gorkha district some 60 miles west of Kathmandu, the temple was damaged by earlier earthquakes in 2001 and 1934 and had long been slated for reconstruction. The 2015 earthquake tilted it some 9-12 inches to the northeast, and cracks had developed in its pagoda-style roofs.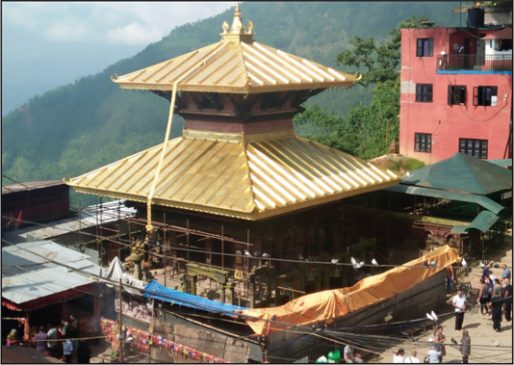 Damaged beyond all hope of repair, the structure was completely removed and is being rebuilt on a new foundation at a cost of US$1.8m. With permission from the Department of Archaeology, the roofs were plated with 40 pounds of gold, at an additional cost of US$1.25m.

Renovation work started in June 2015, and the temple is expected to be reopened to the public for this year's 15-day Dashain festival in October, Nepal's largest festival. The site attracts thousands of devotees during that event, which is celebrated by Hindus and Buddhists as the triumph of good over evil.

The temple Deity, Manakamana, is a popular wish-fulfilling Goddess. According to legend, the 17th-century king Ram Shah of Gorkha learned in a dream that his queen had divine powers. After telling her of his dream, he fell ill and died. Following the custom of the day, the queen committed sati by throwing herself on his funeral pyre. The king's personal secretary, Lakhan Thapa Magar, had begged her not to do so, but she had assured him she would soon return. Some months later a farmer, plowing his field, struck a stone which began to flow with blood and milk. Believing the queen had returned at that spot, Thapa Magar built a temple there. To this day the descendents of Lakhan Thapa Magar, now in their 17th generation, serve as the priests in this temple.
TEXAS, USA

Diwali in Texas

SKEETER STADIUM IN SUGAR LAND, Texas, was the scene of the seventh annual Diwali and Dussehra festival held there by the Shri Sita Ram Foundation, which provides funding to programs that promote Vedic culture. The Houston Chronicle reports that the stadium, usually filled with baseball fans, was packed with tens of thousands enjoying myriad programs promoting Indian culture, including plays by children depicting Indian epics. Guests of honor included Governor Greg Abbot as chief guest, and US Representative Pete Olson as parade marshal. Drums and Indian dance music resounded as the crowd walked under yellow banners reading "Jai Shri Ram," or "Victory to Lord Rama," enjoyed the performances and shopped at dozens of red vendor tents showcasing saris, linens, candles, jewelry and intricate henna "tattoos," (which last about seven days). The celebration concluded with a parade and fireworks.

Sugar Land is located about 22 miles from Houston. Its fast-growing Indian population jumped 83 percent between 2000 and 2012, according to the Migration Policy Institute.

Usually celebrated in the area around November 7th, the Diwali festival, also called the Hindu Festival of Lights, was observed early this year in Sugar Land. Like various other Hindu festivals, it celebrates the victory of good over evil.
INDIA

The Statue of Unity

IN LATE OCTOBER THE INDIAN state of Gujarat held the inauguration for what is now the world's tallest statue. The Statue of Unity is a massive, 597-foot-tall monument to Vallabhbhai Patel, commonly known as Sardar Patel, a founding father of the Republic of India. India's first Deputy Prime Minister, Patel was largely responsible for persuading nearly every princely state to voluntarily accede to India following the Indian Independence Act of 1947.

The statue was modeled on an enlarged 3D image of a 30-foot sculpture crafted by 93-year-old Ram Vanji Sutar. The construction began in December of 2015 and took 33 months to complete. According to the India Times, it required 235,000 cubic yards of concrete, 20,000 tons of reinforced steel, 1,800 tons of bronze and another 2,000 tons of bronze cladding. The statue is located two miles downstream from the Sardar Sarovar Dam, on Sadhu Hill, in the middle of the Narmada River. It stands both as a symbol of national pride and a tribute to India's engineering prowess.
HAWAII, USA

Hawaii and Goa Become Sister States

HAWAII GOVERNOR DAVID Y. Ige signed a sister-state agreement with delegates from the Indian state of Goa, on Friday, September 8, 2018, thus creating Hawaii's first sister-state relationship with an Indian state. As reported on Hawaii's "Big Island Now" website, Goa's Director of Art and Culture, Gurudas Pilarnekar, signed the agreement on behalf of the Goa state government. The agreement is intended to promote trade, tourism, information technology and the exchange of health and wellness, agriculture, culinary art, education and cultural programs between private-sector organizations and universities of the two states. Attendees included the editors of HINDUISM TODAY.

Helping to initiate this historic agreement were Hawaii's US Rep. Tulsi Gabbard, who met with India's Prime Minister Narendra Modi and political leaders of Goa during her December 2014 visit to India; Dr. Raj Kumar, president of the Hawaii chapter of the Indian-America Friendship Council and Gandhi International Institute for Peace; Hawaii State Sen. Brian Taniguchi; and Hawaii State Rep. Ken Ito.

Rep. Gabbard related, "I shared my vision with the Goa representatives to establish a sister-state relationship between Goa and Hawaii. I am overjoyed that this relationship is coming to fruition, for both Hawaii and Goa are exemplary places of peace and tranquility."

Gov. Ige said, "The US-India partnership is an important one, and the Hawaii-Goa relationship will help strengthen this bond. We welcome people from Goa to invest in Hawaii's economy and share their traditional and cultural values with us."

Sen. Taniguchi noted, "India is not only the world's largest democracy, but it has one of the fastest-growing economies. Educational and intellectual exchanges between our schools and institutions of higher learning can greatly benefit from this relationship."

Rep. Ito commented, "I look forward to Hawaii developing more business and cultural linkages with Goa, India, for the benefit of both. India's rich heritage fits well in the fabric of Hawaii's rich mix of cultures."

Hawaii's Chamber of Commerce president and CEO Sherry Menor-McNamara added that the new relationship "serves to facilitate greater foreign investment between the two states and increased opportunities for mutual economic, educational, tourism and cultural exchanges."
Briefly…
IN OCTOBER, 2018, HINDUS IN Trinidad enjoyed the celebration of Nau Raatri. This is just one of the Hindu festivals that has become extremely popular across the nation, owing to enthusiastic local Hindus who have kept their tradition strong over generations of living in the small island nation.

IN ASSOCIATION WITH INDUS University, the India Inspires Foundation recently released an informative video on YouTube about the wonders of the Kumbha Mela and the beauty of Sanatana Dharma. The video features several prominent speakers, including Vamadeva Shastri, Rajiv Malholtra, Maria Worth and Ram Das Lamb. It highlights many aspects of the Kumbha Mela as well as the religion itself. See: www.youtube.com/watch?v=ReWiJ4pd6Kc
Global Dharma
news provided by

HINDU PRESS
INTERNATIONAL

Subscribe to a free daily
news summary about
Hinduism worldwide at
hinduismtoday.com/hpi