SURINAME
Divali with Love
KARAN GOKOEL, SURINAME
THIS PAST OCTOBER, 2017, THE country of Suriname celebrated Divali—the biggest religious festival among the country's Hindus. The most important aspect of Suriname's festival is the lighting of the Mega Diya in Independence Square, at the center of Paramaribo, the Capitol. Hindus and non-Hindus alike take part in the massive celebration. The Great Lamp (see photo), requiring hundreds of liters of ghee, is lit at the start of Divali week, usually five days before Divali itself.
During the festival, citizens believe it is very important to clean your home and purify your mind. Thus, alcohol is avoided, and many non-veg Hindus temporarily become vegetarian. But eating sweets and other treats is an intrinsic part of the joyous event. The idea behind Divali is to welcome the light in your life.

Independence Square is flanked by the Presidential Palace, the Court of Justice, the National Assembly, the Congress Hall and the state flags. Divali day is a national holiday; government offices and shops are closed. People bring ghee all through the week to keep the mega diya burning.

Nearby there is religious singing and dancing, float parades and burning torches, as people from many parts of the country come together. The "flying" Hanuman is a big attraction, as the heroic God is landed from in the square by means of a crane or cable car.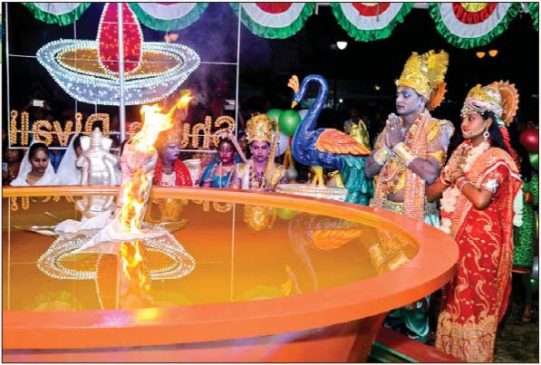 Ironically, the great lamp, or kappa, was originally a vessel used to cook food for slaves. Many kappas are found in museums as colonial heritage. The Independence Square kappa, which weighs hundreds of kilograms, has been transformed into a beautiful lamp, whose large flame is protected from rain by a tent.

Divali is essentially a one-day celebration, but preparations often start weeks in advance: decorating and cleaning the house and surroundings, buying diyas and preparing treats.
HISTORY
Egypt's "Hindu Palace"
THERE ARE NO HINDU TEMPLES in Egypt and any existing Hindu population likely evacuated the country during the 2011 Egyptian Arab Spring protests. Yet due to the Eastern inspiration of a 19th-century billionaire, a Belgian Baron named Edouard Empain, the country holds a grand edifice known as the Baron Empain Palace or Le Palais Hindou, literally the Hindu Palace.

Built between 1907 and 1911, the palace is one of history's finest and earliest examples of reinforced-concrete construction. It is said that the entire structure, or possibly one tower, could be rotated 360°. There is no doubt, however, that the three-story staircase inside is an architectural wonder.
Modeled after the Hindu temple Angkor Wat in Cambodia and temples of Orissa style in India, it presides over lush gardens in the upper-class suburb of Heliopolis—once a separate city, but now merged with Cairo as a district of that city.

The inside was a lavish home occupied by Edouard and his family and the scene of many elite dinners with local aristocrats. His wife and daughter died in the home from mysterious circumstances. The family lived there until they sold it at auction to Saudi investors in 1957.

The new owners hoped to resell it at a profit, but left it to become more and more dilapidated, plus it was frequently vandalized. Finally, the Egyptian government decided to acquire the palace in March, 2005, on the eve of the centenary of Heliopolis. It has been partially restored and glows at night under high-tech lighting.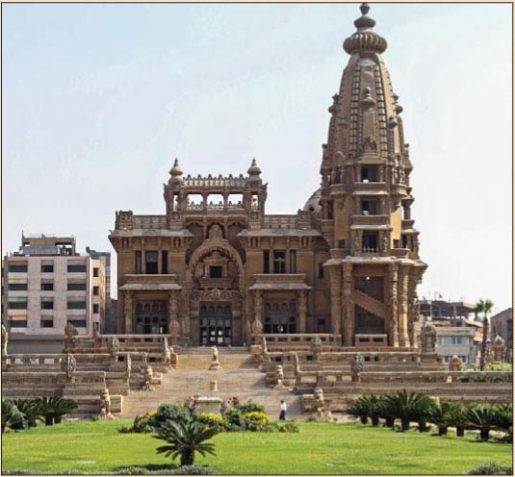 CAMBODIA
Shadows of Promise
SHIVALI BHAMMER, NYC
THE INDEPENDENT PAPER IN the United Kingdom reported this past November, 2017, on two ambitious sisters reviving the many art forms of Cambodia. Popularly known only for the Khmer Rouge regime (1975-1979) or Angkor Wat, Cambodia has a rich cultural heritage which was forcibly and dramatically swept away by communist and classless ideals which led to the death of two million people, including intellectuals, artists and monks. The artistic forms that did survive were forced underground and are now resurfacing through the younger generations, who seek to explore the depths of their heritage and culture.

One of Cambodia's sacred forms of art is vast-scale shadow puppetry, sbek thom, depicting stories from the Ramayana. The puppets, carved in exceptional detail, can be as tall as seven feet. Sbek thom dates back to pre-Angkor Wat times.

Cambodian theaters receive no support from the government or NGO funding. But individual Cambodians, such as the two sisters behind the three-day Bonn Phum Festival, are ensuring that places like Sovanna Phum, a small independent arts theater, secure their place in the hearts of the people and have the support they need to thrive. Through a series of Kickstarter campaigns and other funding strategies, they have managed to keep the doors open.

Not only the ancient art of puppetry is in the spotlight. LePetitJournal.com, in January, 2018, gave an outstanding review of Memories in Motion, a show performed by the Royal Ballet of Cambodia, choreographed by Princess Norodom Buppha Devi. The three-part performance included tales from the Ramayana.
The resurgence of Cambodian arts, dance, music and puppetry is reflective of an awakened society. Cambodian art presents the tales of a spiritual and religious past, grounding them in the present. Concepts of dharma were often expressed through theater so that the audience could understand the infinite through the creative. Now, Cambodians, again through art, are giving their audiences a chance to recall the infinite.
HINDU SANGAM
The Princess Becomes a Hindu
ON JULY 17TH, 2017, THE Princess of Java, Indonesia, Kanjeng Raden Ayu Mahindrani Kooswidyanthi Paramasi, officially converted to Hinduism in a ceremony known as Sudhi Wadani. The ritual, whose name means "initiation into Hinduism," was held at the Pura Luhur Catur Kanda Pat Sari Temple.
"Returning to the path of dharma is something I've wanted to do for a long time," said the Princess, "I am very grateful. Today is a good day because my own heart and my brother supported the move to Hinduism."

The princess said she has always felt peaceful when praying in a temple and her entire family supported her decision to embrace the path of dharma as a Hindu.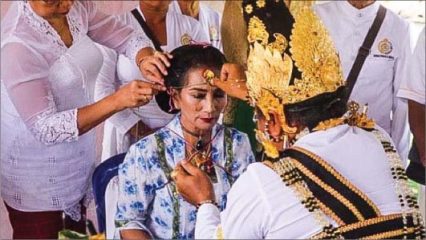 GERMANY
Madel Approves Temple Site
IN JANUARY, 2018, A GERMAN milk cow named Madel gave her approval to a proposed site for a temple at the edge of Bremen, Germany. The local Hindu community had borrowed the cow to determine whether the land, a leased parcel, would be appropriate for a temple.

"If she stays there, it's a good place to build a house or a temple," community leader Pathmakaran Pathmanathan told German news agency Deutsche Welle. "There are lots of people here, and yet the cow feels happy nonetheless."

Madel's relaxed manner was deemed a favorable sign to proceed with construction. According to Pathmanathan, the temple will serve the needs of the 300 Hindu families who live in the German port city.
SCIENCE
Memorization Leads to More Grey Matter; May Help Alzheimers
A2015 STUDY OF 21 SANSKRIT pandits revealed extensive morphological differences in their brains, raising interesting questions about the potential of intensive, specialized expertise training to substantially drive plasticity in healthy adult brains.

The studies were carried out by scientists from the Center for Mind/Brain Sciences, University of Trento, Italy, and the National Brain Research Center, Manesar, India. James Hartzell—a post-doctoral researcher at the Basque Center on Cognition, Brain and Language in Spain—who helped conduct the studies, reported his findings in the January, 2018, issue of Scientific American: "Through the India-Trento Partnership for Advanced Research, we recruited professional Vedic pandits from several government-sponsored schools in the Delhi region; then we used structural magnetic resonance imaging (MRI) at India's National Brain Research Center to scan the brains of pandits and controls matched for age, gender, handedness, eye-dominance and multilingualism.

"What we discovered from the structural MRI scanning was remarkable. Numerous regions in the brains of the pandits were dramatically larger than those of controls, with over 10 percent more grey matter across both cerebral hemispheres, and substantial increases in cortical thickness. Although the exact cellular underpinnings of gray matter and cortical thickness measures are still under investigation, increases in these metrics consistently correlate with enhanced cognitive function."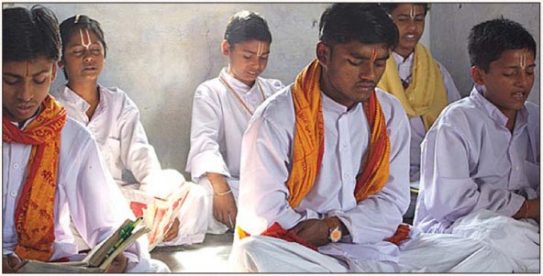 Our brains have two centers called hippocampi, on the left and right of the brain, which share memory functions. Without these centers, humans could not record any new information. Hartzell explains, "The pandits' right hippocampus—a region of the brain that plays a vital role in both short and long-term memory—had more gray matter than controls. Pandits also showed substantially thickening of right temporal cortex regions that are associated with speech prosody and voice identity."

Hartzell ends with new questions generated by these findings. "Our study was a first foray into imaging the brains of professionally trained Sanskrit pandits in India. Although this initial research—focused on intergroup comparison of brain structure—could not directly address the Sanskrit effect question, we found something specific about intensive verbal memory training.

"Does the pandits' substantial increase in the gray matter of critical verbal memory organs mean they are less prone to devastating memory pathologies such as Alzheimers? We don't know yet, though anecdotal reports from India's ayurvedic doctors suggest this may be the case. If so, this raises the possibility that verbal memory 'exercising' or training might help elderly people at risk of mild cognitive impairment retard or, even more radically, prevent its onset."

According to their research, today in India around 150,000 students engage in Sanskrit studies at approximately 5,000 government and private institutions. Topics (and texts memorized) include Sanskrit literature, grammar, law, history, philosophy, astronomy, yoga, logic, Vedas, subsidiary Vedic disciplines, and Vedic commentary. In addition, 50,000 students memorize portions of Sanskrit medical texts during their training in India's 246 registered ayurvedic medical colleges.
Briefly…
RESTORATION IS UNDER WAY FOR THE ANCIENT ANJANI Kund ghat in Vrindavan, India. The project, begun in October, 2017, is spearheaded by the Braj Foundation, a nonprofit established in 2005 to restore and vitalize the environmental and cultural heritage of Delhi, Jaipur and Agra, most parts of which have lain in various stages of neglect for centuries despite their historical and cultural significance. So far the foundation has restored nearly 50 such water bodies. See: www.brajfoundation.org
DURING THAI PUSAM IN JANUARY, OVER 1.2 MILLION Hindus and international tourists are expected to flock to the Arulmigu Balathandayuthapani Temple (known as the Waterfall temple) in Jalan Kebun Bunga, Malaysia. This is the 232nd year of Thaipusam celebrations in the nation. An elaborate new entry arch will be consecrated at the picturesque hilltop site, which is the second focal point of the Thaipusam, after the Batu Caves in Gombak, Selangor.
Global Dharma
news provided by
HINDU PRESS
INTERNATIONAL
Subscribe to a free daily
news summary about
Hinduism worldwide at
hinduismtoday.com/hpi