Khajuraho
Iconic Tourism Designation Worries Preservationists
The ancient, ornate hindu and Jain temples outside Khajuraho city have been a UNESCO World Heritage Site since 1986, and they are on the Archeological Survey of India's list of national treasures. Now, as reported by Religion News Service, the government plans to designate the 25 temples an "iconic tourist destination." V.D. Sharma, a local member of Parliament, recently proclaimed that Khajuraho is on its way to "better connectivity, more jobs and more tourists"—prospects worring to cultural activist Chinmay Mishra who feels, "Profiteers with no vision are turning spiritual centers into amusement parks."The government has greenlighted more than us$6 million for projects in and around Khajuraho. A $4.5 million convention center was launched last year.
These monuments, built between ca 850-950ce by the Chandela dynasty, stand out as the pinnacle of temple architecture in northern India, among the few to survive Muslim invasions. Conservationists say the government restoration is a threat in itself. They worry that shoring up temples with plain stones and the use of abrasive cleaning techniques could hasten their deterioration. A monument attendant said that cleaning is being done by unskilled, mostly unsupervised workers. Further, he noted, there are no scientific or chemical restoration plans for upkeep of temples, posing a threat that they could become piles of plain stones.
---
Diet
"Meat Made Us Human"?
The following excerpts are from an article at phys.org.
Quintessential human traits such as large brains first appear in Homo erectus nearly two million years ago. This evolutionary transition towards human-like traits is often linked to a major dietary shift involving greater meat consumption. A new study [Jan. 2022] in the Proceedings of the National Academy of Sciences, however, calls into question the primacy of meat eating in early human evolution. While the archeological evidence for meat eating increases dramatically after the appearance of Homo erectus, the study's authors argue that this increase can largely be explained by greater research attention on this time period, effectively skewing the evidence in favor of the "meat made us human" hypothesis.
"Generations of paleoanthropologists have gone to famously well-preserved sites in places like Olduvai Gorge (in Tanzania) looking for—and finding—breathtaking direct evidence of early humans eating meat, furthering this viewpoint that there was an explosion of meat eating," W. Andrew Barr, an assistant professor of anthropology at George Washington University and lead study author, said. "However, when you quantitatively synthesize data from numerous sites across eastern Africa to test this hypothesis, as we did here, that 'meat made us human' evolutionary narrative starts to unravel." Barr and his colleagues compiled published data from nine major research areas in eastern Africa, including 59 site levels dating between 2.6 and 1.2 million years ago. They found that, when accounting for variation in sampling effort over time, there is no sustained increase in the relative amount of evidence for carnivory after the appearance of H. erectus. "I would think this study and its findings would be of interest not just to the paleoanthropology community but to all the people currently basing their dieting decisions around some version of this meat-eating narrative," Barr said. "Our study undermines the idea that eating large quantities of meat drove evolutionary changes in our early ancestors."

---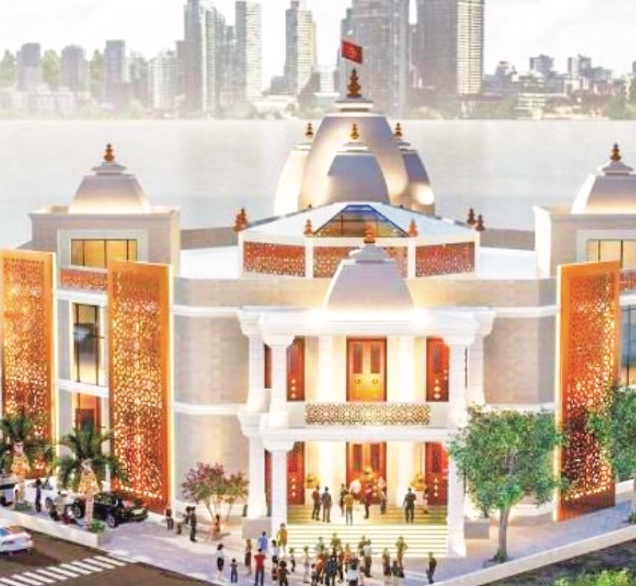 United Arab Emirates
Dubai Temple Nears Fruition With Topping Out Ceremony
 A february 2022 report in Trade Arabia says a prayer was recently held at the construction site of Dubai's new Gurudarbar Sindhi Temple in Jebel Ali locality to mark the "topping out" (final beam placement) ceremony. It is adjacent to the Guru Nanak Darbar and Christian churches, making the area a multi-religious corridor in Dubai.
This modern structure with earthy tones and lattice screens inspired by Arabic themes will house 11 Hindu Deities, catering to communities from across India. Sunlight streams through an octagonal skylight onto the upper floor's prayer area which can seat up to 1,500 worshipers. The room opens up to a terrace where yagnas, fire ceremonies, will be performed. The ground floor is a community center.
With the trial opening scheduled for July-August, the temple is on track for official completion in October this year during Dussehra festival, reported Khaleej Times.
Nine brass kalashas (metal or stone spires) will soon soar above. They were imported from India, says Raju Shroff, one of the trustees. "The tallest, about six feet high, weighs about 265 pounds. The remaining eight are each almost four feet high and about 200 pounds." He added, "In this city which is all about hustle and bustle, we have tried to create a feel of serenity and calm when you come to prayer."

---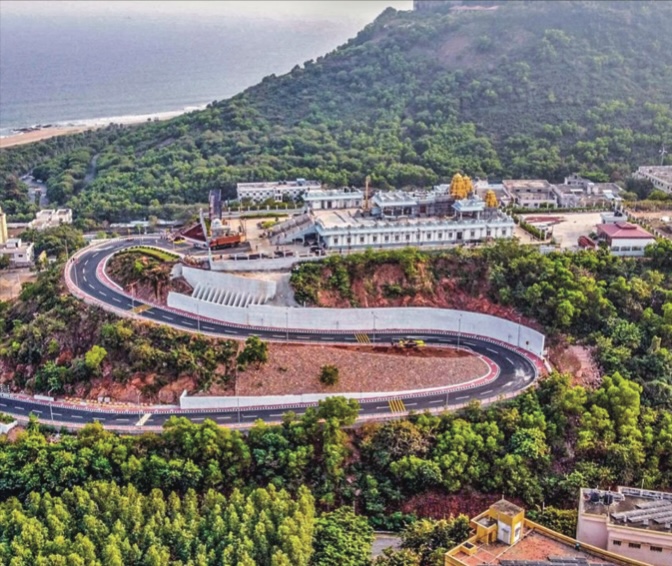 Andhra Pradesh
Rituals Mark Opening of Sri Venkateswara Temple
Morning, noon and evening consecration rtuals were performed March 19-23, 2022, as per the tenets of Vaikhanasa Agama, in the auspicious Vrishabha Lagna of the newly constructed Sri Venkateswara Swamy temple at Rushikonda, Visakhapatnam city. The Hindu shares that the day began with Suprabhatam, Kumbharadhana, Nivedana, Homam and Maha Purnahuti between 5:30 and 8am. Utsava murtis were paraded between 9am and 11:30am, then Brahmaghosha, Veda Sattumora, Dwajarohanam and Archaka Bahumanam. Nitya Kainkaryama were performed between noon and 1:30.
Tirumala Tirupati Devasthanams Chairman Mr. Subba Reddy said that the construction of the temple started two years ago, to add to the spirituality of Visakhapatnam. He said that hundreds of Sri Venkateswara temples are being constructed, from Kashmir to Kanyakumari, as part of the promotion of Sanatana Hindu Dharma. The construction of Srivari temple has been completed in Odisha, and it will be open soon. A temple of Sri Venkateswara at Amaravati is expected to be completed in the near future. Another 1,000 temples are planned in the next two years in areas inhabited by tribals, fishermen and underprivileged sections of society, he added.

---
LANGUAGE
Can AI Unlock a Script That's Defied a Century of Efforts?
Most of the below is excerpted from an article at restofworld.org.
Jiaming luo grew up in mainland China thinking about neglected languages. When he was young, he wondered why the different languages his mother and father spoke were often lumped together as Chinese "dialects." Luo says when he became a computer science doctoral student at MIT in 2015, his interest coincided with his advisor's long-standing fascination with ancient scripts. After all, what could be more neglected than a long-lost language, left to us as enigmatic symbols on scattered fragments?
In 2019, Luo made headlines when, working with a team of fellow MIT researchers, he brought his machine-learning expertise to the decipherment of ancient scripts. He and his colleagues developed an algorithm informed by patterns in how languages change over time. They fed their algorithm words in a lost language and in a known related language; its job was to align words from the lost language with their counterparts in the known language.
The work raised an intriguing proposition. Could machine learning assist researchers in their quests to crack other, as-yet-undeciphered scripts — ones that have so far resisted all attempts at translation? What historical secrets might be unlocked as a result?
It is remarkable how little we know about the original people of the Indus Valley, who at one point constituted nearly 10% of the world's inhabitants. This is especially galling given how much more we know about their contemporaries, such as the people of the Egyptian and Mesopotamian civilizations. Part of the reason for this is the continued elusiveness of the Indus script.
Putting machines to work on the Indus script is tricky. We don't have a great deal of information about the Indus script: most crucially, we don't know what other language it may be related to. As a result, a model like Luo's wouldn't work for the Indus script. That's not to say technology can't help, though. In some ways, computer modeling has already played a crucial role: by showing that the Indus script is, in fact, a language and not just symbols as claimed by a hostile group of Harvard researchers in 2004. In 2010 Ronojoy Adhikari, professor of statistical physics at the University of Cambridge, and fellow data scientists joyfully proved it's a language with their program that drew on the notion of information entropy—essentially a mathematical measure of disorder.
Luo is quick to point out that he doesn't expect any decipherment of lost languages to be fully automated. "My thinking is: Let the system propose a list of candidates and let the experts say, 'Okay, maybe this theory is more correct than the other,'" he said. "It definitely reduces the effort and the number of hours that experts have to expend."
---
Briefly
Thaipusam pujas resumed in Singapore and Malaysia in January 2022, though festivities were muted, with limitations on crowds and barring of certain customs like body piercing and carrying kavadi.
In January 2022 the Malaysia Hindu Sangam released a great presentation of Sanatana Dharma's commonly held beliefs and practices in four languages: English, Tamil, Hindi and Malay. In 2017 they had set out to tackle a common problem of Hindu communities: what exactly do we all believe? Download the 16-page e-books in each language here: malaysiahindusangam.org/mhs-youtube-videos/publications.
A religious freedom bill has been introduced in federal parliament, reports the Hindu Council of Australia, to make discrimination on the basis of religion illegal. However, it creates exemptions. It allows discrimination based on religion by organizations that are inspired by religious ethos, like schools, hospitals, employment agencies, charities, etc. Under this claim, any business could fire people who don't belong to their religion. This bill adversely affects minority religions. It especially affects Hindus and other newly arrived religions who have not had time and resources to establish their own schools, hospitals, etc. For more information contact info@hinducouncil.com.au
According to a Sunny Travel and Treks press release in February 2022, Nepal invested in world class hotels, resorts and guesthouses during the shutdown. Roads are now improved. Nepal is now open to tourists. As of press time, you can get the visa on arrival, and there is no need to stay in quarantine.
A 126-page canadian resource guide on Hinduism for grade 12 World Religions was released in 2019 for Manitoba province schools. It has excellent chapters on: What Is Hinduism, Key Writings and Scriptures,Foundational Beliefs, Concepts and Ideas, Historical Figures, Practices, Rituals, Symbols, and Celebrations, Modern Hinduism Challenges and much more. Download this impressive teacher's aid at www.edu.gov.mb.ca/k12/docs/support/world_religions/hinduism/full_doc.pdf.
1,117 Hindu prisoners across Indonesia were granted remissions (time off or release) for the 2022 Hindu Silence Day (Nyepi Day). "The purpose is to motivate inmates to improve themselves and increase their obedience to God," wrote Rika Aprianti of the Law and Human Rights Ministry.