The many ways my family and friends celebrate the nearly one-week-long festival of lights in India and here in America
Diwali is generally celebrated as the victory of good over evil, of light over darkness, but there are several different stories tied to its origin. In my family's home state of Maharashtra, it is believed that Lord Rama killed Ravana on Dussehra, 20 days before Diwali. When Rama returned to Ayodhya, people lit diyas, small clay lamps, to light his path home. The diyas symbolize Rama's return, and thus people in Maharashtra light diyas during Diwali. In some places, including the city of Pune, big dioramas are set up depicting scenes from the Ramayana, and various stories are told during the nights of Diwali.
In the United States, Diwali generally falls right before Thanksgiving, a harvest festival. Though Diwali is known to be a widely celebrated festival, most businesses here don't recognize it as a holiday, especially because they already give employees a holiday for Thanksgiving. Hence, Diwali celebrations take place on the weekends. School is still in session, so children celebrate Diwali in the evenings, if they have time. Unfortunately, lots of homework is given around Diwali, as it comes right before Thanksgiving break.
Despite there not being an official holiday on Diwali, my family celebrates in a big way. When we lived in India, we used to travel to my dad's village. There we would build a killa, or mud fort, a tradition unique to Maharashtra. In the United States as well, my brother and I make a killa during Diwali. It is built as a memorial to the great Hindu king, Chatrapathi Shivaji Maharaj (see Sanjeevani Dedge's article on her fort in the July/August/September 2021 issue). During Diwali, I also draw rangoli designs outside our home.
In Maharashtra, people get together on the nights before Diwali to make special foods collectively called pharaal in Marathi. We also make pharaal at home in the United States. During Diwali, calorie-packed food is eaten because our bodies require strength for the cold months ahead. The pharaal includes foods such as chakli, chivda, laddu, karanjya and shankarapalyaa (photo left). When we visit people during Diwali, we exchange pharaal.
In Maharashtra, Diwali lasts for six days. The first day is called Wasubaras, when we do a puja of cows and their calves, thanking them for all that they provide. The second day is called Dhana­trayodashi. On this day, we do puja of Dhanwantari, the God of Ayurveda. The next day is called Naraka Chaturdashi. This is the day the demon Narakaasura was defeated by Goddess Durga, which also symbolizes the victory of good over evil. We get up before sunrise on this day to take a special oil bath. On the fourth day, we do Lakshmi puja of all the gold in the house. Through this, we worship Goddess Lakshmi, and thank Her for all the prosperity She has brought into our home. We also do puja of a broom, or kersooni, because the broom cleans the home, making it welcoming for Goddess Lakshmi to come inside. The fifth day is called Padwa, when the new year for businesses starts. On this day my mom performs a puja of my dad. The final day of Diwali is Bhaubeej. This day strengthens the bond between brother and sister. I perform puja of my brother on Bhaubeej, and in return, he gives me a gift in return.
To find out more about the traditions from my dad's village, I asked my friend there, Shrawani Bacchav, about what she does during Diwali. She said everybody makes pharaal at their house, and shares it with everyone else. Additionally, guests are served puran poli, a sweet flatbread. The children play outdoor games, including some games that are related to the local tribal people, or adivasis. Children build forts in the memory of Shivaji Maharaj.
Outside of Maharashtra the traditions vary state by state. I interviewed Yagnee Makwana and her dad, Milind, who come from Gujarat. She said that during Diwali, her family always cooks sheero, a sweet dish made with wheat. Here the end of Diwali is the start of the Gujarati new year for business workers and traders, who do puja of their account books.
Madhu Smitanayak is from Odisha, in east India. She told me, "In Odisha, Diwali is celebrated in the same way as the rest of India, with an exception of one ritual, called Bada Badua Daka (photo above). This unique tradition is associated with Lord Jagannath. On the day of Diwali we invoke the ancestors and forefathers of our family and pay homage to them to receive their blessings. In the morning, sailboat-shaped rangolis are drawn. The boat has seven chambers. Over the drawing of each chamber several items are kept—cotton, mustard, salt, asparagus root, turmeric and a wild creeper. Over the central chamber are the offerings meant for prasad. At dusk, all the members of the family gather together, light a bunch of jute sticks individually from the puja lamp and raise it towards the sky accompanied by chanting of the verse: 'O forefathers, come to us in this dark evening. We light your way to heaven. May you attain salvation.' Beside the rangoli, a mortar and pestle and a plough are also kept and worshiped."
Next I asked Divya Pandey how she celebrates Diwali in Bihar. There, on the night before Diwali, a diya is lit with mustard or sesame oil and offered to Yamaraja, the God of Death. Right at sunset on Lakshmi pujan, worship is performed not only of Goddess Lakshmi, but of Lord Ganesha as well. Afterwards, the children make miniature houses out of mud, clay, cardboard and foam board. Small earthen pots called chukkia are filled with rice puffs and roasted lentils, with a sweet on top. These pots are then placed into the mini houses by the girls, symbolizing Lakshmi filling the house with prosperity.
Later, the pots are given to the elders as prasad. In return, the girls receive a gift, usually money or a gold coin. Throughout Diwali, diyas are lit in every single corner of her house. In fact, Divyaji said that she even places a diya in the shower area in honor of Goddess Ganga. She also mentioned that on new moon day (amavasya) during Diwali, a diya is offered to Goddess Kali. The day symbolizes the victory of good over laziness and evil.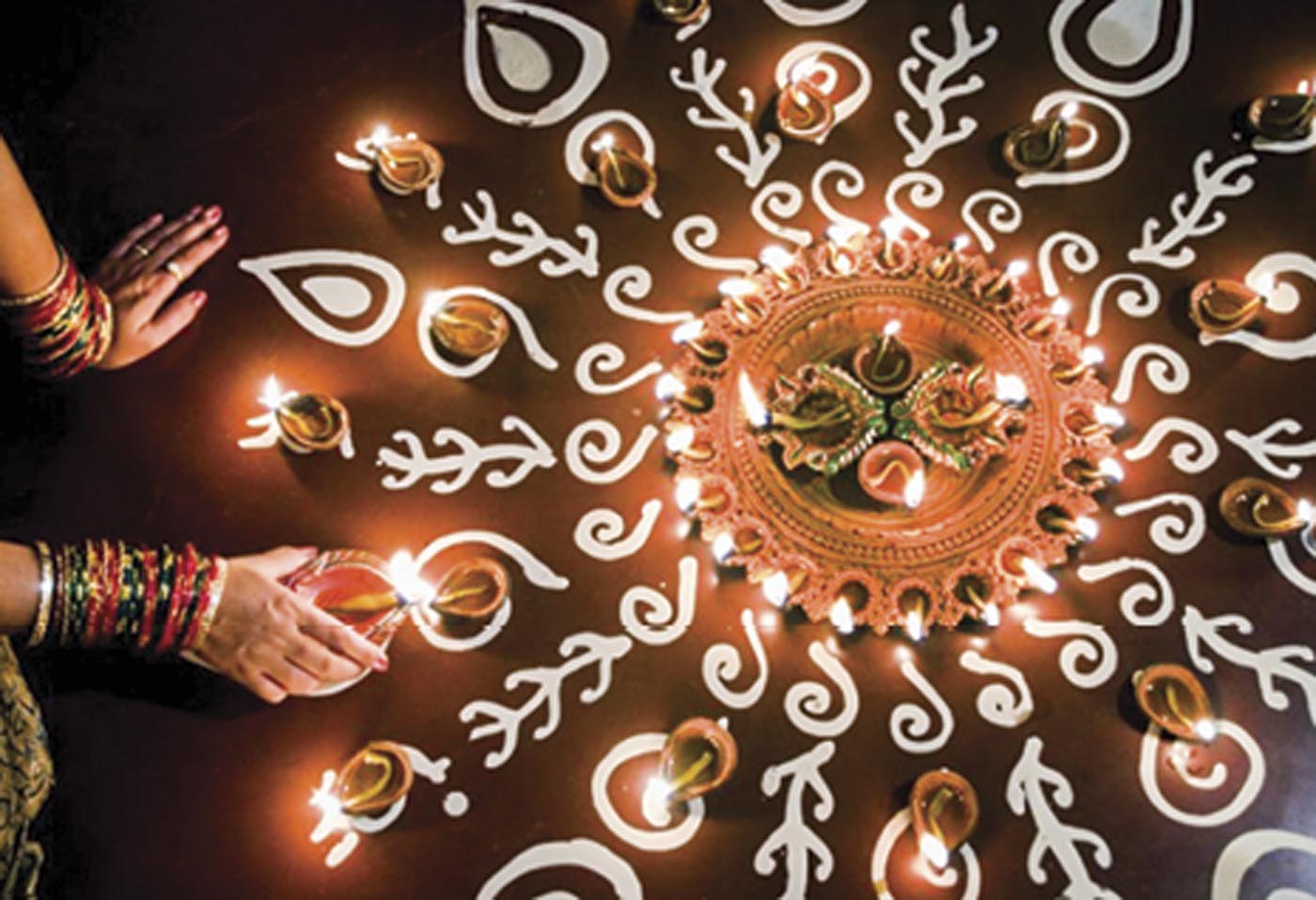 Archana Nekkar grew up in Udupi, on the west coast of Karnataka in South India. Since Diwali comes before the cold months, Archana­ji's family would take an oil bath during Diwali, similar to custom in Maharashtra. First, her family would clean and do puja of a big metal vat by applying kunkum, turmeric and perfume to it. Right before the bath, they would apply oil on each other. Another main Diwali celebration in Archanaji's family is Bali puja, which happens on the same day as Padwa in Maharashtra. Bali was the king of asuras, who was killed by Lord Vishnu. Before his death he asked for a boon: that he be allowed to return to Earth once a year when everyone would remember him. This is why on Balipadya, Archanaji's family would do puja of Bali. The men go out to the fields, where they light a torch of cloth, wood and oil. They then perform a ceremony honoring Bali, and a diya is placed in the field overnight.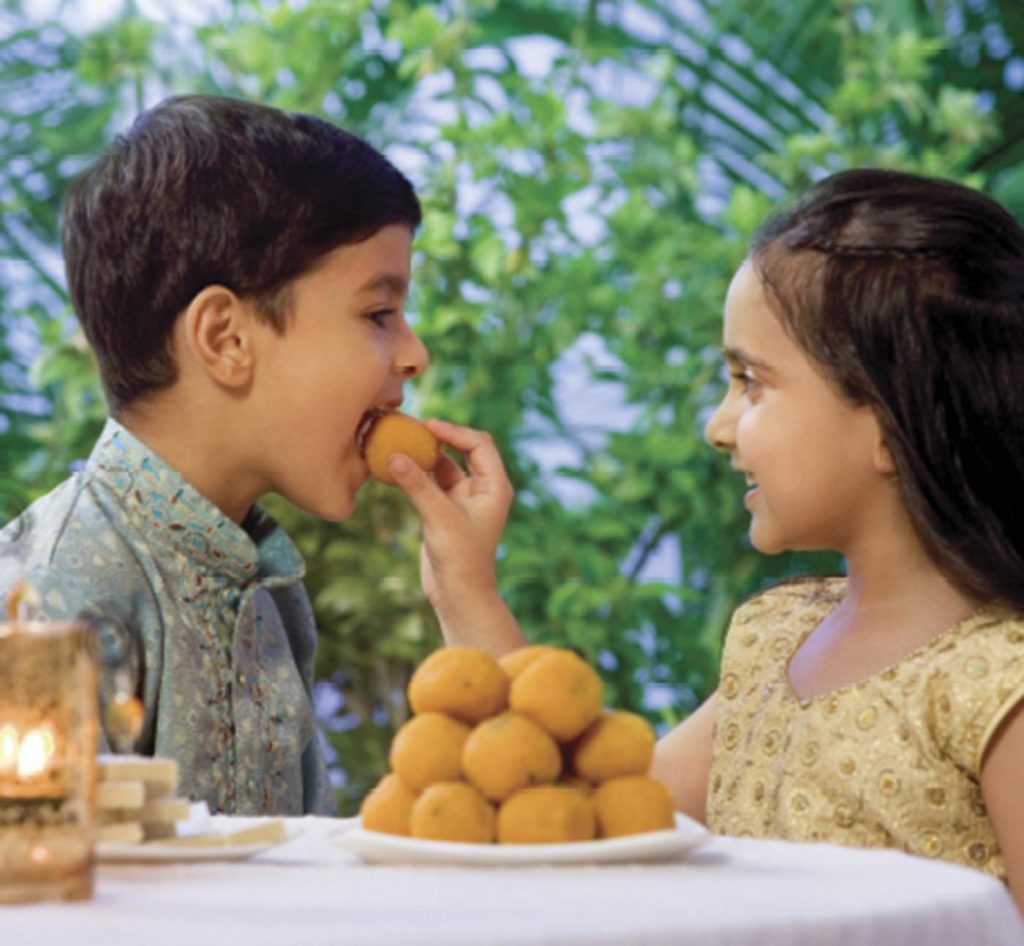 In Rajasthan, Diwali celebrations last five days, according to Jyothi Agrawal. On the first day, called Dhanteras, people purchase valuable items. The second day is called Rukchodas, when a bath is taken early in the morning. The third day is Lakshmi pujan. On this day, Jyothi performs puja of a picture of Goddess Lakshmi. She places a betel leaf on the picture and behind the leaf she hides a coin with a picture of Lakshmi on it. This leaf stays on the picture for 11 days, after which it is said that the Gods wake up. On the day of Lakshmi puja, Jyothiji also lights 32 diyas–16 oil diyas and 16 ghee diyas. The fourth day of Diwali in Rajasthan is called Annakut. This day is all about food. People prepare as much food at home as possible, and in temples 56 different dishes are cooked. Finally, the last day is called Bhai dooj, which is another name for Bhaubeej.
As we have seen, several traditions are common over nearly all of India. In most places, people start cleaning their houses a few days before Diwali, because it is believed that having a clean house during Diwali invites good energies into the home. As it is a public holiday, people living away from their families–for example in the city–have time to travel back home and celebrate. Clothes, electronics, appliances, etc., are on sale during Diwali, similar to Black Friday or Christmas in the United States. All around, houses are decorated with colorful rangoli designs and lanterns.
Celebrating Diwali in the US is definitely different. In India, people visit friends and family almost daily, while in the US, that's not possible because of work and school. Instead, there are weekend get-togethers with nearby friends and relatives. These celebrations are filled with games, bhajans, storytelling and various different foods. The people who gather tend to be from all over India, so the activities are a mix of all these traditions, stories and food.
More and more, Diwali is becoming recognized in the US as a major Hindu festival. It is observed at the White House, with special postage stamps, through local government resolutions and, in a few cases, by the actual closing of schools for the main day. In my area, non-Hindu neighbors know it is a celebration of the victory of good over evil called the "festival of lights." While they understand it is about lighting lamps, they generally don't know the reason to do so, being unfamiliar with any of the stories linked to Diwali, such as from the Ramayana, or how Goddess Durga defeated Narakasura on Naraka Chaturdashi. In addition, most people in the United States don't know that Diwali is actually a five-day festival, let alone what the names of those days are. But, on the bright side, as more Hindus migrate to the United States, their Diwali traditions are brought with them. My mom and other people have given presentations about Diwali at my school, and such school presentations are becoming common anywhere there are local Hindus in attendance. If these efforts continue, soon everyone will know the vast religious traditions and stories of Diwali.
---
About the Author
Mugdha Shinde, 13, is an 8th-grade student in Cupertino, California. She plays the trombone in her school's band and enjoys cooking and baking. mugdha.shinde29@gmail.com