It's one of our favorite holidays, bringing us all together as we prepare for and celebrate the advent of the beloved God 
By Mugdha Shinde, 13
Cupertino, California
 As summer comes to an end, ganesh Chaturthi planning starts in my house. The annual festival is a big celebration for my family, as big as Diwali. Its ten days are filled with the fragrant smell of incense sticks and the sound of bells during the arati offering of lit lamps. You would feel pleasant as soon as you entered our home. This is when we get to decorate the house, meet friends and family, eat sweets and, most importantly, worship Lord Ganesha on the day Goddess Parvati brought Him to life. Last year, due to the pandemic, we had to scale down some celebrations, but this year we invited people to take darshan of our Ganesha, and I enjoyed it immensely.
Three weeks before Ganesh Chaturthi, I start thinking about the decorations. Most people buy them at stores, but my family make ours by hand. We try to be eco-friendly, using paper and cardboard instead of foam boards, and even buying a clay murti. Ganesh Chaturthi is the one time in the year when my brother, my mom and I do a big art project; the excitement of "Ganapati Bappa" coming to our house inspires us to take on a big task.
The decoration process usually starts with my mom and I searching the Internet for ideas, and brainstorming some of our own. When we have a final design, we start collecting and buying things such as colored paper, cardboard, sequins, etc. My aunt, who lives in India, is really good at art, so she makes very elaborate decorations for her Ganesha. This year, she made a paper peacock and decorated the whole space where her murti sat. 
In the week before Ganesh Chaturthi, we actually begin producing the decorations. My brother and I have started school by this point, so we try to work on the decorations mostly on the weekends. Sometimes we stay up till 11:00 pm to finish. And even with all the late-night decorating and planning on the weekends, on the day before Ganesh Chaturthi, we still have to stay up very late, putting on the final touches. A perfect example of this was last year, when I decided that I wanted to add a moon onto the roof of our temple decorations at the last minute, and so stayed up late making it.
At last, Ganesh Chaturthi arrives. We go to the store in the evening and take our Ganapati home. We dress up to go to the store, and we see many other people as well. We chant "Ganapati Bappa Morya" as we bring the Ganapati up to the car. The drive home is full of my family's excitement for bringing home our Ganapati and doing puja. If you could see excitement, our car would be surrounded by it.
When we reach home, my dad or I carefully carry the Ganapati to the door. When the Ganapati has been set down on the paat, temporary altar,I am relieved, as I am always afraid that I will somehow break it when I carry it. We then do puja of the Ganapati and then chant aratis. I like to recite three arati chants, not just the Ganesha arati, because that way the ceremony lasts longer. However, that is not always possible, as my brother and I have to go to school after doing arati in the morning.
At our house, we keep the Ganapati for ten days. Some people keep it for two days, or five days. However, my family, my mom in particular, really enjoys the Ganapati being in our house, so we keep it for as long as we can. The whole time, we visit people and invite them to our house, to take darshan of one another's Ganapati. I enjoy the weekends during the Ganapati festival since that is when we see the most people. In the first two days, we try to go to every house where the Ganapati is kept for just two days. Then we visit the people who have the Ganapati for longer. I enjoy going to people's houses, because I get a change of scenery. Especially this year, because we had not visited anyone for over a year, and some people had moved during the pandemic, I was pleased to see a few new houses. We ourselves moved in the pandemic, and so almost every time someone visited our Ganapati, we gave a tour of our house as well.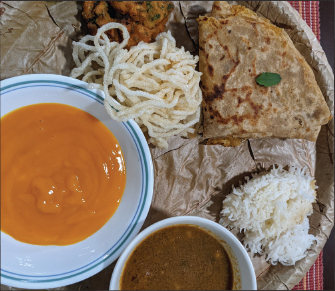 Food is a big part of the festival. My mom often makes modaks, which are like dumplings stuffed with a sweet coconut filling. They can be steamed or fried, and my mom sometimes ends up making them two or three times during the festival. She also makes a big dinner, with puris and a sweet dish, on Ganesh Chaturthi. And this year, we bought samosas for all the guests visiting us.
As we start adding arati chants to our daily routines, I start recalling all the aratis I memorized in previous years. By the second or third day, I have memorized all the aratis once again. I wish that this calming aura in our house would last forever. The week passes by quickly, however, and as all good things do, the Ganapati festival starts coming to an end. I start thinking about how it will feel after the festival is over, how the doorbell won't ring as often, how the smell of incense sticks will only be present in the evenings, and how the table holding the Ganapati murti will be empty.
Too soon, the tenth day arrives. I go to school knowing that we will have to do the visarjan farewell ceremony of the Ganapati murti in the evening. We chant three or five aratis in the evening, and my mom prepares a special meal of puran poli. We fill up a bucket with water to do the visarjan. I carefully pick up the murti and walk around, showing Ganapati the whole house. I come to the bucket, dip Him in three times, and the third time, I release the murti into the water. I almost cry, thinking about how we won't have a big Ganesha murti in our house for a whole year.
After dinner, my mom and I like to watch the murti slowly dissolve into the water, and sometimes stay up after dinner just sitting there and watching the murti.
The Ganapati festival is one of my favorites. Even before Ganapati comes into our house, the celebratory feeling is there. It is one of the best feelings, looking at the Ganapati murti, and being in His presence.
---
Mugdha Shinde, 13, is an eighth-grade student at Cupertino Middle School in Cupertino, California. She plays the trombone in her school's advanced band and enjoys cooking and baking. mugdha.shinde29@gmail.com