Volunteers are renovating dilapidated structures, training musicians, providing needed temple supplies and more
Article & sidebars by Balakumar Muthu, Tamil Nadu
All photos from casualwalker.com
In Hinduism, temples are a place of profound importance. They are not only centers of divine spiritual devotion and worship, but also the source of culture, traditions, music, dance, education, architecture, food, yoga, meditation and medicine. In the past they have served as hubs of resource reserves of water, gold, silver, gems and rice. Today, temples are found across South India, from small village shrines to magnificent complexes in major cities.
Since our early days, the ancient South Indian dynasties like Pallavas, Pandya, Cholas, Vijayanagar Nayaks and Tanjore Marathas, have built temples to express their devotion to God and as a way of proclaiming the wealth and might of the rulers. The kings who erected these temples also donated massive financial resources and properties in the name of the temple, so they would always be financially strong and could support their wide-ranging spiritual and social activities.
But today, the majority of these greatest temples are in a pathetic condition of maintenance, with a very poor financial situation. Even the temples' priests are not paid salaries regularly, which causes the non-performance of the required daily pujas. Many lack basic amenities such as sufficient oil to keep the lamps burning. Even some of the top temples have not recently performed the kumbabhishekam ceremonies which are required every twelve years to re-energize the temple. This leads to an unfortunate hampering of the Hindu religion's spiritual lifeline ecosystems.
On seeing the dire state of some temples in their community, many ordinary individuals are volunteering to take part in temple and spiritual preservation activities such as restoration, renovation and associated activities. It is their devotional gift to God.
Service related to Deities and the renovation and reconstruction of temples is considered extremely noble—creating good karma not just for the people directly involved, but also for their entire family and future generations. In the Tamil language, this is known as uzhavarapani, literally "plowing service," embodied by the 7th-century Tamil saint Appar.
Uzhavarapani is the voluntary spiritual involvement in the maintenance and cleansing of Hindu temples and worship places. It involves collaborative activities like the renovation of dilapidated structures, keeping the temple clean by sweeping, removing weeds or vines, clearing pathways to make worship accessible, cleaning sacred ponds, lamp lighting, gardening, garlanding, polishing puja vessels, providing drinking water and shelter
to devotees, grinding sandalwood, and encouraging others to do the same.
Appar (Thirunavukkarasar ) was one of the most prominent of the 63 Nayanars, or Saivite saints. He popularized cleaning of temples as a form of devotion called charya marga in Saivite philosophy, meaning the path of service. He is always seen holding an uzhavaram, a kind of hoe, which he used to clean the unwanted weeds or shrubs in and around temples. Some 313 of his songs survive to this day. They form the fourth, fifth and sixth sections of the Tirumurai collection of Tamil devotional poetry.
Today individuals from various walks of life—college students, IT professionals, doctors, engineers, business people, government and private company employees, homemakers along with their kids and elders—have come together to follow the path Appar exemplified. Every month these volunteers form groups and visit a chosen temple to clean and renovate. Some take on long-term restoration projects of dilapidated temples. In this article we will meet several of these groups and describe their mission.
Annamalaiyar Charity Committee
Named after the famed Arunachala Siva Temple located in Tiruvannamalai, Tamil Nadu, this temple restoration and rehabilitation group was started in 2006 by Sri V. Ramachandran and a handful of devotees. Ramachandran explains, "Until one attains the maturity to realize God within oneself, we rely on temples, such as our ancestors built, as places for us to seek God and to cultivate spiritual maturity. But today many of our grandest ancient heritage temples have been neglected, almost forgotten, without maintenance and forced into a pathetic situation. Is it not our responsibility, to our present and future generations, to protect the ancient temples and the surrounding resources like gardens, ponds and pathways? When we reclaim our temples, we also reclaim our rich spiritual knowledge, our traditions, our heritage, and spiritual realization."
The volunteers, from ages 8 to 80, try to visit one temple each month, mostly on abandoned rural sites. When they learn of such a temple, they depute a small crew to conduct a survey, evaluating its condition and the adjacent area.
After the survey, the group visits the temple during weekends bringing the tools needed for its restoration and cleaning. The group provides its own transport; food, water, materials and lodging are provided by various charities. Sometimes neighboring people provide needed resources.
This group is particularly skilled in the removal of trees and weeds on temple towers. Birds scatter seeds into the crevices of these vimanams which sprout and grow into large trees in short order, causing massive cracks. Angkor Wat's temples, for instance, were severely damaged by such growth.
The group once visited the very ancient Karkadeswarar Temple at Manavur. They were thrilled to see the temple with its huge Shivalinga. But the sanctorum had no roof at all, only sandstone walls. Unable to bear leaving the temple in that state, they approached the government for permission to restore it. Nearly all of Tamil Nadu's temples are legally under government control, and some are even under the jurisdiction of the Archaeological Society of India. For the kind of major renovation this temple required, the group needed official sanction.
Once permission was obtained, they started the restoration process. Local villagers, who had not visited the temple for a long time, joined them in the work. Renovation proceeded rapidly. After completion, daily pujas resumed and have been going on continuously since.
Ramachandran happily shares, "The local villagers earlier had been quarreling with others in the nearby villages. But after the temple's restoration process, they began to visit the Deity of the newly reinstated temple regularly and attend the auspicious pradosha observances on the 13th day of each fortnight of the moon. Peace returned to the villages as Vedic recitation started happening at the temple." Seeing Lord Siva's blessing, the villagers set up their own group to restore and maintain local temples. Rama­chandran and his group were delighted to see such results from their work, which were beyond their expectations. Ramachandran humbly states, "Everything is by the divine grace of Arunachala, Lord Siva."
Many other temples have been brought back to life by this group. The Keezh Kolathur Siva Temple, for example, was completely dilapidated and surrounded by thorn bushes. No one had visited to worship there for more than a hundred years. After months of renovation, kumbhabhishekam was done and the daily pujas were resumed. They have similarly undertaken the renovation of the 9th-century Nawaspettai Temple on the banks of the river Cheyyar. Other notable reclaimed temples include Pagasalai Shri Aadi Kesava Perumal, Poundarigapuram Somanathaswamy, Mangudi Sri Sivalokanadhar, Sri Vaakpureeswarar, Vellai, Koogaiyur Karyampureeshwarar, Brahma Nandeeshwar in Thirumettrali, Nagakudi Sri Agastheeswarar and Shri Kasi Viswanathar in Thiru Magaral.
For temples not in need of major repairs, the team cleans the various puja items, Deity clothes, walls, floors and pillars using eco-friendly products such as vinegar and lemons. They plant flowers and trees for the temple's use and restore temple tanks (reservoirs) which have become filled with algae and garbage. When kept clean, these tanks can store rainwater for the dry season.
Ramachandran suggests, "Instead of building new temples, we should repair and preserve our marvelous ancient historic temples."
Behind Every Temple
When the Agamas were written, the kings managed the temples; today in India it is most often the local state government. Such is the case in Tamil Nadu: over 40,000 temples, including most major ones, are under government control through the Tamil Nadu Hindu Religious and Charitable Endowments Department. This interference with Hindu temples by a supposedly secular government—which has made no corresponding attempt to control the religious institutions of Christianity and Islam—is a thorny issue within the Hindu community. There have been egregious examples of corruption in the temple finances and usurpation of endowment lands, leaving the temples in poor financial condition. These are the key reasons for the poor maintenance, especially for the smaller temples.
Dr. Duraiswamy's study (see January/February/March, 2022 issue of Hinduism Today) compares how governments manage Hindu temples today, and how kings did it centuries back, suggesting some solutions to the current situation.
The concept of giving to temples is one of the key elements of Hindu tradition. This donation ensures that our temples are protected and preserved through regular infrastructure maintenance, renovations, reconstructions and periodic rededications.
Ananda Prateeka, a digital marketing strategist, and his wife, Suguna, of Arizona have long had a deep love for Indian temples and Hindu religion. Together, they founded Behind Every Temple (behindeverytemple.org), an NGO working towards keeping alive the timeless teachings and values of the Vedic tradition through raising funds and services that promote Sanatana Dharma and preserve the ancient temples.
Ananda started his spiritual journey pilgrimaging to countless sacred temples all over India over the past ten years. During one pilgrimage in Tamil Nadu, they witnessed the various threats many ancient temples currently face. On a visit to the famous Chola-period Kala Bhairava Temple they met Kannan, who had just spearheaded the renovation of the temple. Based in Kumbakonam, Kannan has dedicated his life to rebuilding ancient temples in Tamil Nadu—renovating over 50 in the last twenty years. This meeting inspired Ananda and Suguna to take action. They conceived Behind Every Temple and asked Kannan to join their board of directors. He is now a vital part of their activities and services.
Ananda explains, "Behind Every Temple was founded after witnessing the sad plight of so many ancient temples in India." He realized the best way to assist is by using their organization to help create awareness and raise funds within the US to support temple restorations.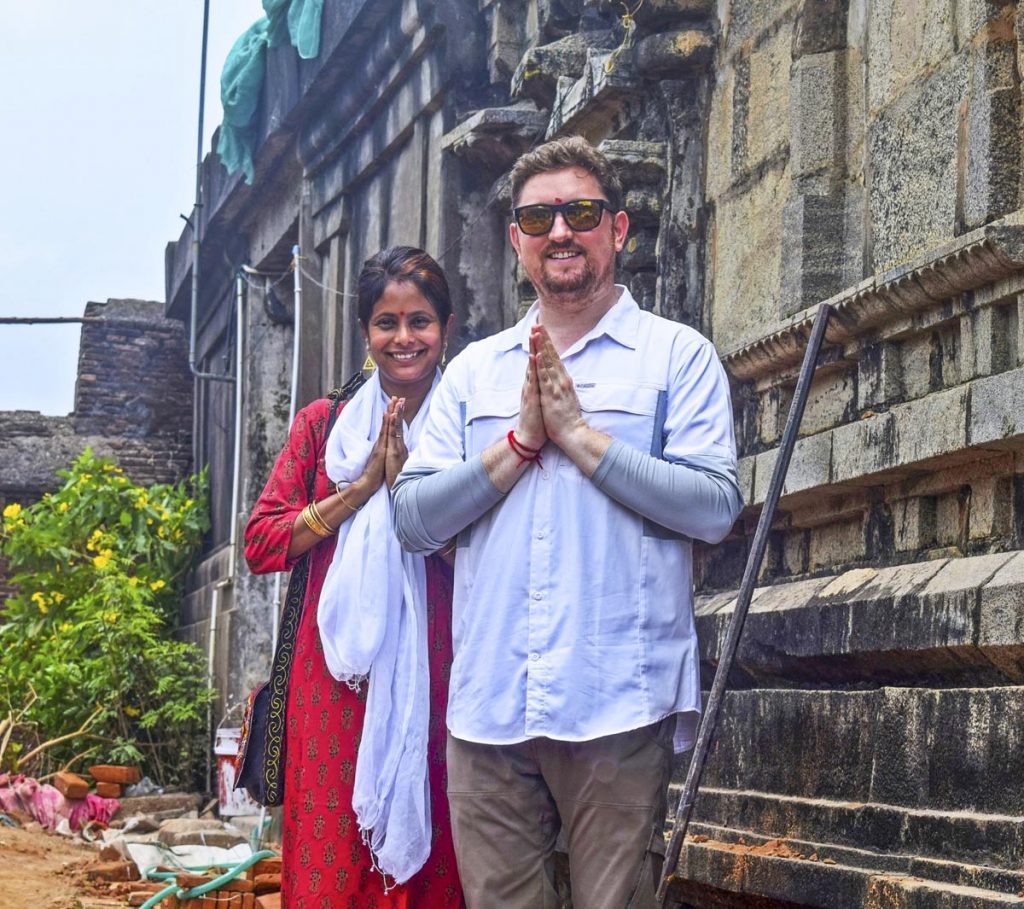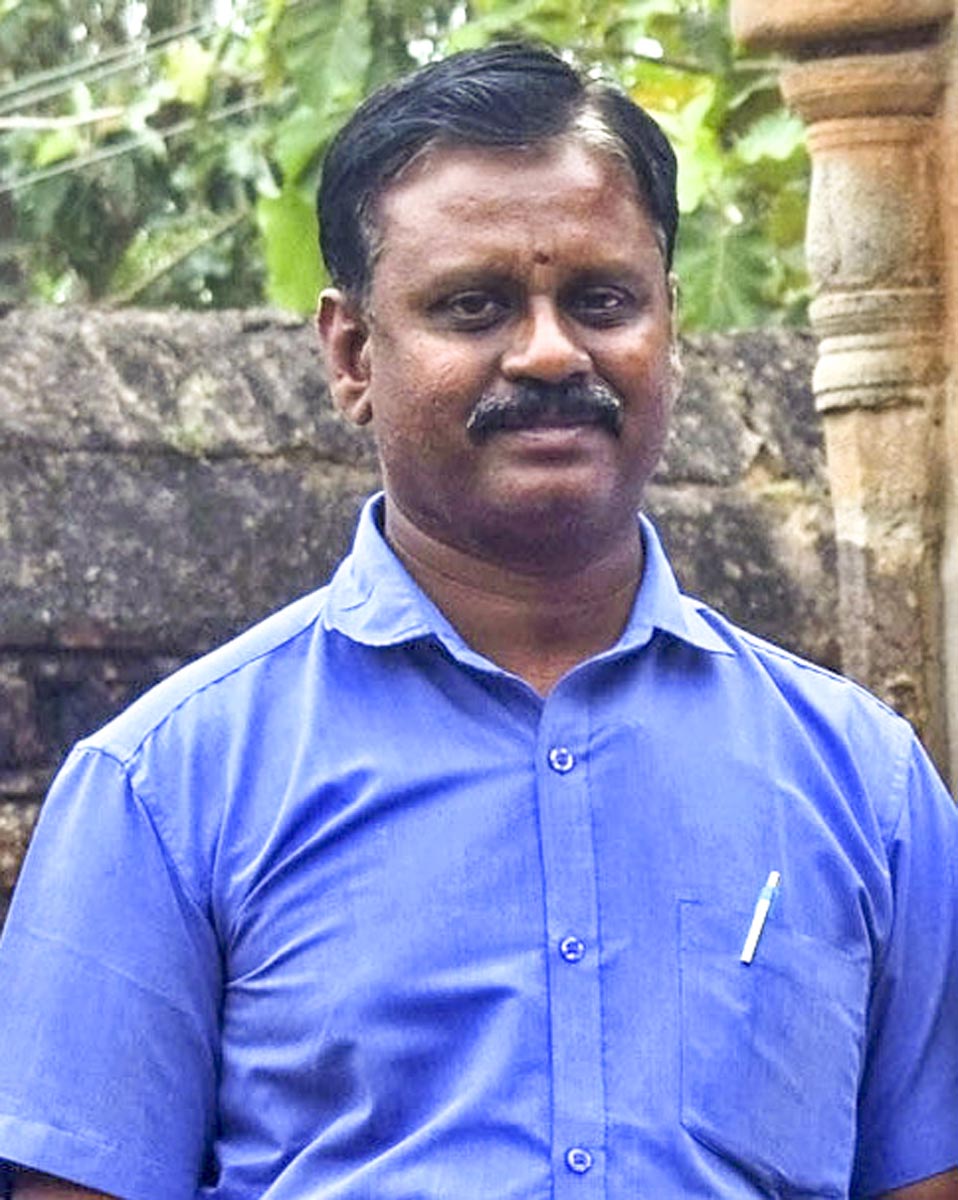 Their current renovation project is the Nellithope Perumal, a 1,500-year-old Lord Vishnu temple located in Kumbakonam, Tamil Nadu. This temple is associated with Sri Ranganathamuni (823–951 ce), who collected and compiled the Nalayira Divya Prabandham, a set of verses composed by the twelve Alvars, Tamil poet-­saints who were devotees of Lord Vishnu. He is said to be the predecessor of the famed Vaishnava saint Sri Ramanuja (1017–1137), who was influential in the formation of the Bhakti movement. Ranganathamuni spent his last days in this area. It is said Vishnu as Sri Ranganatha gave darshan to him here before he attained moksha, liberation.
For centuries, this notable Vishnu temple was in total ruination. Ananda said, "When we saw the state of such a temple, which has great historical and spiritual significance, being totally neglected, we felt highly disheartened. Temples like this represent an integral part of dharma and the upliftment of society as a whole. We are dedicated to doing everything in our power to help save and protect the temple and ensure this ancient spiritual science of India is not lost to future generations." They embarked on a global campaign to raise money for the restoration.
They are following the guidelines of the Agamas in the restoration process and keeping to the traditional architectural style of the Nayakar kingdom. They are using locally available and environmentally friendly materials, such as limestone and jaggery as a binding agent. The work is proceeding rapidly. Once complete, the rededication will be done and the daily pujas resumed after many years.
What One Man Can Do
Thiruthalaiyur Saptarishishwarar Temple is located on the banks of the Aiyaru River in Thiruthalaiyur, Trichy District. The name means "Highest God of the Seven Sages," as all the Saptarishis are said to have worshiped here. Dedicated to Lord Siva and the Mother Goddess, Kungumavalli, it is at least 1,500 years old. Historically, this temple is known to be one place where Ravana, king of Lanka in the Ramayana epic, did extreme penance to please Lord Siva. Until just a few years ago, this glorious old temple was in a pathetic condition physically and financially.
Saptarishishwarar is the family Deity of D. Chandrasekhar, founder and president of Madras Dyslexia Association. In 2006, he embarked upon an ambitious rescue plan. The work started in 2016 after 10 years of planning and permission gathering, and was completed with the re-dedication in 2020. It would be difficult to overstate the difficulties he faced and overcame. His first obstacle was obtaining permission to do anything all, which he obtained from the Archaeological Survey of India and the Tamil Nadu State Hindu Religious and Charitable Endowments Department. Then he successfully engaged the Indian Institute of Technology, Madras, to provide the needed technical guidance to salvage the structure without disturbing its antiquity. He next raised enough money through his network of friends and associates to proceed with the work in 2016.
Chandrasekhar explains that Saptarishishwarar Temple is a mix of architecture from various periods. Each round of new construction was added on to the older structures. Eventually, settling of the ground
as well as minor earthquakes adversely impacted most of the temple's pillars, beams and ceiling slabs.
In the past, leakage in the roof was addressed by adding new courses of large stones atop the previous layers, greatly increasing the dead weight of the ceiling. The lime mortar in various areas disintegrated completely, resulting in constant leakage and incessant dampness.
Chandrasekhar holds the temple as more important than his own life. He was determined to restore it to its ancient glory without altering its original character. His efforts were successful, and the grand Maha Kumbabhishekam was held on March 12, 2020.
Commenting on the overall situation, he points out: "In Tamil Nadu, there are more than 34,000 temples, but there is only one person to manage everything in the temple, from puja to caretaking to security. The typical annual income is less than us$122.00. In 12,000 temples, puja rituals are not taking place. As the presence of glorious temples is living proof of the spiritual awareness, dedication, faith and scientific knowledge of our ancestors, it's heartbreaking to see how many of them are on the verge of collapsing due to apathy and neglect."
Conclusion
Preserving our places of worship is to preserve our Sanatana Dharma, its culture and traditions, as a service to our Deities. Instead of depending on government authorities, everyone should get involved in doing voluntary services and activities related to our marvelous, ancient local temples, thereby preserving them for future generations.