INDIA
PM Modi Is Cleaning House
India's prime minister modi called upon the nation to begin a campaign called Swachhata Hi Seva, "Cleanliness is Service," from September 15, 2017, until Gandhi jayanti on October 2, 2017. During his address in August, he called for a massive cleaning to create an environment of cleanliness throughout the country so that Gandhi's birthday, and the third anniversary of the Ministry of Housing and Urban Affairs, can be celebrated in a deserving light. He urged all NGOs, schools, colleges, social, cultural and political leaders, corporations, state and local government officials and collectors to accelerate sanitation activities during the two-week period.

The Ministry of Drinking Water and Sanitation will soon launch a section on MyGov.in where, after constructing toilets and undertaking other sanitation-related activities, people can register their name and the name of the family whom they helped.

According to the Ministry's website, bit.ly/CleanBharat, over 33 million citizens have participated to date, and over 1.5 million activities were completed.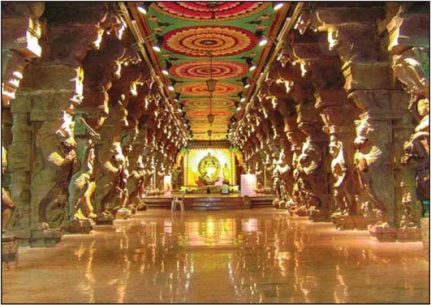 INDIA
Vinayaka's Other Vehicle
IN AN AUGUST, 2017, GANESHA Chaturthi campaign to show off Ford's mission statement, a mega-Ganapati standing 6 and a half feet tall was built out of spare auto parts and painted as a work of art for the Oberoi Mall, Goregaon East, Mumbai.
Saurabh Makhija, the general manager of sales at Ford, unveiled the statue, which was open for public viewing during the last weekend at the mall. While unveiling the unique creation, Makhija said, "Safety is not an option but a priority for us at Ford. With the unique installation of Lord Ganesha, we want to highlight the significance of using genuine parts while servicing to ensure the well-being of loved ones."
The Ganesha statue was created by artist Madhvi Pittie from Workshop Q in collaboration with Nishant Sudhakaran, a metal artist in Mumbai.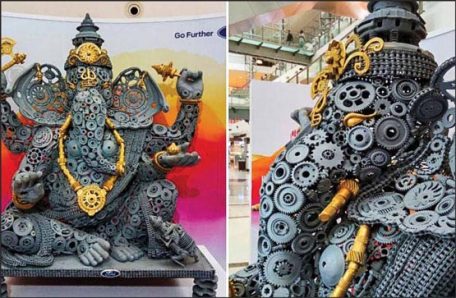 HISTORY
The Birth of Zero
The new scientist magazine reported in September, 2017, that carbon dating an ancient manuscript has aged the use of zero by 500 years. The Bakhshali manuscript, first thought to be from the 9th century, is now dated around 224 to 383 ce. The previously oldest recorded example of zero was a 9th-century temple wall inscription in Gwalior, India.
The Bakhshali manuscript was discovered by a local farmer in 1881 in what is now Pakistan. It is housed at the University of Oxford's Bodleian library.
Timothy Revell of The New Scientist writes, "The use of zero as a placeholder appeared in several different ancient cultures, such as the ancient Mayans and Babylonians. But only the Indian dot would eventually go on to gain true number status, first described in 628 ce by the Indian astronomer and mathematician Brahmagupta."
Marcus du Santoy, professor of mathematics at Oxford, says, "The creation of zero as a number in its own right… was one of the greatest breakthroughs in the history of mathematics." The text is thought to be a training manual for Buddhist monks.
INDIC STUDIES
Reaching Out to the Next Generation
A group deeply committed to Indian values, culture and history has created a series of YouTube videos called India Inspires. Their core mission is "spreading the eternal ideas of India that have played a pivotal role in inspiring intellectuals for millennia around the globe."
India Inspires brings experts and thinkers from diverse areas onto one platform to share their work and vision. The initial set of videos are heavily focused on tackling key controversial issues where Western occidentalism and the modern media have dominated the Indian narrative with negative misinformation. The video medium has a marvelous effect of bringing some experts' entire life work on a subject into a one-hour summary.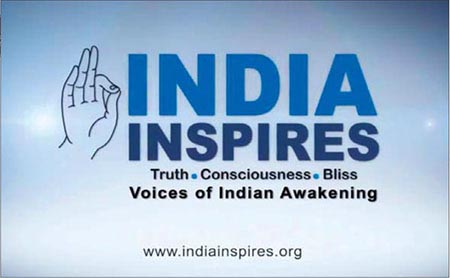 The talk by famed scientist, mathematician and polymath Dr. C. K. Raju on The Tale of Two Calendars is a must see by anyone interested in the issue of time, astrology, calendars and the differences between Indian calendars and the Julian calendar. In Dr. David Frawley's videos on The Myth of Aryan Invasion in India— beginning with the earlier hegemonic views of the British and Germans—he exposes and dismantles the Aryan Invasion theory as a myth. It is a useful video for any viewer who has wondered about the still pervasive notion that much of India's culture was imposed by ancient invaders from the North. His piece on The Right and Left in India, is humorous and at the same time an eye-opener, lending understanding to why some Indians tend to denigrate their own cultural heritage. India Inspires is not afraid of controversial issues. View, for example, Dr. Bharat Gupt's talk titled Hindu View on Homosexuality. Viewers will likely take away something useful from every India Inspires video. Our one suggestion is that we wish they would add new resources more often.
EVANGELISM
Mission Tactics Exposed
In an august, 2017, article titled "First Mission Trip to India," the Fort Madison Daily Democrat revealed candid Christian ideas about the Indian Hindu community and how they can be converted to Christianity.
Rebekah Carter, a 2015 Central Lee graduate and a student at Faith Baptist Bible College in Ankeny, Iowa, went on a three-week mission trip during the summer with a recent graduate from the college, Renee Boswell, and her mother, Becca. They went to Kannada, in the southern part of India, where Renee's father is a pastor.
In the article this young missionary revealed that the couple they were working with had been abusing tourist visas in India for over 30 years and using their stay to evangelize, which goes against the tourist visa policy.
Another aspect of the mission work is using humanitarian services as a way to preach the gospel and convert. From the article, "The majority of the team did medical camps at various villages. While (the others) were giving medical treatment, we were giving spiritual treatment," Carter said." This is evangelism hiding behind the cloak of humanitarian service.
The phenomenon of American students going on short-term mission trips to India has grown rapidly over the last 2-3 decades. Some Christian groups estimate that short-term missions across the world attract over 2 million participants each year from America alone.
Where do these students go? Most of them go to countries located in what's known as the 10/40 Window—a rectangular area of North Africa, the Middle East and Asia between 10 degrees north and 40 degrees north latitude. The 10/40 Window, a term used by the hardline Christian "Joshua Project," is also called "The Resistant Belt" and includes the majority of the world's Hindus, Buddhists and Muslims.
NEPAL
Every Dog Will Have His Day
On october 18, the second day of the festival of Tihar (as Diwali is called here), family, working and stray dogs alike across Nepal were devoutly worshiped by grateful humans. It is called Kukur Tihar, or Dog Day, when the pets are garlanded, decorated with kumkum, honored with an arati lamp and fed their favorite treats.
At Central Dog Training School in Kathmandu the dogs were given with garlands and medals for their special contributions in providing security and solving cases. "The dogs have contributed greatly to the investigations," Dr. Deuti Gurung, the Superintendent of Nepal police told reporters.
Among the explanations of the festival are that is in honor of Samara, the mother of dogs, who in the Rig Veda assists Indra by retrieving stolen cattle. It is also said to honor Shvan the dog who accompanies Shiva in His form as Bhairava, the protector. Some say the dog is the guardian and messenger of Lord Yama.
FOOD & LIFESTYLE
Fast Food Goes Veggie
Amy's drive thru is America's first vegetarian, organic, gluten-free-optional fast-food restaurant. Just off Exit 484A on 101 North through Rohnert Park, California, it stands right alongside the fast-food giants Burger King and Taco Bell. Since opening in 2015, the company has doubled revenue and plans on taking on a new location south of the 101 in Corte Madera in 2018. Amy's Director of Operations plans to open locations all across the country. This speaks volumes about America's paradigm shift towards healthy and local eating.
Amy's environment-friendly business model is not limited to the solar-powered drive-through and recyclable tableware. Ingredients are mostly local, organic produce. This is slightly more expensive, but it's what Amy's customers have come for. The company makes little to no profit on its gluten-free options like pizza, but the owners feel it's their duty to provide a service for those who don't have good options.
The kitchen at Amy's is divided into thirds, with vegetarian, vegan and gluten-free dishes all prepared separately so as not to cross-contaminate. Instead of the standard 15 employees per outpost, Amy's employs over 90, because it takes more people to prepare the artisanal food. Low-cost franchises like Burger King are built for efficient delivery of frozen foods made somewhere else and shipped in. Menus in one of those chains don't offer specialization. A "gluten-free burger," for instance, is simply a burger wrapped in a lettuce leaf—not in a gluten-free bun. But America is clearly changing and headed in a different direction—towards Amy's.
THE FAMOUS SYDNEY OPERA house has lit up its sails for the fourth year in a row in celebration of Diwali. The festival has significance to Hindus, Sikhs, Buddhists and Jains, and is celebrated globally by Indian and South Asian communities. It commemorates the triumph of light over darkness, good overcoming evil.
IN OCTOBER, 2017, THE K. CHANdrasekhar Rao government in Telangana allotted US$274 million to develop Yadadri, a centuries-old hill temple with 11 acres consisting of seven domes, in a bid to build something on the lines of Tirumala's Tirupati temple in the neighboring state of Andhra Pradesh. This will also include a 100-foot main dome, and 1,400-acre tourist facilities comprising cottages, multilevel parking and housing for temple priests. Five hundred sculptors have been hired for the construction, which is expected to be completed in 2019.
Global Dharma
news provided by
HINDU PRESS
INTERNATIONAL
Subscribe to a free daily
news summary about
Hinduism worldwide at