By Ramalingum Moodley South Africa
The tallest known ardhanarishvara (Siva-Shakti) murti in the southern hemisphere, and perhaps in the entire world, stands proudly at the Siva Alayam temple in Benoni, a town on the East Rand in the Gauteng province of South Africa. The 52-foot-tall murti was built on a 20-foot base which contains a meditation room. The Deity is clearly visible from incoming airplanes landing at the nearby O. R. Tambo International Airport. Join us as we explore the history behind this murti, the coming of Indians to South Africa, the strong Tamil community in Benoni, the development and expansion of the Benoni Siva Alayam temple and the various services provided by the temple and its devotees to the community and to Hindus who pilgrimage from far and wide to attend the temple's powerful Hindu festivals.

The First Indian Settlers
Prior to the founding of the South Africa Union in 1909, the area comprised four separate British colonies: Cape, Natal, Transvaal and Orange River. Natal, now the Kwazulu-Natal province of the Union of South Africa, was formed in 1843. Faced with a shortage of workers to cultivate the newly introduced sugar-cane crop, the Natal government passed the Natal Coolie Law in 1859, permitting Indian nationals to be brought to the colony as indentured laborers. The law stipulated these laborers could return to India after five years, with free passage—or could re-indenture themselves for a further five years, after which they would be allowed to settle permanently in the colony, given crown land and full citizenship rights. Starting in 1860, thousands of Indians were shipped to Natal as indentured laborers, mostly from India's southern ports, to work on the sugar plantations on Natal's tropical coastal belt.
At the time, the newspaper The Natal Witness wrote in an editorial: "The ordinary Coolie … and his family cannot be admitted into close fellowship and union with us and our families. He is introduced for the same reason as mules might be introduced from Montevideo, oxen from Madagascar or sugar machinery from Glasgow. The object for which he is brought is to supply labour and that alone. He is not one of us; he is in every respect an alien; he only comes to perform a certain amount of work, and to return to India…."

These early immigrants endured inhuman treatment, more akin to that of slavery than indentured labor governed by contract. Ferried to South Africa in crowded sailing ships, they were housed in military-style barracks on the sugar estates and worked under terrible conditions. Farming in those early years was very labor intensive, with little mechanization. Ox-drawn plows tilled the fields, which were then planted, weeded and harvested by hand. Some workers shoveled coal into the steam locomotives that hauled sugar cane out of the fields, others toiled in the mills, and some spent their days in workshops repairing locomotives and farm equipment.
Working in those disciplines, the Indian laborers acquired skills which served them well in subsequent years, farming, mechanics, boiler-making, welding, etc. Those who stayed after ten years became farmers, traders and artisans. Wanting their children to have a better life, and knowing the importance of education, they organized themselves as a community, built schools and hired teachers from India for their children. Once educated, the youth found employment as clerks, bookkeepers, waiters, shop assistants, tailors and in many other professions. It was in 1869 that the Natal Colony saw the first Indian immigrants who paid their own passage—traders, artisans, teachers and shop assistants.
In 1891, to discourage Indians from settling permanently in Natal, the colony revoked the benefits the indentured laborers had been promised—the right to settle permanently, the gift of land and full citizenship rights. The British were alarmed by the possibility of a majority Indian citizenship: by 1893 Indians were almost half the non-African population, and by 1904 they outnumbered whites. When their rights in Natal were revoked, many migrated to the northern colonies, lured by the 1884 discovery of gold on the Witwatersrand scarp in what was then the Transvaal Republic. Many of those migrants ended up in the Benoni area.
Benoni, 47 miles east of Johannesburg, was reserved for whites. The Indians migrating from Natal were allowed to live in a designated Indian area called Actonville. The first record we have of the community was the founding in 1947 of the Benoni Tamil School Board (BTSB—see btsb.co.za) by a group of elders. They hired a qualified Tamil-language teacher from South India, as Tamil had till then been taught only by dedicated community volunteers. In succeeding years several teachers were employed by the Board, each one advancing the cause of the community. Later a permanent school was built. Following on the success of the Tamil classes, the Board expanded its services by involving itself in weddings, funerals and religious celebrations.
The Mathar Sangam
In 1964 the temple's womenfolk founded the Benoni Tamil Mathar Sangam to complement the work of the school board. In 1981 the community performed the stone-laying ceremony for the Benoni Siva Alayam. Just four years later, after a massive effort by the Tamil community, a grand kumbhabhishekam was held to consecrate the temple, with a Siva Lingam in the main shrine.

Since the construction of the temple, the Mathar Sangam has engaged in fundraising, temple administration, logistics during large festivals such as Sivaratri and Kavadi, and the preparation of meals during festivals. The Mathar Sangam in particular spearheads any prayer festival dedicated to Mother Goddess, such as Sarasvati and Lakshmi pujas and the Mariamman festival. They provide counseling and support to bereaved families of devotees in times of death. They also feed over 300 homeless people at least three times each week at the temple.

The Sangam is currently coordinated by Mrs. Savanthalai Govender, who is also a longstanding member of the School Board. Mrs. Govender explains that the newly elected committee members are now planning activities for the next twelve months. All activities will have a focus of strengthening the temple administration and membership, and empowering and assisting the Benoni womenfolk in the area.

At about the same time the Mathar Sangam was formed, the Benoni Tamil Youth Group was created to provide assistance to the school board by promoting activities such as songs, dances, musical and religious plays and encouraging children to take part in Tamil eisteddfods—festivals of literature, music and performance competitions—held locally, regionally and nationally.

The Temple Today
The Benoni Tamil School Board, originally founded to teach Tamil, currently administers the temple and all its activities. It has three elected trustees, who serve for five years, and 21 council members elected biennially, many of whom have dedicated their lives to the school and temple. A seven-member executive committee manages day-to-day operations. The president is Mr. Poobendaran Govender.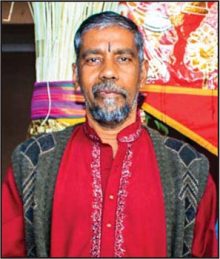 Anyone visiting the temple sees that karma and bhakti yoga, service and devotion, are abundantly in evidence. The humility and caring nature of the priest and temple officials create an ambience of inclusion and spiritual vibrancy.

In an interview, Govender told us attendance has steadily grown over the years, both at the weekly Sunday services and at important festivals. One often finds devotees immersed in singing bhajans, Devarams and other devotional songs to the various Deities. Festivals are well attended, sometimes exceeding 7,000. They are noted for their elaborate preparation of prasad [see sidebar, right]. These special foods—sanctified by having been offered first to the Gods—are served afterwards to thankful devotees.
Govender explained that Tamil classes continue, both for adults and for children, especially as the South African schools do not offer any Indian language as a subject. The BTSB recently purchased two minibuses for the transportation of children to and from the Tamil classes.

A small hall was added to the temple in 1994, followed by a boardroom for the committee meetings and quarters for the resident priest's family and assistants. As attendance increased, a need was felt to expand still further. In 1997, in line with the twelve-year kumbhabhishekam cycle, consecration ceremonies were performed for the newly built Mariamman Shakti Temple, the Navagraha enclosure and the bell-tower.

But even this was not enough, especially at large festivals such as Thai Pusam Kavadi and Sivaratri. Adjacent land was acquired and consolidated into the temple grounds, which now occupy a 4,000-square-meter block enclosed by a perimeter wall and bordered by four streets. In 2009 a large hall was built to host weddings and other events, such as festivals of Tamil music and poetry, and a kitchen was constructed to prepare meals for devotees during the large festivals.

The Head Priest
Much of this development followed the 1986 arrival of Guru R. Vengataraman from Chennai. Now head priest, Vengataraman is of the Smarta sampradaya tradition and is well versed in puja, mantra chanting and ashtottara for all the Deities. Besides leading all the puja ceremonies, he performs weddings, house and car blessings, funeral rites, memorial services and Navagraha (nine planets) prayer, which is quite popular in South Africa, as it is deemed to ward off misfortune and smooth out life during the year. Guru Vengataraman is particular about the correct pronunciation and enunciation of words, chants and lyrics, whether in Tamil or Sanskrit, during prayers and bhajan renditions, which are led by himself or his wife, Ramanyammal, who also teaches Tamil and offers singing lessons.
Guru Vengataraman recalls that when he arrived in 1986, the attendance for weekly service was quite low. During his visits to homes to perform house prayers, funeral rites and memorial services, he stressed the importance of households visiting the temple on a weekly basis. During the major festivals and Sunday services, he also explains the significance of the festivals and gives short discourses on Tirukural, Vedas and Puranas. Through his efforts and those of the BTSB, Sunday service and festival attendance has grown over the years. His overall observation is that the South Africa Hindu community is very strong in karma and bhakti yoga, as evidenced by their attendance at major festivals, their bhajan singing and their performance of rituals, but the understanding and appreciation of the concept of Brahman, and the identity of atman with Brahman, is still in its early stages. However, social media is exposing people to these more mystical teachings via YouTube, talks, quotations from Hindu scripture and short lessons by various Hindu scholars.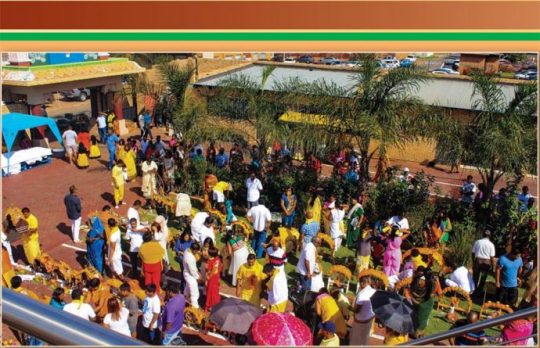 The Crowning Murti
Although the Siva Alayam was technically finished and consecrated in 1985, there was a nagging feeling in the community that some aspect of the temple was incomplete. Siva, the main Deity, stands in the central sanctum, with Ganesha and Murugan enshrined nearby. However, most temples in South Africa have not only the main Deity but the Deity's consort as well—in a temple dedicated to Lord Murugan, His murti would be accompanied by His two consorts, Valli and Devayani. Likewise, a Radha murti would be installed in a Krishna temple. The Benoni congregation felt their temple was missing Siva's consort, Parvati.

During the early 1980s, the South African Tamil Federation, the umbrella body for the country's Tamil-speaking Hindus, established connections with the Tamil community of Mauritius, leading to the frequent exchange of dancers, singers and other performers. The then president of the Benoni Tamil School Board, Karthigasen Moothsamy, was also a member of the South African Tamil Federation and closely involved with the Siva Temple at Grande Bassin, Mauritius. The BTSB, wanting a landmark which would stand out from the surrounding buildings, appear to have taken inspiration from the beautiful 108-foot-tall Siva murti consecrated in 2007 at Ganga Talao in Mauritius [see: bit.ly/TalaoSiva].

Benoni is only about three miles from the O. R. Tambo International Airport—South Africa's main airport and the busiest in all of Africa. Most aircraft fly very low over Benoni when arriving and departing, and the temple officials wanted the murti to be clearly seen from the air. Thus they decided to erect a 72-foot Ardhanarishvara (Siva-Shakti) murti—half male, half female, portraying the fact that Siva-Shakti is indeed a one Being, even though commonly depicted by separate male and female murtis.
The mammoth task of constructing the statue was undertaken in 2011, with the goal that it be completed in time for Sivaratri in 2013. Local engineers were hired to ensure that the foundation and structure complied with South African building regulations, and temple builders were flown in from Chennai to manage the construction. The contractors had to work around the temple's daily activities and festivals without disruption. To the delight of the temple officials and devotees, the colossal achievement was completed just in time—two days before Sivaratri in 2013—and consecrated immediately. The total cost came to slightly over us$150,000. For the grand abishekam to consecrate the murti, the Mathar Sangam threaded a garland nearly 100 feet in length, and a helicopter flew overhead, spraying quantities of flowers over Ardhanarishvara.

Conclusion
From its tough beginnings a century and a half ago, the Indian community of Benoni now thrives in the 21st century, in part because of the success of the Siva Alayam temple in preserving religion and culture generation after generation. Their recent outreach to other Hindu groups has informed and inspired their own efforts in a manner which makes us conclude that the future of this community and its temple is bright.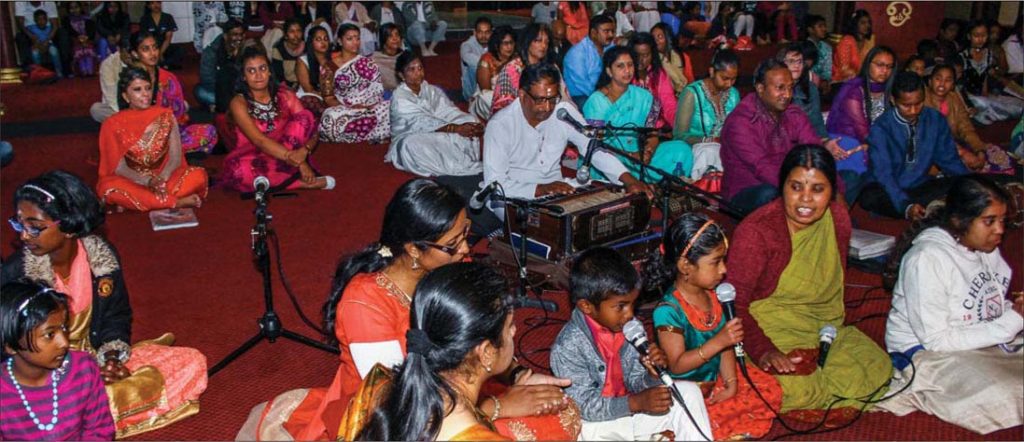 Benoni's Youth

Hinduism Today interviewed 26-year-old Jerkin Naidoo, coordinator of the Benoni Tamil Youth Group on the diverse activities of these dynamic youngsters.
OVERALL GOAL: Our main purpose as the youth group is to contribute to the betterment of society, especially that of Benoni, for the benefit of all religions and races. We hope to build this group from strength to strength; and this is the strongest we have ever had the group in about fifteen years.
TAMIL YOUTH GROUP MEMBERSHIP: Currently we have around 60 people in our WhatsApp chat group. About 25 to 35 participate in our activities. Most are between 18 and 25; the youngest is five and the oldest 41. Many are currently in school. Some have graduates—doctors, lawyers, teachers, engineers and accountants—and those in other fields, such as music, the arts and mechanics. The active group comprises about 25 females and ten males. Including all members, we have about 40 females and 20 males. As a body under the Benoni Tamil School Board, we are financially supported and guided by the senior board members in terms of what we can or can't do. However, the group does enjoy a decent amount of autonomy.
SPIRITUAL TEACHING: Our educational material and spiritual guidance is given each Sunday by our guru, R. Vengataraman, the temple's resident priest for more than 20 years. We attend as a group and are taught from the Tirukural, the Vedas and the Periya Puranam stories of the 63 saints of Saivism. Each Sunday two of our members recite from the Tirukural, one in the original Tamil, the other in English. Before the service we have a yoga class conducted by one of the our members who has trained in this discipline. Overall, there is great interest in Hinduism among our youth.
UNDERSTANDING OF HINDUISM: I think the level of understanding has moved from a fairly rudimentary level to a better understanding. It is still growing through our study of the Tirukural. Besides this, the youth regularly take part in the abhishekams (bathing of the Deities) whenever there is a puja. But, I would say that while the youth are active in terms of participating in the rituals, they have yet to acquire a full understanding of the meaning.
ACTIVITIES: We clean the temple and its surroundings once a month, assist during festivals and help with fund raising. We also undertake charity tasks, such as volunteering at Benoni's Society for the Prevention of Cruelty to Animals. We raise money and collect supplies for orphanages and baby homes, and we spend time serving personally at these organizations. We interact with other temple organizations in Benoni, such as with the Hindi and Gujarati temple festivities, and we are working to foster good relations with youth groups from various other faiths.
IS CONVERSION AN ISSUE? In my time I have not seen any members converted to other religions. We have a good spiritual leader who has guided us well. We have been taught by our guru that everyone is born into a specific religion for a specific purpose. Thus, we will never attempt to convert others. However, if outsiders are interested, we are open to educating them.
KEEPING YOUTH ENGAGED: The current youth don't unquestioningly accept the teachings or practices of Hinduism. They need explanations of why certain things are done in certain ways. Being proactive with lots more explanations of why, what and the significance of each prayer or ritual is required. Easier access to information will lead to a better understanding and greater involvement of further generations.
IMPACT ON CAREER: I never really took Hinduism into consideration when I chose my field of study and career. However, as I have grown older the importance of Hinduism in the form of Mother Sarasvati has greatly influenced my appreciation of education and my intention to continue teaching. I know the value of education and its importance to wisdom and creating a good life for one and all. My main goal in life, which I always try to impart to my students, is that one needs to be a good corporate citizen and contribute to the betterment of society as a whole. Thus, I think Hinduism's values of fostering good people has definitely contributed to this perspective.
Of Festivals and Food!

The many auspicious events celebrated by the temple include Thai Pusam Kavadi, Deepavali, Sivaratri, Karthigai Deepam, Tamil New Year, Ganesha Chaturthi, Navaratri, Purtassi, festivals to Sarasvati, Lakshmi and Mariamman, and guru pujas. Special food dishes accompany these, especially the Purtassi and Mariamman festivals. Purtassi, name after the Tamil month of Purtassi (September/October), honors Lord Venkateswara. Observing the "fasting prayer," devotees abstain from meat, fowl, fish, eggs and alcohol. The festival's prasadam includes rice, dal, several seasonal vegetable curries, urundai, fried vada and fruit.
Urundai—commonly known as gool-goola—is made from a thick, sugary batter shaped into small balls and deep fried. In some variations, this popular sweetmeat is stuffed with mashed lentils or channa dal prior to frying. The equally popular South African vada is a savory prasad made from split peas soaked overnight in cold water, ground into pulp and seasoned with spices, green chillies and herbs such as coriander, salt and spring onion, then shaped into a small ball, pressed into a disk and deep fried until reddish brown.

The Mariamman Festival
Goddess Mariamman's is grandly worshiped during the Tamil month of Adi (July/August), prior to spring in the southern hemisphere. Legend has it that once an entire community in India was plagued by measles, which caused untold misery and death. A mysterious lady, believed to be a form of the Goddess Mariamman, appeared and cured the ill by feeding them porridge and applying a paste made from lilac leaves and turmeric. Ever since, this festival has been celebrated in Her honor throughout the rural areas of South India. Lilac leaves and turmeric are still used today by the older generation to treat measles, though the younger generation avail themselves of modern medical treatment.

The main prasadam item for the Mariamman prayer is a drinkable porridge made from maize meal soaked in water and fermented for a week in a lactic acid process which does not generate alcohol. (Maize, an African staple food, is widely grown in South Africa. The Indian indentured laborers adapted to eating this porridge soon after they arrived here.) After fermentation, the porridge is placed in three pots decorated with turmeric paste and dots of kumkum. A garland of lilac leaves is tied around each pot, and yogurt, chopped lilac leaves and sometimes chopped onions are sprinkled into the porridge.

Other prasadam items unique to the Mariamman festival are mixed vegetable curry; a mixture of boiled and braised seeds, consisting of peanuts, channa and other dals; and sweet-rice balls sprinkled with coarsely ground rice and lilac leaves. A prized delicacy is koli-katta, a sweet made from steamed rice flour. The rice is soaked overnight in cold water and ground on the morning of the festival. The resulting paste is mixed with sugar, dill, sesame seeds, cardamon powder and sweetened condensed milk, then roasted in a pan with butter. The roasted mixture is covered with a linen cloth and steamed over a pot of water, then removed and shaped with the palm into a cylindrical cookie which fits the width of the hand. The fingers are curled over and pressed into the cookie so that the impressions of all four fingers are visible. The cookie is then left to cool, to be offered as prasadam to the Amman Deity.

Prayers are offered with bhajans and mantras to Mariamman/Shakti and other forms of the Mother for a bountiful harvest. Vegetarian families hold a single mid-morning puja, culminating in the serving of brunch. Non-vegetarians hold a morning puja, where the porridge and vegetable curries are served, followed by an afternoon puja and non-vegetarian meal.
Carrying Kavadi for Murugan
The temple's yearly festival of Thai Pusam attracts thousands of devotees
The highlight of siva alayam's festival calendar is Thai Pusam Kavadi in honor of Lord Murugan. This occurs during the Tamil month of Thai (January/February). Hundreds attend each of the festival's first nine days; then more than seven thousand come for the 10th and concluding day. Many devotees fast for these ten days—which here means abstaining from meat and alcohol, though some fast on fruit or water alone. On this tenth day they will carry kavadi, a decorated arch in honor of Lord Murugan (photo below) and an offering of milk, in procession.

Devotees prepare their kavadis by sprinkling decorating them with marigold flowers blessing the with turmeric water (opposite page, top left). Those observing a vow of silence tie a cloth over their mouth. Participants stand in neat rows with their kavadis, a coconut, betel nut and betel leaf, camphor and incense. The temple priest and his assistants then invoke shakti, the divine power, in each kavadi by performing arati, breaking the coconut and lighting the incense. Each devotee prostrates in front of the kavadi, then lifts it upon his or her shoulders along with a milk offering (opposite page, center photo). Some will pull a small chariot housing the Deity instead of carrying a kavadi. The most ardent do so via ropes or chains attached by hooks to their skin (opposite page, top right).

Some devotees go into trance, voluntarily or triggered by fervent drumming, cymbals and singing. In other instances trance occurs when a helper light camphor in front of the devotee and applies a dab of holy ash to the devotee's forehead while reciting a mantra. Commonly the devotee will go a bit limp and then start dancing to the rhythmic music. Some in trance have their tongue, cheeks or other parts of the body pierced with small spears. All the devotees then circumambulate the temple (opposite page, bottom) and an adjacent block three times, a distance of 2.8 miles. Upon their return, the milk is offered to Lord Murugan at His shrine within the temple.