The venerable religious press has printed more than 700 million books and pamphlets, including 141 million copies of the Bhagavad Gita
BY TIRTHO BANNERJI , INDIA
THE MOST UBIQUITOUS BOOKS FOUND IN Hindu households throughout India are the Shrimad Bhagavad Gita and Ramcharitmanas , often side by side with the booklet Hanuman Chalisa . A majority of these come from Gita Press in Gorakhpur. Why is that? Their nominal price is a key reason, but it's also because of their impeccable content, easy-to-grasp language, nicely laid-out text and top-quality printing.
In two years, on April 29, 2023, Gita Press—Hinduism's largest printer, publisher and distributor of religious literature—will turn 100. But the company continues to plod on unassumingly, without making noise about its huge body of work and incredible achievements.
By March 2019, Gita Press had produced 141.3 million copies of Bhagavad Gita in various editions, 108.7 million copies of the Ramcharitmanas plus other works by Goswami Tulsidas; 25.2 million copies of the Puranas and Upanishads , five million copies of Hanuman Chalisa , 198.6 million copies of small books, especially for children and the less educated; and 160 million copies of scripture-based booklets, pamphlets and texts on topics related to spiritual growth.
"Since its inception, Gita Press has published over 700 million books," states Dr. Lal Mani Tiwari, the production manager. The books are not restricted to Hindi and Sanskrit. Hindu religious titles, commentaries and translations are brought out in English, Malayalam, Telugu, Gujarati, Tamil, Marathi, Odiya, Kannada, Urdu, Assamese, Bangla, Punjabi and Nepali. Kalyan , its most popular Hindi periodical, has a subscriber base of over 230,000, and its English version, Kalyana-Kalpataru , has over 100,000 subscribers. Just imagine its range of readership!
Visiting the press campus, one marvels at the architectural brilliance of its famed entrance gateway, which depicts the country's popular temple styles. The entrance pillars are designed after the pillars of Ellora cave temple. The circular hollow in the middle portion, behind the chariot of Sri Krishna and Arjuna, is carved like the mouth of the Ajanta cave temple. A replica of Meenakshi Temple's architecture adorns the entry peak. Designs and graphics overhead portray Badrinath, Dwarka, Puri and Rameswaram, India's four major pilgrimage destinations. Satyamvad dharamamchar ("Speak truth and practice dharma") is engraved on the door. Dr. Rajendra Prasad, the first president of India and a great scholar, inaugurated this grand structure on April 29, 1955.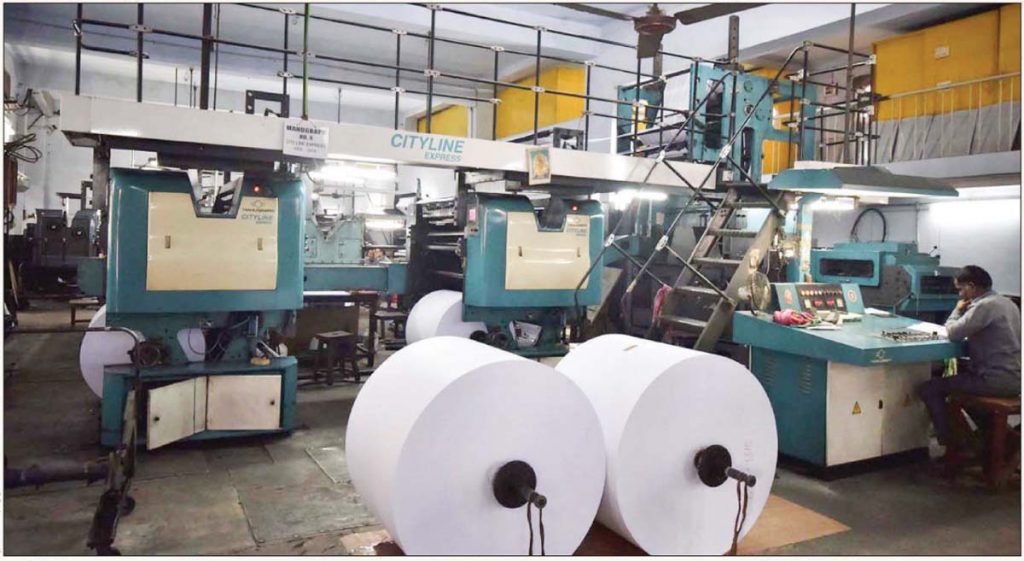 Gita Press functions on a sprawling 3.2-acre (1.3-hectare) lot. As with any press, it has four main departments: pre-press, printing, binding and distribution. It recently acquired a US $1.5 million German press capable of better and more efficient printing, which helps cut production expenses. Lal Mani said they have also imported machines from Japan and Italy to increase output and efficiency. The roar of the massive, state-of-the-art machines resonates through the premises—there's nothing quiet about book production. Each year they go through 4,500 tons of paper.
The grandeur of the equipment is matched by the seamlessness of the operation. Every worker does his part with clinical precision and in sync with every other. Timing is crucial. As the books roll out, they are carefully stacked on pallets and moved to the bindery for finishing, then over to the shipping department. To watch the entire process—seeing the singular written word transformed into its mass-printed embodiment—is to be impressed with the magnitude of the accomplishment.
Priced for Maximum Distribution
Traveling by train in India, one notices Gita Press stalls on every platform. Sales outlets fan across the country, from Chennai to Hardwar and from Surat to Cuttack. Lal Mani estimates there are more than 2,500 booksellers and 50 stalls in railway stations across India, all doing a brisk business. By one rough estimate, 50,000 Gita Press books of different kinds are sold every day. A copy of Bhagavad Gita can be procured for 42 cents and a booklet of Hanuman Chalisa for as little as six cents. How do they keep the prices so low?
Gita Press is run by a trust, on a nonprofit basis. It does not solicit external funding, donations or advertisements. Lal Mani explains: "Gita Press is not meant to make profits; it doesn't want to mint money. It is governed by a board of trustees. Nothing is spent on the top management. The books are published using the latest state-of-the-art machines. Because of all these factors, the production costs are low and books are made available at subsidized rates."
Any losses incurred are offset in part from the revenue generated by Kalyan magazine, the Gita Ayurveda medicine brand and Hast Nirmit Vastra Vibhag, their popular clothing stores in several cities (see pages 56-57).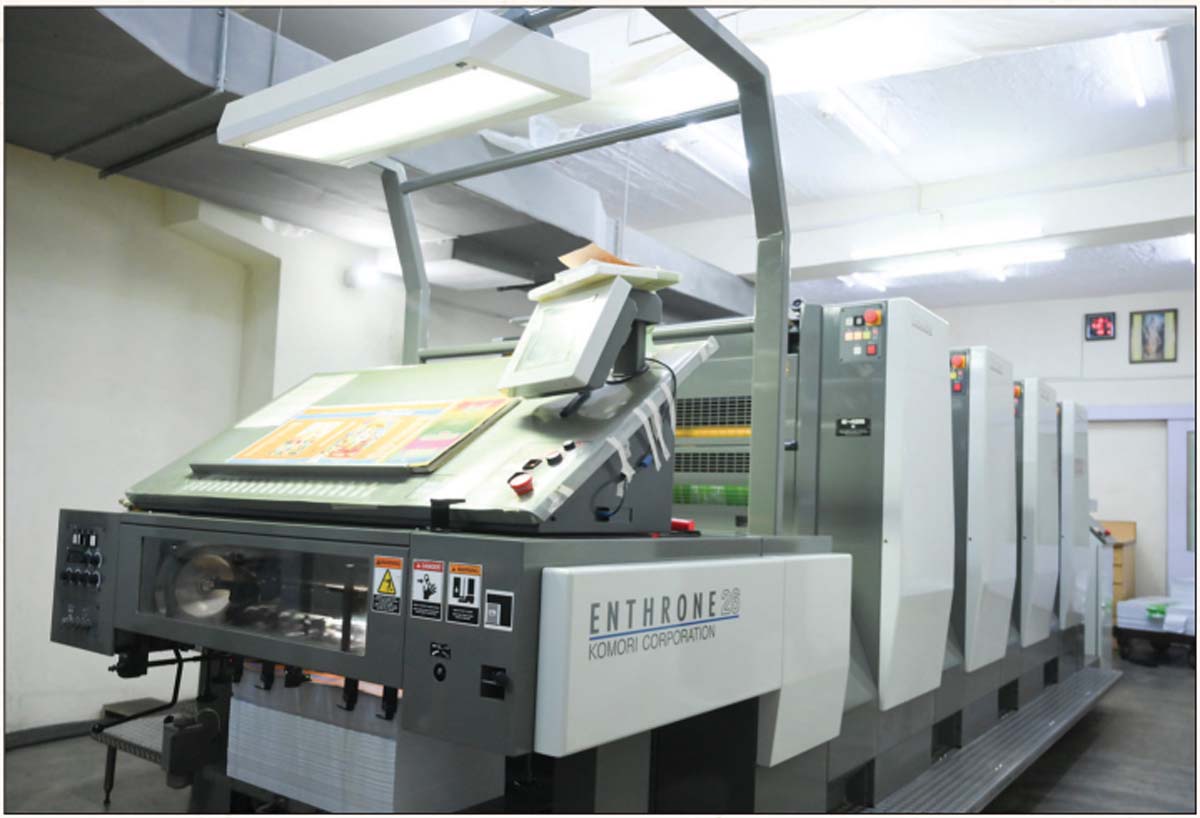 Custodian of Hindu Culture
Readers of the publications unanimously believe no other institution in the world has done such yeoman service to promote Hindu philosophy and culture. Their common refrain is: The legacy of Gita Press will endure for ages and continue to safeguard the scriptures.
Scholars reading these books over many years deeply respect the institution and recommend its publications to others far and wide. Professor Murli Manohar Pathak, head of Department of Sanskrit & Prakrit Languages in Deen Dayal Upadhyaya (DDU) Gorakhpur University, states, "Since my childhood, I have seen Gita Press books in my house. My grandfather was an avid reader of Kalyan magazine. It rubbed off on me. It was full of interesting information and imparted knowledge in a very unobtrusive way. I was in Ujjain for a long time and always promoted Gita Press books among people and booksellers alike. My younger brother stays in London, and whenever he comes here, he carries bundles of their books back with him." Pathak also attends programs held by Gita Press and feels its tradition is too well established and deep rooted to fizzle out due to various modern onslaughts.
Dr. Vishwanath Tiwari, former president of the National Academy of Letters (Sahitya Akademi) and professor in the Hindi Department in DDU Gorakhpur University, says Gita Press books have been a permanent fixture in his family, "an integral part of my upbringing." Vishwanath underlines that people recognize Gorakhpur largely through Gita Press. "In fact, it is Gita Press that has put Gorakhpur on the world map."
Gorakhpur is also famous, of course, for the Gorakhpur Math (monastery) founded by the 11th-century saint Gorakshanath of the Nath Sampradaya (tradition), and after which the city is named. Gorakhpur Math has been active in Indian politics for more than a century; its present head, Yogi Adiyanath, is chief minister of the state of Uttar Pradesh.
No matter where he travels in India, Dr. Tiwari encounters people familiar with Gita Press. Once, outside the Golden Temple in Amritsar, he spoke with a Sikh shopkeeper aged around 85, whose mother—age open to conjecture—was also sitting there. "When I told them my association with Gita Press, the old woman asked me if I could send her a copy of Tulsidas' Sunderkand , a section of the Ramayana describing Hanuman's journey to Sri Lanka. Similarly, while I was visiting Meenakshi Temple in Madurai, a Marwari shopkeeper asked me to send him a copy of Tulsidas's Kavitawali ."
Leela Chitra Mandir
Visitors to the Gita Press campus should not miss the Leela Chitra Mandir art gallery, which contains a large collection of paintings by iconic Indian artists dating back to different eras. Around 684 paintings, arranged according to the sequence of events, portray the anecdotes and teachings of Lord Rama and Lord Krishna. One of these shows Lord Krishna washing the feet of his dear friend Sudama to welcome him as he comes calling at his kingdom.
Many other paintings are aesthetically displayed in the gallery, including a series of 92 vintage Mewari-style paintings depicting Sri Krishna Lila. The walls are adorned with marble plaques displaying all 700 verses of the Bhagavad Gita and 700 couplets of various saints.
There's also a library of Hindu religious books containing old and rare copies of the Bhagavad Gita with commentaries in various languages. The archives contain over 3,500 manuscripts, including 100 interpretations of the Bhagavad Gita , according to Wikipedia. For anyone researching a particular Hindu scripture, the library is a treasure trove and an ideal place to pore over the texts.
Origins During the Freedom Struggle
Gita Press was founded April 29, 1923, to propagate and protect Sanatana Dharma. It was a time when religious conversions were peaking and India was in the grip of the British regime. Jaya Dayal Goyandka, Ghanshyam Das Jalan and Hanuman Prasad Poddar joined hands to establish the press for spiritual reawakening and moral righteousness.
During its first four years, Gita Press printed only ancient scriptures. The canvas and spectrum widened in 1927, when Poddar started the magazine Kalyan . This gave a new face to Gita Press. Apart from preaching religious ethics, meditation, yoga and dharma, Kalyan also started addressing social concerns and topical issues that India was grappling with at the time. Even as spirituality remained the central theme, an undercurrent of nationalistic fervor ran in Poddar's incisive editorials. In the 1950s he opposed the Hindu Code Bill, which revised Hindu personal laws regarding marriage, inheritance and adoptions. The bill was extremely controversial. Although it improved the rights of Hindu women, it did nothing for women of other religions whose personal laws were not touched by the new Indian government.
Poddar had good rapport with many political leaders and academicians. Among these were Mahatma Gandhi, Madan Mohan Malviya, S. Radhakrishnan, Rabindranath Tagore, Gopinath Kaviraj, Radhakamal Mukherjee and Rajendra Prasad. Almost all wrote for Kalyan , and their diverse writing helped the journal reach dizzying heights.
After Independence, Poddar continued to write until he passed away in 1971. The Indian government issued a postage stamp in his memory in 1992. Kalyan still publishes his commentaries on the philosophical traditions of India. Kalyan remains prominent to this day; but the popularity of Gita Press rests on the religious books it publishes, with the demand soaring higher year after year.
Brief Period of Labor Unrest
In December 2014, the press was shut down after talks between the management and workers became deadlocked. The employees went on strike. Their demands included a raise in salary. There were plans developed to shift to another place.
"Unfounded rumors triggered misunderstanding among the workers," Lal Mani explains. "They felt they were not getting the legally required minimum wages that they were entitled to, even though Gita Press was paying far more. I myself went with them to the labor commissioner. When the doubts were dispelled, the workers realized their mistake and resumed work unconditionally."
Three years later, in 2017, social media was rife with the false news that the press was facing closure due to financial constraints and was unable to pay its workers. "People with vested interests fabricate news and spread such rumors, mostly on social media, off and on," explains Lal Mani. "They often appeal to people for donations of money to salvage the press, but which they would then pocket themselves." Gita Press has over 400 workers, who are paid regularly in compliance with the Wages Act. The functioning of the press continues as smoothly as ever.
Ancillary Organizations and Projects
Gita Bhawan, with five locations in Rishikesh, is the largest and best-known organization affiliated with Gita Press. It has a thousand free rooms for pilgrims, vegetarian food, an Ayurveda department and huge lecture hall. The multiple bathing ghats along the River Ganga in front of the Bhawan are used extensively by devotees. The Laxmi Narayan Temple is located on the premises. Given the room price (nothing), it is not surprising that visitors are advised: "Rooms will be extremely fundamental with just a bed inside." They have no website, but can be reached at 91-135-243-0122—though apparently they are closed since July 2020 on account of the pandemic.
The Rishikul Brahmacharya Ashram in Churu, Rajasthan, was established in the same year as the press, 1923, to impart free education through the ancient gurukul tradition. At present it has 100 students, who pay a monthly fee of $5.47 for food, lodging, education, clothes and medicine. They learn Vedas , Sanskrit and Hindi.
The Gobind Bhawan Karyalaya in Kolkata dates back to 1928. In addition to raising public awareness about Hinduism through sale of the Gita Press books, the society offers Ayurvedic medicines and clothes at cheap prices. Gita discourses and other lectures take place from time to time in their huge auditorium. Their handloomed clothing is sold there in Kolkata and at outlets called Hast Nirmit Vastra Vibhag located in Gorakhpur, in Kanpur, and at Gita Bhawan in Rishikesh.
Finally, to help victims of natural calamities, Gita Press has a cell called Seva Dal that provides humanitarian services to people affected by flood, drought or earthquake. The team rendered commendable help during the 2017 earthquake in Uttarakhand, the flood of the same year in Gorakhpur, and the 1999 cyclone in Odisha, one of the largest ever to strike India.
Ready for Its Next Century
"Serving humanity for truth and peace"—that's the motto Gita Press abides by. The one-of-its-kind institution propounds the tenets of Bhagavad Gita and moral principles that can improve one's quality of life through spiritual well-being. At its core is the vision to raise spiritual consciousness by publishing religious texts.
Now the institution is bracing to meet the challenges posed by e-books and Kindle. Says Lal Mani. "Today's generation want to read books online. There's a growing demand for e-books. We have collaborated with Amazon to put our books online. We are uploading a lot of material to our website (gitapress.org). Our team will explore and utilize more platforms when the need arises."
"But," he emphasizes, "I feel that when you plan to recite Bhagavad Gita or Ramcharitmanas , you feel most comfortable reading from a physical book. When today's youth get inclined towards spirituality as they age and experience life, they will realize the importance of recitation while reading the printed texts. Reading them on Kindle or mobile phone will never be fully possible, and moreover it won't give one that quintessential content. So, the print will always hold its sway."
Professor Pathak, quoted earlier, believes Gita Press serves as a link to connect us to religion, faith, culture and spirituality in this fast-paced world. So, whether books are read online or in physical form, the popularity of Gita Press will grow and continue to influence and leave an impact on the masses in a huge way, as it has over the years.
Echoing similar sentiments, Dr. Vishwanath emphasizes that Gita Press will keep flourishing irrespective of all future challenges. Religion and faith will have a natural fascination, and reading about them will never go out of fashion. But, he stresses, the youth of today must be offered spirituality, philosophies and metaphysics in a way that satisfies their appetite for logic, because tradition must coexist with rationality.