Reviewing Sushila Blackman's Brave Book about Dying
BY RAMAI SANTHIRAPALA, LONDON
The background to Graceful Exits stems from author Sushila Blackman's experience during the samadhi of her guru. She eloquently speaks of the despair and sorrow that followed the passing of her beloved Swami Muktananda. Then there arose an immersive "liquid pool of clear, crystalline light'"which emanated as assurance that her guru was still alive within her. A further realization came that she would reside with her guru upon her own passing. A sense of peace and joy ensued. Subsequently, for reasons consciously unknown to her, Sushila collected stories of the departures of great siddhars, and her book Graceful Exits was born. The reason for this book became apparent as she soon faced her own experience of dying following a diagnosis of advanced lung cancer. She courageously and joyfully received this news as a blessing and dutifully prepared for her great transition. Less than two months after writing the afterword, Sushila Blackman made her transition. Graceful Exits serves as her legacy, offering insights on death and informing us how great ones prepare and depart this earthly plane.
Observation 1: Conscious Control
The first clear observation from this collection of stories is the conscious control the masters took of their "big day," as Sushila speaks of it. Even where medical interventions were sought, it seemed masters took care to have a transition free from drugs and machines. "Tomorrow, when I raise my hand, you must not give me an injection," Seki Seisetsu, head of all the Rinzai temples in Japan, told his doctor on the night of October 2, 1943, as he prepared to take his last breath surrounded by his monks who chanted sweetly.
2: Death Comes as No Surprise
The sages cited in this book knew when the time had come. The clarity with which some described their moment of death left even the closest of devotees in disbelief. Swami Vivekananda, disciple of Sri Ramakrishna, told devotees at the end, "A great tapasya and meditation has come upon me, and I am making ready for death." Subsequently, he made plans, even marking where he wished to be cremated on the monastery grounds. Three days later he made his transition at a tender 39 years of age, having fulfilled all he came to do. Sadasiva Brahmendra, who lived in the eighteenth century in Tamil Nadu, instructed ardent followers to build him a cave and enclose him inside it. His followers did so, with reluctance. Nine days later a bilva tree emerged from the site, and close devotees had visions of their master's entering samadhi.
3: Wait for the Right Moment
In the ancient Tirukural, Tiruvalluvar writes, "So potent is the power acquired through disciplined self-denial that those who attain it may even delay the moment of death" (Kural 269). Humbly I share an experience of my own grandfather. He passed on my mother's shoulder whilst in a hospital in Sri Lanka's Northern Peninsula, only to return to life upon hearing her tears, stating, "I was on the way to Kataragama (a holy abode of Lord Murugan in southern Sri Lanka) when I heard your call and returned." He made his transition peacefully at home shortly afterwards. Graceful Exits describes many such experiences. A Tibetan yogi living in historical Kham instructed an attendant, "I am going to die now, so would you please look in the calendar for an auspicious date." Upon the suggested auspicious day arising, the masters asked, "Is today the auspicious day?" "Yes," replied the attendant. "Fine, I shall go today," the yogi answered and with effortless ease transited in his meditation that day.
4: Death Is Simple
In the words of my guru, death is described as a quick transition, akin to walking through a door, leaving one room and entering another. The simplicity with which great souls perceive the experience of death is exemplified by a short but sweet story in Graceful Exits. Tenth-century Chinese Zen Master, Dasui Fazhen, was asked, "How are you at the time when life-death arrives?" He answered promptly, "When served tea, I take tea; when served a meal, I take a meal."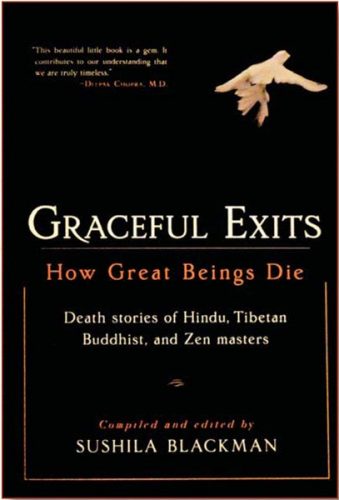 5: Any Final Words of Wisdom, Master?
Common to many of these stories was the aspiration by close shishyas to capture final words of wisdom as their master prepared to leave this earthly plane. On June 21, 1963, Swami Sivananda spoke, "Happiness comes when the individual merges in God." These were his last recorded words. In Japanese tradition, Buddhist masters give their last words as a death poem. Sushila Blackman introduces us to this concept, giving an example from Buddha toward the end of his life:
Of all footprints
That of the elephant is supreme;
Of all mindfulness meditations
That on death is supreme.
In some cases, devout followers were scolded for asking for "last words." Their master responds that their entire life has been filled with teachings and there is no more to be said. Japanese Zen Master Bankei speaks fervently when confronted by the tears of his closest students, "How do you expect to see me if you look at me in terms of birth and death?"
6: Find That Which Never Changes
The deep impression I had from reading Graceful Exits is the impermanence of life and permanence of an essence beyond—the atma. Ubiquitously felt through reading these stories, from a number of Eastern traditions, is the one-pointed focus these great masters had on identifying with this universal essence. Some stories recalled how this intense meditation drew the masters to others who had passed on ahead. Swami Brahmananda, while absorbed in blissful meditation, spoke of seeing Sri Ramakrishna, Vivekananda, Premananda and Yogananda come before him. Days later he made his transition.
Final Reflections
Graceful Exits serves as a poignant reminder of the worlds beyond that which the physical eyes can see and of the great karmic play that is life and life beyond. This book has affirmed a cause close to my heart: that we ought to deliver end-of-life care tailored to the individual, respecting those who say "Thanks, but no thanks" to the latest innovative life-sustaining technologies. My inspiration and courage to step into such a cause comes from the end of life of my great master, Sivaya Subramuniyaswami, who declined hospitalization and further tests and opted for the tapas of a religious and self-willed death by fasting, called prayopavesha.
Graceful Exits provides a humble reflection that each moment is an opportunity to strive onwards to find our truest nature through dharmic living, whilst knowing the benefits of such focus may only become apparent in the clarity of one's own transition. Ultimately, the lesson from these enlightened masters is to move out of fear of the end of this earthly life and gain the perspective that our truest nature is a permanence that flows from lifetime to lifetime. The question I ask myself, and you, is what will you do today to move closer to the precious opportunity of a graceful exit? A good first step would be to pick up your own copy of this distinctive collection of tales of the amazing departures of great masters.