INDIA
Minority Status Granted
IN MARCH, 2018, KARNATAKA'S Congress government granted minority status to Lingayats, a sect of the Virashaiva tradition founded by Basavanna in the 12th century. Among the benefits of being granted minority status is the freedom to run educational and religious institutions without interference or takeover by the State government. Currently India only grants this freedom to minority religions and not to the majority Hindus. In Karnataka there is a considerable political component involved, as Lingayats are a substantial voting bloc in the state.
Aarti Ramachandran explains the uniqueness of the Lingayats and Virasaivas in The Wire: "In addition to their demand, the faction of religious and political leaders at Bidar held that Lingayats and Virashaivas are not one and the same, as they are commonly held to be. According to them, Virashaivism was a sect of Shiva worship within Hinduism, whereas the Lingayat religion is an independent religion based on the Vachanas—the poetic corpus left behind by Basavanna. This, according to them, was the founding text of Lingayat worship. Therefore, they ought to be recognized as separate from both Virashaivas (who are one of the many sects within the Lingayat community) and Hindus."
The cabinet mentioned Lingayats and Virashaiva Lingayats separately in order to pacify disgruntled Virashaivas, who were left out of the separate-minority-religion designation.
The movement was led by water resources minister M.B. Patil of the Congress party in Karnataka; its catalyst was S.M. Jamdar, a retired IAS officer.
Jamdar said Lingayats had separate religion status for 800 years until 1871, before it was taken away without reason in 1881.
To avoid backlash from other communities, the government added that this decision "should not affect the existing benefits available to other religious or linguistic minorities."
TRINIDAD & TOBAGO
Walking for God
THE SECOND SHIVGANGA MAHA Yatra, a 67-mile trek from Ganga Dhara in Blanchisseuse to Patirama Shiva Mandir, was successfully completed in February, 2018. Sixty pilgrims—from Trinidad and the US—participated. The yatra was organized by the Chinmaya Mission of Trinidad and Tobago under the leadership of H.H Swami Prakashananda.
In 2019, the Shivganga Yatra, covering 50 miles (80km) will take pilgrims from Ganga Dhara in Blanchisseuse to the famous Temple in the Sea in Waterloo, Trinidad.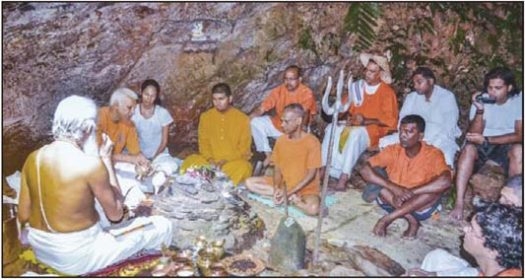 USA
Correcting Yoga and Spreading Culture
THREE ACHARYAS, SELECTED BY the Indian Council for Cultural Relations (an official agency of the Indian Government), have been promoting Indian culture in America starting in 2016. Given the title "Yoga and Indian Culture Acharya," they are experts in Sanskrit, yoga and Hindu scripture. They were appointed initially for two years, extendable by two more. They have diplomatic passports. Based in Washington DC, New York and Chicago, they are mandated to travel around the country and organize events that promote Indian culture.
Prerna Arya, appointed on December 7, 2016, serves at the Indian consulate in Chicago. She completed her PhD from Gurukul Kangri University in Haridwar with a thesis on "Naturopathy in Vedic Literature." Dayashankar Vidyalankar, serving at the Indian Consulate in New York, learned Sanskrit in Gujarat. He told The Hindu: "I taught yoga in Parliament House for nearly 15 years and serve on several advisory boards of government departments." He opines that the entire world was "guided by the wisdom of the Vedas at one time, but we lost that due to various factors. After Independence, this is the first time that India has a government thinking its heritage should be propagated. That is why I am here." Mokshraj, with a PhD in the Vedas from Rajasthan Sanskrit University, joined in January, 2018.
The three acharyas concur that yoga's spiritual dimension has been undermined by commercialization. Acharya Mokshraj explains, "Our responsibility is to take yoga to each individual, without cost, so that they can reduce their medical bills and lead peaceful lives."
ABU DHABI
A Gift Of Land
INDIAN PRIME MINISTER Narendra Modi officially launched the construction of the first BAPS Hindu Mandir in Abu Dhabi, United Arab Emirates, on Sunday, February 11, 2018. The temple is to be built on 55,000 square meters of land and completed by 2020. Made possible with a generous gift from the Crown Prince of Abu Dhabi, Sheikh Mohammed bin Zayed Al Nahyan, the temple will be a symbol of global peace and harmony.
Several thousand devotees, well-wishers and guests from all over the world participated in the ground-breaking ceremony marking the first step in the construction of the traditional stone temple. Representatives of all Indian religious denominations and communities, as well as representatives of the Jain, Sikh, Muslim, Christian and other faith communities attended the ceremony. The BAPS organization has 1,200 temples worldwide.
SYMBOLS
Ganesha Immigrates to Southern California
IT'S A STORY WHERE FICTION becomes fact. The arrival of the railroads in Southern California in the later years of the 19th century created a huge real-estate boom. A wave of immigrants from the eastern United States began to arrive. New towns with new names began to spring up. One such town was Pomona in eastern Los Angeles county, which sprang up on a large Mexican rancho. It was named after the Roman Goddess of orchards.
One of the real estate developments in the new city was called Ganesh Tract. It included homes on Ganesha Place, a street that bends to the right when seen from above. It exists to this day. Around the same time, in 1888, Ganesha Park was started by Patrick Tonner, a land developer, on six acres of land, which he planted with eucalyptus trees. It was the city's first park. Tonner named it Ganesha Park after (to his understanding) the God of good things and water. The hills to the southwest of the park became known as Ganesha Hills.
Seventy years later a High School named after Ganesha, with His elephantine image on its crest, opened two miles to the west on what was then known as Ganesha Boulevard. Ten years later a new wave of immigrants arrived from India, bringing with them their love of Ganesha. Now, 130 years after that park was created, Ganesha is being worshiped daily at 15 Hindu temples in the Pomona area. And that old Mexican rancho? It is now home to another wave of immigrants, this time from the South. Ninety-two percent of the students at Ganesha High School live in homes where Spanish is spoken.
SINGAPORE
Most Diverse Country?
RESEARCH REVEALS THAT Singapore is the most religiously diverse country in the world. A 2010 study, carried out by the Pew Research Center in Washington D.C., ranked 232 countries on a scale of 1 to 10, with a score of 10 being the most diverse.
The study measured the Religious Diversity Index (RDI) of each country based on the percentage of the population in the following categories: Buddhist, Christian, folk religions, Hindu, Judaism, Islam, other religions and religiously unaffiliated. Singapore rated 9 in the study.
According to the 2015 Singapore General Household Survey on residents, the city-state is 34% Buddhist, 14% Islamic, 18% Christian, 11% Taoist and 5% Hindu; and 16% claim no religious beliefs.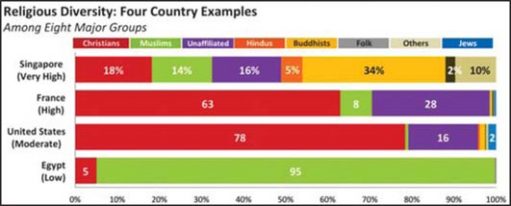 Singapore encourages religious diversity by celebrating dates and events significant to each group. Public holidays include everything from Easter to Hari Raya, to Diwali. Community associations concurrently organize large-scale events around holidays, including Chinese New Year and Hari Raya Puasa.
THE ARTS
Dancing Monks of Assam
SATTRIYA DANCE HAS BEEN cultivated by Hindu monks for five centuries as a way of worshiping the flute-playing Lord Krishna. In April, 2018, the US public experienced it for the first time when the Antoinette Westphal College of Media Arts & Design in Philadelphia hosted a series of master classes, demonstrations, a lecture and a performance. The event featured the Dancing Monks of Assam, led by Bhabananda Barbayan, on their first US tour from monasteries on the river island of Majuli in the Northeast Indian state of Assam. This form of dance honors Sri Krishna and his incarnations, narrating the playful, sensuous and fantastical story of His life as recounted in ancient epics.
Sattriya originated in the monasteries of Assam. For centuries it remained confined to the monasteries, where celibate monks practiced, nurtured and preserved it as part of their daily rituals. Women had little access to this dance form until the mid-20th century.
In 2000 the government of India incorporated Sattriya into its pantheon of classical arts. It is an unbroken, living tradition that includes drama, dance, song and a special form of choreographed yoga. The monks consider their art "an offering to the universe." A one minute clip can be seen here: bit.ly/dancingMonks
YOGA
Long Live Yogini Tao Porchon-Lynch
TAO PORCHON-LYNCH, RECOGNIZED by the Guinness World Records as the "World's Oldest Yoga Teacher," will turn 100 in August, 2018.
Porchon founded the Westchester Institute of Yoga in 1982. At the age of 87 she took up ballroom dancing; since then she has won more than 750 first-place awards as a competitive dancer. At age 96 she appeared on NBC's "America's Got Talent," receiving a standing ovation. In addition to teaching eight classes a week, she hosts yoga retreats and speaks at more than 20 conferences yearly.
Her life experiences, spanning continents and major historical events, are as fascinating as her personal achievements are impressive. Born and raised in French-colonized Pondicherry to an Indian mother and French father, she first got a glimpse of yoga in that city. She started to learn the asanas by watching boys practicing at the beach.
During the war, she was part of the French resistance. Afterwards she worked as a model in France and England, then moved to the US and became a Hollywood actress. She went on to become a writer, producer and international film broker.
In the 1950s she trained under some of the biggest names in yoga, including B.K.S. Iyengar and Indra Devi, and taught yoga to Hollywood actor Clark Gable. Continuing her passion for yoga, she has certified and trained hundreds of teachers.
Forever a student, Porchon continues to learn ballroom dancing. When asked why she wanted to participate in "Dancing with the Stars"—after having had two hip replacements—she didn't skip a beat: "To show people that it's possible. If you believe in it, anything is possible."
Briefly…
IN APRIL, 2018, CHENNAI-BASED artisans R. Selvanathan Sthapati and T. K. Bharani received Craft Council of India's (CCI) Kamala awards for "Outstanding Contribution for Preservation of Indian Art, Craft and Tradition" and "Excellence in Craftsmanship," respectively. The awards, instituted in 2000, also marked the 115th birth anniversary of Kamaladevi Chattopadhyay, social reformer and founder of CCI.
SCIENTISTS AT THE INDIAN INSTITUTE of Technology reported in April, 2018, their conclusion that the Indus Valley civilization was wiped out 4,350 years ago by drought that lasted 900 years. The study was published in the Quaternary International Journal.
Global Dharma
news provided by
HINDU PRESS
INTERNATIONAL
Subscribe to a free daily
news summary about
Hinduism worldwide at
hinduismtoday.com/hpi