INDIA
Madurai Aadheenam Welcomes New Leader
Sri La Sri harihara Sri Gnanasambanda Desika Swamigal, 67, took over as the 293rd pontiff of the Madurai Aadheenam in a formal ceremony on August 23, 2021. The previous head, Sri La Sri Arunagirinadha Sri Gnanasambanda Desika Paramacharya Swamigal, passed away after a prolonged illness on August 13th at the age of 77. The aadheenam, founded some 1,300 years ago, is one of the oldest Saivite monasteries in South India. It controls large amounts of farmland endowments and four temples and is a center of Saiva Siddhanta philosophy. The new pontiff took sannyas at the age of 21 and has served in various posts at other aadheenams in Tamil Nadu.
---
COLONIAL TIMES
Robert Clive, Britain's Plunderer Extraordinaire
Credited with laying the foundation for the British Empire in India in the 18th century, Major-General Robert Clive has only recently become better known for being the biggest thief of his day, bringing back so much loot from India that he became England's wealthiest person. This hadn't gone unnoticed in his day. He was actually brought before Parliament in 1772 over the large sums of money he had taken in India. He defended his actions as allowed by East India Company policy and stated, "I stand astonished at my own moderation."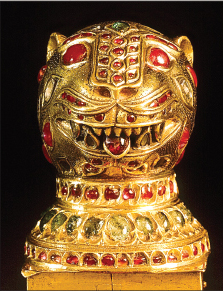 According to a recent article in the Khaleej Times published from the UAE, the largest collection of spoils from India is held in Clive's Powis Castle in Wales. It is now administered by the National Trust of Britain, which has acknowledged "the dubious way in which the collection was acquired and brought to England." This is in line with other museums who have taken an interest in just how the objects in their collections came to be there.
Among the 1,000 items in the castle are a gold tiger-head finial studded with diamonds, emeralds and rubies (right) from Tipu Sultan's throne, along with the sultan's state tent. The article states, "The trust notes that at Powis, it was used as a marquee for garden parties, highlighting the uncomfortable ways objects were used to signal colonial dominance and subjugation through appropriation." A review of the possessions, few on public display, is underway.
---
ARCHEOLOGY
Tamil Nadu's 2,200-Year-Old Murugan Temple Excavated
The 2004 Indian Ocean tsunami uncovered an ancient Hindu temple at Saluvankuppam, south of Chennai, Tamil Nadu, near Mambalapuram, itself the site of many very old temples. According to an article on the travel blog Casual Walker (bit.ly/Saluvankuppam), the first evidence was a rock inscription revealed by the waves indicating the existence of a Subramanya temple. 
Initially it was believed the temple was built with granite by the Pallavas around 800ce. Further excavation revealed a brick foundation dating to the Sangam era, 600bce to 300ce. The temple faces north, whereas most later temples face east or west. It appears that this original temple was destroyed by waves around 200bce, then rebuilt by the Pallavas. It was again destroyed after 1215ce, the latest date given on nearby rock inscriptions recording donations to the temple, and only unearthed again by the 2004 tsunami.
The Archaeological Survey of India office in Chennai believes that the temple may well be the oldest Subramanya temple ever excavated in Tamil Nadu.
The skinny, tabular bricks at the highest level were set by the Pallavas. The larger bricks beneath are plastered with lime and set on a gravel base—the same type of construction as found at other Sangam-era sites such as Puhar, Uraiyur, Mangudi and Arikkamedu. Artifacts from that era have also been found nearby.
The original central sanctum is 6 by 7 feet and made of 27 courses of brick. A stone Vel, Murugan's spear, stands at the temple entrance. This stone spear was uprooted and broken in two by unknown vandals in May of 2018. It has since been repaired and reinstalled.
---
FOOD
Celebrating the Amazingly Multi-Functional Coconut
September 2nd is world coconut day, we recently learned from an article in the Deccan Chronicle. This is a most deserved honor for this versatile nut used in worship, cooking, cosmetics and medicines. Its surrounding fiber is made into ropes, brushes, rugs, mattress stuffing, potting mix, and even burned as insect repellent. The white flesh inside produces oil, flakes, flour and a non-dairy milk substitute.  According to the report, doctors in olden times "used to burn the shells to prepare tooth powder, creams and ointments for burn wounds." If you happen to encounter "caprylic triglyceride" as an ingredient in an expensive cosmetic, know that's just coconut oil combined with glycerin.
---
KIDS
Modi Toys Creates a Playful Presentation of the Gods
Sisters Avani Sarkar and Viral Modi both had daughters just a week apart four years ago. Both had lived in the US since an early age and in an immersive Hindu environment where maintaining their connection to India felt easy. "But," Sarkar told mycentraljersey.com, "We are raising first-generation Indian-American children. How would we ensure that our kids were connected and appreciative of their heritage and their faith? We didn't want to lose what was really important to us, really meaningful to us, and a big part of our dual identity."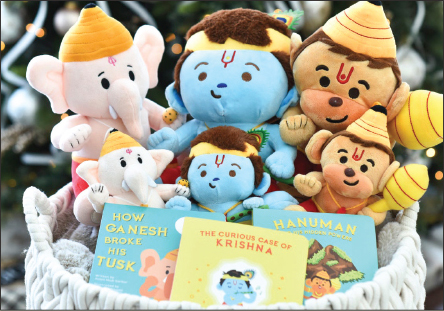 Both sisters were part of the corporate world prior to the birth of their daughters. They did not expect to become entrepreneurs, though they had applicable skills to do just that. Failing to find culturally relevant toys, they decided to make their own, resulting first in their plush, mantra-chanting Baby Ganesha. Now they also have a Hanuman and Krishna. Each has an accompanying book.
Sales, good from the start, have been enhanced by the pandemic. The sisters have added a musical crib mobile, a book on famous Hindu women past and present and more plush toys, including Goddess Saraswati. Sarkar told the website, "We realized that the problem we thought was unique to us was actually not unique to us at all. People realize they want their kids to be really connected with all these other things, but also don't want them to lose sight of where they come from and all the things that make them who they are — faith, culture, traditions. Parents want to be able to preserve that and pass it down." Their website is www.moditoys.com.
---
INDIA
Panpsychism: Science Tries To Explain Consciousness
Scientists are seriously asking themselves a question the Hindu rishis asked and answered in the affirmative long ago: "Does consciousness pervade the universe?" An article by that title, published January 2020 in the prestigious Scientific American magazine, is an interview with Philip Goff, Associate Professor in Philosophy at Central European University in Budapest. Below is a short set of excepts from the interview:
"In our standard view of things, consciousness exists only in the brains of highly evolved organisms, and hence consciousness exists only in a tiny part of the universe and only in very recent history. According to panpsychism, in contrast, consciousness pervades the universe and is a fundamental feature of it. This doesn't mean that literally everything is conscious. The basic commitment is that the fundamental constituents of reality—perhaps electrons and quarks—have incredibly simple forms of experience. And the very complex experience of the human or animal brain is somehow derived from the experience of the brain's most basic parts.
"It might be important to clarify what I mean by 'consciousness,' as that word is actually quite ambiguous. Some people use it to mean something quite sophisticated, such as self-awareness or the capacity to reflect on one's own existence. This is something we might be reluctant to ascribe to many nonhuman animals, never mind fundamental particles. But when I use the word consciousness, I simply mean experience: pleasure, pain, visual or auditory experience, et cetera.
"Human beings have a very rich and complex experience; horses less so; mice less so again. As we move to simpler and simpler forms of life, we find simpler and simpler forms of experience. Perhaps, at some point, the light switches off, and consciousness disappears. But it's at least coherent to suppose that this continuum of consciousness, fading while never quite turning off, carries on into inorganic matter, with fundamental particles having almost unimaginably simple forms of experience to reflect their incredibly simple nature. That's what panpsychists believe.
"Despite great progress in our scientific understanding of the brain, we still don't have even the beginnings of an explanation of how complex electrochemical signaling is somehow able to give rise to the inner subjective world of colors, sounds, smells and tastes that each of us knows in our own case. What panpsychism offers us is a beautifully simple, elegant way of integrating consciousness into our scientific worldview, of marrying what we know about ourselves from the inside and what science tells us about matter from the outside."
---
BRIELFY
The royal mint in the UK has collaborated with the Shree Swaminarayan temple in Cardiff to produce a 20-gram (0.7 ounce) gold bar in honor of Diwali with the image of Goddess Lakshmi. The mint said the bar is a reflection of its continued commitment to diversity and inclusion of the UK's varied cultural and religious traditions. 
---
The recent pew report of the state of religion in India included useful information on fertility rates. The fertility rate in 2015, the most recent year data is available for, was 2.6 children per woman for Muslims and 2.1 for Hindus. In 1950, the average fertility rate for all of India was 5.9. The drop in rates in various countries in recent decades generally tracks with the increase in women's education. 
---
The new Ram temple in Ayodhya is expected to open to the public by December 2023. As of October 2021, engineers are close to completing a 39-foot-deep foundation pad covering 4.5 acres, containing an astounding 1.7 million cubic yards of concrete.  
---
After being initially blocked from leaving Afghanistan, many Sikhs  and nearly all Hindus have fled the country. Pandit Rajesh Kumar, the last Hindu priest of the Rattan Nath Temple in Kabul, refused to go, stating, "My ancestors served this mandir for hundreds of years. I will not abandon it." The fate of the other half-dozen Hindu temples in Kabul has not been reported.
---
Hindus in Coimbatore, Tamil Nadu, were shocked by the early-morning demolition of seven temples on July 15, 2021, in Kumaraswamy Nagar. The demolition was part of a large redevelopment project, for which 2,400 homes have also been demolished. The residents were first provided new housing, according to the Coimbatore Municipal Corporation. News reports are unclear as to what efforts were made to relocate the temples, which is possible according to the Agama scriptures.
---
New cadets joining the Houston Police Department were given an introduction to Hinduism in July by Thara Narasimhan and Rasesh Dalal of the Hindus of Greater Houston. Explanations were given on Hindu philosophy and customs such as not wearing shoes inside the home. Also mentioned was the practice of wearing valuable jewelry on social and religious occasions—something that has resulted in brazen thefts in the past. Police in other cities in the US and UK have requested similar presentations from the Hindu community.