Our reporter in Mauritius travels to the sacred lake Ganga Talao for a festive inauguration of the world's largest statue of Maa Durga
BY SAVITA TIWARI, MAURITIUS
ASWIN NAVARATRI IS ALWAYS A SPEcial, celebratory time on the small island of Mauritius, but this year it was something much more. A river of pride flooded the hearts and minds of our island's more than six hundred thousand Hindus, and it was also an important moment for Hindus worldwide. September 30 marked the completion of the world's tallest Durga statue, towering at a height of 108 feet at Ganga Talao, our most sacred lake in the hilly south of Mauritius. For two days, Maa Durga was the honored guest at this new annual island event, Durgotsav, during which the grand statue was consecrated.
Organized on a national level, it took place on September 30 and October 1. The ceremony started on Navami, the 9th day of Navaratri, and completed on the auspicious day of Vijayadashmi.
I started my journey to the inaugural festival early in the morning on its first day. This was the same Ganga Talao I have visited hundreds of times, and it was the same route I've always taken. But somehow the feeling was completely different from what I had ever felt while traveling up to this 1,800 foot hilltop.
When I made my way around the last curve of the road and turned towards the lake, the sight was divine. I suddenly understood why the energy was so different. For the first time, standing alongside the 108-foot-tall Mangal Mahadev (Siva) was the completed and equally majestic Maa Durga. There they both were to welcome devotees to their abode, the lake we Mauritians revere as Mount Kailash.
Until now, Mahasivaratri has been the only time of year that Mauritians don't feel burdened by traffic, as scores of pilgrims make their way to the lake. Now we have Navaratri as another occasion where people can put aside their daily problems and simply celebrate. Everyone was enjoying the distant sight of Siva and Shakti together as we approached. From nearly half a mile I was able to smell the fragrances of incense sticks and burning homas and hear the divine sounds of Sanskrit mantras and people singing bhajans to the Goddess.
Pilgrims had to park further away than usual, as tents, pilgrims and Maa Durga Herself were occupying the usual spaces. As I was leaving the parking lot, a man approached me with a broad smile and a hearty "Jai Mata Di!" He was passing out red ribbons embossed with those words to tie around our foreheads. Everyone accepted the ribbons with gratitude, and replying "Jai Mata Di," they helped one another tie them on. The man then continued on to greet other arriving guests.
It was all a very new feeling. In Mauritius no one had ever greeted each other with those words of praise to the Mother Goddess. Today it was coming so naturally to everyone, like we had all been saying it for years. People were enthused to greet each other with joy. Today my thoughts focused on a question: "What is the meaning of the world's tallest Maa Durga statue?" Upon arriving at Her feet, that meaning became instantly clear.
During Mahasivaratri, Ganga Talao is dominated with the color white, honoring Siva. But today, as I walked up the main road towards Maa Durga. I saw nothing but red everywhere. All the women were wearing red sarees and everyone had red ribbons around their foreheads. The flowers in every offering tray were red; and, somehow, I too had unconsciously worn red today. Red is the color of Durga, Goddess of love, energy and all manifest existence.
As I reached the feet of Durga, all I could feel was blessedness. She welcomed me with a motherly smile and an assurance of protection, Her many powers represented by the weapons in her eight hands. I felt so much love in that moment. I could have stared up at this beautiful statue for hours, but after a long time of looking straight up, a gradual neck pain reminded me to continue on. I offered my prayers and made my way to a group of pandits who had arrived from India for the ceremony. I inquired about the meaning of the rites.
One punditji explained: "As the statue is made up of inert material, it must be infused with life energy that is of divine origin. The term for 'life force' in Sanskrit is prana, and by the prana pratishtha (installation) ceremony, the murti is infused with the subtle form of the Deity, becoming a channel for the Deity in the physical world. Thus the ceremony marks the recognition of this statue to represent a particle of the Divine whole to be held in one's inner mind while worshiping this outer form."
I wanted to inquire further into this mystical explanation, but the pandits needed to be on the platform to start the puja. I thanked them and headed off into the crowd to talk with pilgrims. I came upon a young girl praying, her eyes closed, deep in reverent thought. When she opened her eyes and came back into this world, I approached to ask what she felt was the meaning of having the world's tallest Maa Durga statue here in Mauritius.
Her name was Radhika, a 15-year-old schoolgirl. She responded, "It is something that makes me feel really proud. As a small island, we don't have so many big monuments and such things to take pride in. But here in this moment we are inaugurating something you will find nowhere else in the world. We are in the news everywhere. While there are many countries with lots of Hindus, it is Mauritius that has accomplished this. We are such a small island, but as the smallest Hindu-majority country, we can do such great things." Throughout our conversation I became a bit overwhelmed with the knowledge she possessed about her religion. I asked her how she knew so much, and she told me that she had thoroughly studied Hinduism online because she wanted to be sure about everything relating to her dharma.
Radhika told me of her Facebook group of young people who had made a page about Hinduism in Mauritius. Every day they post new information about Hinduism and their beliefs and practices so that young people can better know what their religion really means. My mind turned again to Durga. I felt She was inspiring young Hindus to understand themselves and their heritage.
I soon happened upon a young videographer named Ian Jadoo who was busy tinkering with his electronic gadgets. He told me, "My drone has flown over Mangal Mahadev so many times, but capturing both divine masculine and feminine in one shot is a real challenge." I waited for him to get his shot, piloting his drone just above the two statues. After half an hour of juggling between his drone controller and his computer screen, he got the perfect take. His face gleamed with satisfaction as powerful as the sun's glare off his computer screen. Everyone around us was taking selfies with Maa Durga. They also tried to capture both Maa Durga and Mangal Mahadev in a single frame, but it is very difficult to do.
After receiving darshan beneath Maa Durga, I went forward to pay tribute to Mangal Mahadev, the monumental statue of Siva across the main road. He was installed at Ganga Talao in 2007. When I reached the feet of Mahadev, a man named Jagdeesh was welcoming all new arrivals, handing each pilgrim a bunch of flowers from a giant flower bag. I asked why he was distributing flowers here. He told me that because everyone was coming to Ganga Talao, excited to see Maa Durga, they were offering all their flowers to the feet of Mother. "Only when they come here do they realize they have none left to offer. I had a feeling that Maa Durga would never want this to happen. So to please Her I am serving Mahadev."
This was just one of the many examples of selfless giving and gratefulness that I saw throughout my day. I knew Maa Durga would really be pleased with this. Jagdeesh's friend Videsh soon chimed in, "I feel like Mangal Mahadev's smile is a bit bigger today. He is smiling more than usual." When I said that sounds a bit odd, he countered, "Yes, it may sound funny. Since it is our thoughts that reflect the content of our heart, it may be me that is feeling happier and smiling wider. Perhaps it is the presence of Mother of the Universes that isv behind my happiness and that of everyone here."
It may not seem scientific that the presence of these statues could imbue everyone with happiness, and yet here we all were feeling just that. I realized that I felt markedly more content and happy than usual. Everyone around me seemed jovial, satisfied and simple. Here at the feet of our Gods we all had effortless peace.
After visiting each of the many lakeside temples, we went to one of the large serving tents for some tasty prasad. There was a huge line with hundreds of people before me, but it only took ten minutes to be served, as more than 100 volunteers were preparing and dishing up food for the countless devotees.
For such a simple meal, it had a mouth-watering effect on me, and my stomach growled. I quickly sat down with my food and put a big bite in my mouth. My stomach responded with an even louder growl, embarrassing me in front of a nearby tourist who had just finished his food. Smiling, he observed, "Normal food always seems to be just nourishment for the body, but when you eat at places like this, where everyone is cooking, serving and eating out of devotion, you truly understand the meaning of 'food for the soul.'" I smiled back at him and continued my meal. My hunger kept me from contemplating his words. He soon left with a smile and a "bon appetit." By the time I finished my plate, thinking about what he meant, I regretted that I hadn't furthered the conversation. Since it would be impossible to find him again in the ocean of devotees, I simply cherished his thought and left the tent.
People continued arriving all day long from all over the island for their first sight of Maa Durga, offering flowers and coconuts to Her feet and taking blessings. The day passed quickly, with countless greetings of "Jai Mata Di." I found myself with many others sitting in front of the puja pandal where the pandits from India and Mauritius were performing the consecration ceremony. In between their chants and actions they were explaining the rituals so everyone would understand what was happening. As evening set in, everyone was served free tea and snacks in all the food tents.
I sipped my tea, thankful for the caffeine it provided. Being a bit tired, I decided to sit for a while before going to find out what events were coming up next. Everyone was waiting eagerly for the evening performances. I made my way to a faraway bench. An elderly man, around 70, was sitting on the next bench, unaware of my presence. He was smiling and watching the to and fro of the crowd between Mangal Mahadev and Maa Durga. I enjoyed the sight of this seasoned old man smiling all by himself, but eager to know his thoughts, I coughed to get his attention. He turned toward me with a grin, and I quickly asked, "Chacha (uncle), why are you smiling?" He smiled wider and, glancing up at both Deities, observed, "Ganga Talao is complete now."
As evening came, the last rays of the sun were lowering behind Maa Durga. Everyone was mesmerized with the sight, as golden rays appeared to gleam from the Mother Herself. Her powers, represented by the eight implements She holds came into stark relief: Bow, mace, sword, trisula, conch, lotus flower, chakra and blessing mudra. When the sun finally set, the lights and music arose. It was magical. Mauritians had never seen such a night before in their life. This was the first large-scale, public evening of devotional music renderings ever held in Mauritius. It comprised devotional chanting of bhajans and kirtans, choreographed dances and theatrical presentations by artists in many languages—Bhojpuri, Hindi, Tamil, Telegu and Marathi.
Some of the best performing artists of the nation were present for the evening. A member of one performing group told everyone, "We've always performed for the public, but this is the first time in our life we are performing for God, for the Mother of the Universe. Because of this, we've practiced extra hard these last few days. Every one of us is excited for this performance. We will give our best today!" When they finished, the cheers from devotees and the happiness on the performers' faces proved that it was indeed a most satisfying show.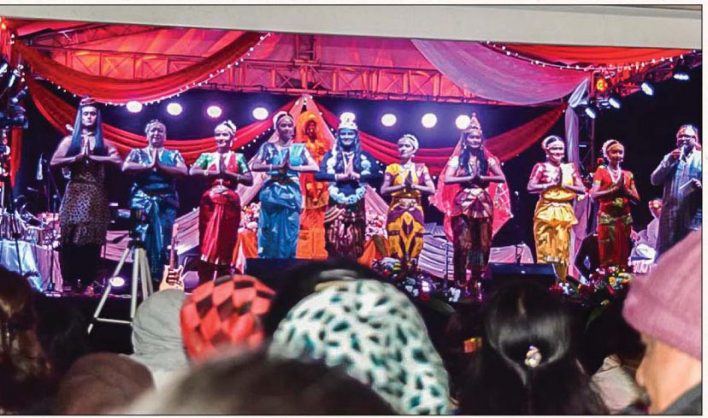 One after another, artists carried the event through the whole night. Some sang or performed alone, others in groups. One act was Shiva-Kalika Tandav (the dance of Siva and Shakti) by the Zeness Lapeyrouse group. When the elaborately dressed performers reached the stage everyone suddenly got goose bumps, including me. The power of Kali's dance to the reverberating drums was absolutely enthralling. It wasn't until sometime around 4am that this spiritual music night came to completion with a grand arati. Everyone was extremely tired, but I could still see smiles and happiness in every face.
"I hope we will be celebrating this every year," said one lady. She was around 90 years of age. I asked her if she had stayed awake all night and she replied: "Yes, this has been a long-standing dream of my life. I always wanted to go to Vaishno Devi in India, where everyone greets each other with 'Jai Mata Di' and you are immersed in devotion of the Mother for at least a whole day. But when I was younger, we were not rich enough, and when we had enough money to travel we didn't have the time, and now here I am and I don't have energy!" She laughed, "So it is a blessing that I am getting a feel of Maa Vaishno Devi here in Mauritius in my ending days. I would have never missed this." I began to notice tears of joy in her eyes. I felt so happy for her. Saying goodbye to her with a "Jai Mata Di!" I at last ended my night for some deeply enjoyed rest.
The next day was more of an official program with speeches by local politicians. Anil Becchoo, a former Vice Prime Minister and Minister of Public Infrastructure and present president of Mangal Mahadev Shakti Swaroopa Association (the association that made the 108-foot Maa Durga a reality), emphasized that this was an important moment for every Hindu of Mauritius. He informed the crowd that the association had applied to the Guinness Book of World Records for creating the world's tallest Maa Durga statue. As this project was 100 percent funded by donations, the general public were again and again recognized as chief guests of the occasion.
When I later talked to Mr. Becchoo to get his words for HINDUISM TODAY, he was more than eager to share. He said he was a regular reader of the magazine and felt it an honor and privilege to have his words published. He shared a story which he had never mentioned in a public speech. He told me, "Back in 1967, when I was just 14 years old, we used to go Ganga Talao on foot. There was a big antenna of the Mauritius Broadcasting Corporation near the lake. That antenna can be seen from far off places, and it acted kind of like a beacon, motivating people heading towards Ganga Talao. We used to give strength to ourselves, saying, 'We just have to reach that antenna.' On one such journey a thought suddenly cropped up in my mind: 'How amazing would it be for pilgrims if, instead of this antenna, we were to take our strength from a grand statue of Lord Siva!' After 34 years, I came into office in 2001 and proposed this project to the government. It was passed with pleasure, and in 2007 Mangal Mahadev was inaugurated. At the time of the inauguration, once again, an inspired thought came into my mind. It was that Siva is incomplete without Shakti. And just like that, ten years later, in 2011, we were able to launch this project of a 108-foot-tall Maa Durga. We wanted the height of Maa Durga's statue to be the same as of Mangal Mahadev. After so many difficulties, today in 2017, with the blessing of Maa Durga, we are able to welcome the Mother of the Universe to our small island." I later learned that in his early career Mr. Bachoo had been a teacher of Hinduism. His experience came through strongly while I spoke with him, and I didn't even realize how much time had passed during our conversation. It was soon time for me to head home.
On my way out I met Acharya Puranchandra from LaLaura village. I asked him how he views Mother Durga's presence in Mauritius. He said, "In the Indian state of Bihar, Kali is the guiding force of every Hindu family. When Indians came to Mauritius as indentured labors from Bihar, they established Kali at the entrance of every village. Still today we can find thousands of these small temples on every turn of the road. They have placed seven stones symbolizing the seven forms of Maa Kali. On both annual occasions of Navaratri, every temple in Mauritius organizes nine days of Durga katha (dance), where people from the surrounding area participate. Until now Mauritius didn't have a place where all Hindus could come together and pray to Kali. So you can understand what this means for Mauritius. It is going to be a national festival like Mahasivaratri in the coming years."
Acharya also added an interesting play on words saying, "When we remove 'm' from 'mother,' it becomes 'other.' The 'm' stands for maa, mommy, mama or whatever you prefer. 'Except for the mother, everyone else is other.'"
As I returned home, only two things were with me. First, the infinitely radiant smile of Mother Durga in my heart, and second, the natural beauty outside my car. Mauritius is a natural place. Everyone calls it "a place of sun and sea." I see this as a place where Mother Nature is the driving force. One sees green and blue colors everywhere. Maa Durga is a representation of this Nature.
Mauritius already had Purusha—the masculine element—found in the form of Mangal Mahadev. Now we also have Prakriti—that is, the feminine element—in the form of Maa Durga. This statue hasn't only completed Mangal Mahadev and Ganga Talao, it has also completed Mauritius in many ways. I came with honest devotion, and I'm leaving this place feeling blessed by our Divine Mother. Jai Mata Di!