UNITED STATES
Children Honor Their Teachers the Hindu Way
By Dinesh R. Pai
Inculcating Hindu values in our children while living in a society that has very little or no knowledge about our traditions can be challenging. A recent survey on bullying in US schools revealed that over three-quarters of Hindu students surveyed experienced social isolation or bullying because of their beliefs. The challenge becomes more acute when kids are discouraged by learning about Hindu culture through textbooks that negativly represent Hinduism.
Hindu Americans, particularly parents, must help with the younger generation's confusion and identity crises. As a religious group, we have done well to meet the material needs of our children, but not as well for their sense of self recognition and personal approval. Being met with ridicule of their culture and traditions is resulting in insecurity and a lack pride. Parents can help by engaging their children in discussions about their traditions, but they are often ill equipped to do so. Hindu organizations in the US should step up and provide aid in this effort.
Guru Vandana is one such initiative. Meaning "Salutations to the Teacher," the event is an expression of love, gratitude and reverence. During the months of May and June, the Hindu Swayamsevak Sangh (HSS), USA, organizes such events across the nation, mostly for grade school teachers and students. Over the years, the Guru Vandana celebrations have gained traction within and outside the Hindu community. In 2019, over 1,700 academics, including teachers, principals and superintendents, plus over 8,000 attendees, participated in 68 events in over 20 states in the US. Taking a cue from the HSS initiative, we at the Hindu American Religious Institute Temple in Pennsylvania have been organizing Guru Vandana since 2016. The event involves the traditional Hindu welcome of teachers and their guests, an exhibition showcasing contributions of Hindus in diverse fields, a short cultural program involving Hindu children and the highlighted felicitation ceremony. During the main event, children line up in front of their teachers and shower rose petals upon them, wave an arati and apply tilaka to their teacher's forehead, then touch their teacher's feet in respect. Lastly, personalized mementos are given to each teacher. Afterwards the teachers and students get an opportunity to share their experience about the event. Teachers also receive a pamphlet on Hinduism and a book on Hindu symbolism.
Guru Vandana provides a comfortable milieu for parents and children to interact with teachers and to strengthen their bonds. Our children gain a subtle affirmation of their cultural heritage from their teachers, and the teachers get an opportunity to know more about their students' backgrounds. As one teacher stated: "What a beautiful way to honor teachers. I felt so special and welcome. Every aspect of the day was a day I will always remember. Thank you for making teachers feel so special!"
---
INDIA
Odisha's Konark Sun Temple and Town Are Going Solar
INDIA'S MINISTRY OF NEW AND RENEWABLE Energy (MNRE) has taken up the complete solarization of Konark Sun Temple and Konark town in Odisha. The plan envisages setting up a 10 megawatt grid-connected solar project and various off-grid solar applications like solar trees, solar drinking water kiosks and solar power plants with battery storage. The project will be done by Odisha Renewable Energy Development Agency with 100% central financial assistance (CFA) of around US$3.3 million through MNRE. The plan is designed to meet all the energy requirements of Konark town.
According to an article in Mercom India , Odisha is one of India's least developed states in terms of solar expansion, having only 416MW of solar projects currently in operation and 58MW of projects under construction. However, another 100MW project may soon arise in Odisha's Jharsuguda district, assuming Vedanta Limited's recent request for proposal is approved.
CleanTechnica.com notes, "The state of Odisha, where Konark is located, is no stranger to 21st century solar power. In 2015, it announced plans for a one gigawatt solar power plant. In 2016, Sonthalia Group unveiled plans for a 600MW solar power plant, and the state announced plans for 70MW of rooftop solar."
---
ENVIRONMENT
Biodegradable, Plant-Based Bottles Get Big Backing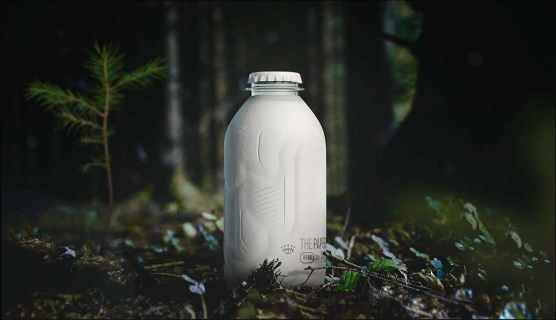 ABIOCHEMICALS COMPANY IN the Netherlands is seeking investment in a pioneering project to make plastics from plant sugars rather than fossil fuels. According to an article in The Guardian , plans by renewable chemicals company Avantium have already won the support of beer-maker Carlsberg, which hopes to sell its pilsner in a cardboard bottle lined with an inner layer of plant plastic—a joint effort with Paboco, "The Paper Bottle Company." Avantium's chief executive, Tom van Aken, says he hopes to greenlight a major investment in the world-leading bioplastics plant in the Netherlands by the end of the year.
The project, which remains on track despite the coronavirus lockdown, is set to reveal partnerships with additional food and drink companies in late summer. The project has the backing of Coca-Cola and Danone, which hope to secure the future of their bottled products by tackling the environmental damage caused by plastic pollution and a reliance on fossil fuels. Globally around 300 million tons of plastic is made from fossil fuels every year, which is a major contributor to the climate crisis. Most of this is not recycled and contributes to the scourge of microplastics in the world's oceans. Microplastics can take hundreds of years to decompose completely.
Avantium's plan is to initially produce 5,000 tons of this new plastic every year using sugars from corn, wheat or beets. It could appear on supermarket shelves by 2023. The company expects the demand for renewable plastics to climb, driving increased production. To avoid impacting the global food supply, they intend to eventually use plant sugars from sustainably sourced biowaste.
Trials show the new plastic decomposes in one year using a composter, or a few years longer in normal outdoor conditions; but it would ideally be recycled.
---
ARCHEOLOGY
Lost Temple Reappears After two Centuries
A N ANCIENT HINDU TEMPLE that was submerged in a catastrophic flood 200 years ago has re-emerged, as lower water levels revealed its sunken spire for the first time in decades. The 500-year-old 60-foot tall monument to an avatar of the God Vishnu once stood proudly on the banks of the Mahanadi River in Odisha, eastern India, and provided a place of worship for seven nearby villages. But after torrential floods in the 1800s, the river changed course, forcing villagers to abandon the temple and their homes which disappeared beneath the swirling rapids.
According to The Daily Mail , in June of 2020 the Mahanadi's water level dropped low enough to reveal the spire once again. Anil Dhir said his team of archaeologists had successfully documented many temples of the Mahanadi River valley, but all efforts to locate this one had proved futile. "The temple was in the midst of seven villages, collectively called Satapatana," he said. "Sometime from 1830 to 1850, after catastrophic flooding, the river started to change its course and engulf the villages. The villages were abandoned and shifted, but the temple was left intact, with the statue being removed and kept in a makeshift place." A new temple was built and the statue installed there sometime in 1855. That temple exists today. Mr. Dhir emphasizes that there are no plans to excavate the temple presently. "It will be left alone," he said. "The river is a dangerous stretch at this place, with swift currents. Also, statue thieves may try to get some old pieces from it."
An account from NDTV.com provides additional detail: Some 11 years ago, according to locals, the waters had dropped far enough to expose the top of it, and researchers from the Indian National Trust for Art and Cultural Heritage (INTACH) have been keeping an eye on it ever since. Mr. Dhir, INTACH chief, says around 65 temples in the area are still underwater. Being the tallest structure, this Gopinath Temple was the first to surface.
---
ARCHEOLOGY
Exploring the Madras Museum
THE CHENNAI GOVERNMENT Museum, also known as Egmore Museum or the Madras Museum, is the second oldest museum in India, with the largest archaeological and numismatic collections. The complex comprises six buildings and has 46 galleries. It showcases extraordinary collections of classical coins, currency and medals, archaeological remains from ancient Indian culture and the rarest and most popular works of world-famous Indian artists such as Raja Ravi Varma.
Represented in the Stone Sculptures gallery are collections from the Pallava period (300-897ce), Chola period (850-985), Medieval Chola period (985-1074), later Chola period (1074-1350), Vijayanagara period (1350-1600) and the modern period, from 1600 onwards. Also found here are collections of sculptures from the Chalukya, Hoysala and Rahtrakudas dynasties.
Excluding Fridays and a few holidays—Republic Day (January 26), Independence Day (August 15) and Gandhi Jayanti (October 2)—the museum is open daily from 9:30am to 5:00pm. Entry fees are minuscule: rs 15 for adults and rs 10 for children. For foreigners the fees are a mere us $3.33 for adults and $1.66 for children. If your interest is more than superficial, a two-hour guided tour with the KeyTerns Chennai Government Museum Heritage Walk is well worth the price, at just $70 for a group of up to four. The guide is an archaeologist who can provide a wealth of history and the mythology associated with the various pieces.
The museum was founded in 1851 and is the tenth oldest (and third largest) museum in the world. Its collections of bronze Deity statues, 500 of which date to 1000bce, are the richest in Asia. The museum houses a 19th-century theater which is used for cultural and academic programs such as art workshops, lectures, conferences and drama performances. Next time you're in Chennai, drop in to explore history.
Briefly
ISLAMABAD, PAKISTAN, WAS recently on track to receive the city's first Hindu temple, which would stand as a symbol of tolerance. In 2018, Pakistan's former government allotted land for the Shri Krishna Mandir, which was quickly met with protests. However the project moved forward and the foundation stones were laid in June of 2020 as government officials touted a beginning of a new and tolerant Pakistan. The nation's Prime minister allocated $1.3 million to the project. Unfortunately the pledge of funds has since been withdrawn due to mounting pressure from Islamic religious leaders in the city and public outcry that taxes were being given to support a Hindu temple. With this project derailed, it seems less likely that the current Prime Minister will be able to deliver on his promise of improving religious coexistence, which he had made upon taking office.
IN JULY, 2020, THE UTTARKHAND High Court ratified the state government's takeover of 51 temples including Badrinath and Kedarnath. The decision is a sizable setback in a national movement which aims to take back control of Hindu temples from government. The court ruled that the ownership of the properties would remains with Char Dham shrines and that the power of the government board would include the administration and management of said properties and all income.