NEPAL
Yoga Becomes Required Class
When school resumes in Nepal—covid allowing and assuming they can find enough teachers—hatha yoga will join math, science and language as a required course, according to the Himalayan Times. Hundreds of thousands of students in Nepal's schools will come under the program—first announced last year—which will include the history of yoga and principles of ayurveda. Giriraj Mani Pokhrel, the country's minister of education, said, "Yoga is our ancient science. We want students to learn it, and we think this is the right time." Previously yoga was available in some schools as an elective class. The ministry's Council for Technical Education and Vocational training also announced the development of a three-year vocational diploma course in yoga, ayurveda and naturopathy.
---
INDONESIA
Grand Murugan Temple Coming to West Jakarta
On february 14, 2020, Anies Baswedan, governor of Jakarta, attended the laying of the first stone for a temple on land donated by the government in Kalideres, West Jakarta. Other government officials and the ambassador from India were also present. According to a report from the tanda-baco.co.in website, the local Tamil community has been working toward building a temple for Lord Murugan for the past 60 years. "Today, it is realized," said A. S. Kobalen, general chairperson of the DPP Gema Sadhama, the founding organization.
Anies Baswedan said at the event: "We have a responsibility to bring about social justice in the form of equalizing opportunities, one of which is the construction of houses of worship and the celebration of religious holidays in Jakarta."
The temple grounds are an acre in extent. The temple itself will include a large prayer hall, a multipurpose hall with a 1,000-person capacity, a museum of Indo-Indian origins and heritage in Indonesia as well as lawns and gardens.
More information is available at the temple website, https://jktmurugantemple.org/. An impressive digital walk-through video is on Youtube: bit.ly/JakartaTemple. Donations are being earnestly sought for the work.
---
INDIA
Nearly All Indians Feel Free To Practice their Religion
India's massive population is diverse as well as devout, according to a Pew Research Center report released in June, 2021. Not only do most of the world's Hindus, Jains and Sikhs live in India, but it also is home to one of the world's largest Muslim populations, and to millions of Christians and Buddhists. This new report, based on a face-to-face survey of 29,999 Indian adults fielded between late 2019 and early 2020—before the Covid pandemic—takes a closer look at religious identity, nationalism and tolerance in Indian society.
Indians value religious tolerance, though they also live religiously segregated lives. Across the country, most people (84%) say that to be "truly Indian" it is very important to respect all religions. Indians also are united in the view that respecting other religions is a very important part of what it means to be a member of their own religious community (80%). People in all six major religious groups overwhelmingly say they are very free to practice their faith, and most say that people of other faiths also are very free to practice their own religion.
Nearly all Indians say they believe in God (97%), and most say religion is very important in their lives. Roughly 80% of people in most religious groups say they are absolutely certain that God exists. The main exception is Buddhists, as belief in God is not central to Buddhist teachings. In comparison, according to a 2017 Gallup poll, 87% of Americans believe in God and 64% are convinced that God exists.
India's religious groups share several religious practices and beliefs. After living side by side for generations, India's minority faiths often engage in practices or hold beliefs that are more closely associated with Hindu traditions than with their own. For example, Muslims in India are just as likely as Hindus to say they believe in karma (77% each), as do 54% of India's Christians.
---
VEGETARIANISM
Famed New York Restaurant To Adopt Plant-Based Menu
Chef daniel humm spent a lot of lockdown time pondering the future of food and, more specifically, the future of his famed Eleven Madison Park restaurant which boasts three Michelin stars and four from the New York Times. According to a May, 2021 article in the Times, he promised himself "he was not going to return to importing caviar and braising celery root in pigs' bladders."
To be fair, New York City has featured a number of top-notch vegan and vegetarian restaurants for many years. But this transformation of what some rank the best restaurant in the world is something different and may indicate a major shift in food consumption habits—at least among rich New Yorkers. The restaurant's set multicourse menu will remain at $335 per person, with reservations difficult to obtain.
The Times writes: "Mr. Humm said the decision is the result of a years-long re-evaluation about where his career was headed, which reached its breaking point during the pandemic. 'It became very clear to me that our idea of what luxury is had to change,' Mr. Humm said. 'We couldn't go back to doing what we did before.' While the restaurant's ingredient costs will go down, labor costs will go up as Mr. Humm and his chefs work to make vegan food live up to Eleven Madison Park's reputation. 'It's a labor-intensive and time-consuming process,' he said."
Other top restaurants and chefs are also considering or making such a shift, with one vegan restaurant in France being the first to earn a coveted Michelin Guide star.
---
INDIA
BBC's Marvelous Video on Eating with Your Hands
Food anthropologist dr. kurush dalal introduces this informative video (bit.ly/eatingwithhands) by pointing out, "Essentially, everybody, everywhere in India has always used their hands when it comes to eating, even today. Eating with a knife and fork was only brought to us by the upper-class British." The video then shows the many creative ways in which hands are used to eat across India. Dr. Dalal concludes: "Food doesn't taste better when you eat with your fingers, but there is a tactile feedback. You eat with your eyes first, then you eat with your nose, then you actually bring into play your ears and your sense of touch and it's only finally at the end of it that your mouth and your taste buds actually come into play."
---
INDIA
Yadadri Temple Upgrade Nears Completion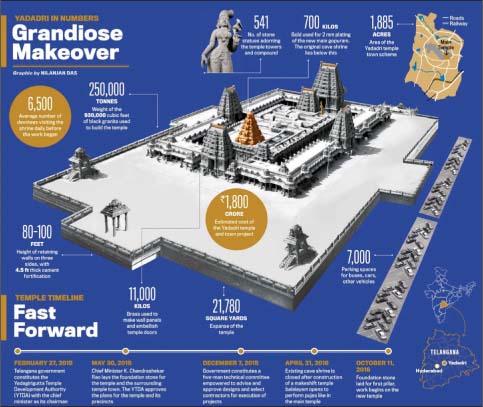 With a state-funded budget of a quarter billion US dollars at his disposal, the chief minister of Telangana, K. Chandrashekar Rao, is soon to see the successful completion of the expanded Yadadri Temple. The original temple, 70 km northeast of Hyderabad, was built in 1246 by Bommanna Dandanayaka of the Hoysala Empire. It incorporated a small temple cave 12 feet high and 30 feet long containing five forms of Lord Vishnu as Narasimha, half man, half lion. The new temple is 4.5 acres in area and sits on a three-square-mile artificial plateau built around the original hillock containing the cave. The original temple remains untouched below the new central 48-foot gopuram, which is to be plated with 1,543 pounds of gold.
Five hundred sculptors from Telangana and adjacent states participated in the work over a period of six years, beginning in March, 2015. The temple architects worked in consultation with Tridandi Chinna Srimannarayana Ramanuja Jeeyar Swami, a popular local Vaishnava swami. They followed the Pancharatra Agama in the design and construction, according to chief sculptor Anandachari Velu. The temple is intended to last over 1,000 years, said G. ­Kishan Rao, CEO of the project.
Extensive development is underway nearby, downhill from the temple, including hundreds of cottages for visitors and 7,000 parking spaces. This entire new city will include a reservoir, marriage halls, food courts, bus stand and a 25-acre farm to grow flowers for the daily worship.
---
Briefly
The yoga schools of rishikesh have been dramatically impacted by the Covid pandemic, with many forced to close temporarily. The town of 100,000 has more than 200 yoga schools in and nearby, all of which shut down in March, 2020. They were later allowed to reopen. With no international tourists allowed into India, however they have lost their main source of income, according to a report in the Wall Street Journal.
The massive Kanwar Yatra was canceled in mid-July by the Kanwar Sanghs organizers at the request of the Uttar Pradesh government. In a normal year, more than 20 million devotees pilgrimage to various places along the Ganga, especially Haridwar, to collect Ganga water which is taken back to their home villages for the worship of Lord Siva. The Amarnath Cave yatra has been similarly canceled.
The Karnataka Government has ordered that funds from the state's Hindu Religious Institutions and Charitable Endowments Department will no longer be used to fund non-Hindu institutions. The ruling came after Hindu groups objected to the distribution of money collected at Hindu temples to imams of mosques as compensation for loss of income during the Covid pandemic.
The government of Puducherry (formerly Pondicherry) launched an "Integrated Temple Management System" for the territory's 243 temples and monasteries that are under their control. The web address for the sleek site is hri.py.gov.in. It provides information on the puja schedule, festivals and on-line services for each institution.
Sewa international reported that as of the end of May, 2021, it had provided us$15 million worth of goods and services for Covid relief in India. This included 9,600 oxygen concentrators, 40,000 oximeters, 177 ventilators, 15 oxygen generator plants and more. Sewa worked in partnership with 185 organizations and 14,000 volunteers. They have established 106 Covid care centers and 258 isolation centers across the nation.
A superlative edition of the Bhagavad Gita in eleven volumes with 21 commentaries—many previously unpublished, from the 8th century Adi Shankara to 19th century authors—was released by authors Dr. Karan Singh and Kamal K. Mishra at Prime Minister Modi's residence in Delhi, on March 9, 2021. The text showcases an wondrous variety of original calligraphy in Sanskrit and Hindi.