Discussions: Megha Desai is passionate about making a difference in the lives of women and travels to villages to understand the cultural mores that would bring home the message of menstrual health; Padma Kuppa proudly takes oath of office in Michigan clad in a sari; Rudy Tanzi on the forefront of discovering causes and cures for Alzheimer's explains his SHIELD model to reduce its risks as Anand Venkataraman looks on; (panel, listed from left) Nishith Acharya said the first generation immigrants gave back by sponsoring and taking care of other immigrants; Megha Desai; Alpa Ladani serves the nation in uniform, and Aashika Patel who made the case for giving toward the building of temples.
The THREADS conference in Boston was a first-time exploration of the influence of Hindu Americans from business, science, health and more
BY NIMMI RAJ, CALIFORNIA

AT A TIME WHEN THE PUBLIC SPACE IS fraught with discussions on immigrants and the nature of their contributions to the national fabric, the Hindu-American community gathered to take stock on where they had arrived since the reformation of the US immigration system and the Asian exclusion laws in 1965.
"THREADS 2019: The Hindu American Saga," November 1-3, 2019, organized by the World Hindu Council of America, sought to look past Hindus' label as the most affluent and highly educated group in the US to understand the factors in that success and where we are headed. Rather than highlight politically oriented speakers from India, this conference, focusing on its purpose, showed a community coming into its own. Political conversations—in the corridors and over tea breaks—centered on the GOP and the Democratic Party, rather than Indian politics.
Speakers included big hitters like Dr. Rudy Tanzi, Dr. Stuart Rothenberg, Prof. Menas Kafatos, Rajiv Malhotra, Dr. Mukesh Aghi and Dr. Subhash Kak. Others spoke of immense financial success or passionately espoused various causes. Unanimously, they stressed the hard work, enterprise, honesty, determination and integrity which had led to their success. Many credited their accomplishments to their heritage.
For the first generation, success usually meant achieving stability and financial security in a new land. For succeeding generations, it has meant confidently branching out—choosing careers in politics, working with refugees, getting into advocacy, finding local volunteer opportunities, dispelling common American misconceptions, and integrating more fully into the mainstream.
Non-Hindus as well as Hindus had been invited to participate and speak openly; but only a few from other faiths participated. Perhaps some were put off by the WHC's affiliation with the Vishwa Hindu Parishad. But this conference contained nothing to claim preeminence, offend or provoke, so future participation is likely to only grow. For a full understanding of the Hindu American community, the gap needs to be closed.
The narrative was meant especially for the younger generation who are carrying the community forward. There were young musicians, panelists and a fast-paced 75-minute session in which a dozen speakers made their presentations—but not many youth in the audience itself. And while organizers carefully included women panelists, there was no session on women's issues.
Overall, the nine different panels of "Threads 2019" did a fine job of creating a record of the community as being more than just a group of doctors and engineers.
Following are vignettes of the panels. Some of this material was said at the event, and some later to HINDUISM TODAY. ALL PHOTOS: THREADS/KV PHOTOGRAPHY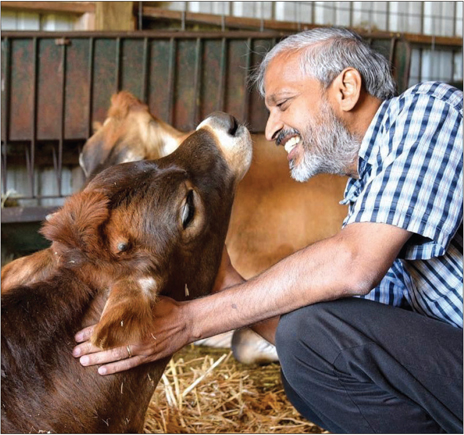 1. Arts & Literature
Here it was all about storytelling. Panelists were Rachna Bodas, Hindustani vocalist; Malathi Iyengar, dancer and choreographer; Philip Goldberg, author; Dr. Aishu Venkataraman, Carnatic violinist; and Aditi Banerjee, author.

Moderator Shekhar Shastri, a dramatist, pointed out that the public at large gets connected to its roots through artistes. This is particularly true of Indian classical art, which gives voice to an ancient, continuing heritage. Panelists recognized that the burden of communication was theirs. Iyengar said she keeps her audience in mind while preserving the classicism of the Bharatanatyam idiom. Bodas demonstrated how with simple musical notes and without lyrics the audience could be told a story that is universally understood. Venkatraman spoke of striving to capture the mood of young cancer patients through her music, making it relevant for them. Goldberg said when writing non-fiction he thinks explicitly of his effect on readers.
Banerjee offered, "We haven't done a good enough job of understanding the importance of storytelling and understanding the influence it has on minds." She pointed to Chinese TV shows with high production values which give people pride in their ancient heritage. India has yet to voice an understanding of the shastras in stimulating ways.

2. Public Service & Advocacy
Panelists were Jamie Eldridge, MA State Senator; Niraj Antani, OH State Rep.; Padma Kuppa, MI State Rep.; Vindhya Adapa, Assistant General Counsel, HIAS; and Jay Kansara, advocacy expert.
How does one who looks and sounds different find a voice in the public space—and retain one's identity while so doing? For both women on the panel, the humble dupatta (scarf) provided an answer and a cultural symbol.
Adapa, who holds a law degree from the University of Pennsylvania, never used to wear bright colors to her legal offices. And when Kuppa was elected to the state legislature, she dressed for work as an American—unlike her days in advocacy as a "public Hindu." Then came the lure of the scarf. Deciding appearances should not make a difference, one day Adapa wore a bright orange scarf to work. Kuppa wore a red and green bandhini around her neck to an official tri-city meeting. Both fondly remember the compliments they received.
Adapa spoke of using opportunities to educate. By creating familiarity, we release Indian culture from the box of "the exotic." Kuppa, who introduced a resolution in the Michigan legislature to recognize the religious and cultural significance of Diwali, agrees: "Understanding comes with awareness." Eldridge indicated Hindu Americans could learn from the Jewish community: "Communicate, educate."
As a politician, Kuppa says she has not felt the need to hide her identity. Everyone is aware she hangs her "Christmas" lights early, for Diwali. In India, she points out, those of all faiths participate in Diwali, just like in America everyone celebrates Christmas. By focusing on the joy, she says, "nobody feels it's being forced. That creates division."
3. Innovation
Heritage lessons were explored by panelists Jit Saxena, founder of Netezza; Dr. Ravi Kanjolia, CTO, EMD Performance Materials; Deepak Taneja, CEO, Zilla Security; and Ram Sudireddy, cofounder of Bento.
Entrepreneurship, said Taneja, is about acting on an idea—focusing thought on a single issue, persisting, and building a company around it. In so doing, the individual confronts their strengths and weaknesses. Saxena advised that the entrepreneurial journey "is internally driven—look inside."
Serial entrepreneur Sudireddy added that Hindu scriptures have answers that empower the entrepreneur. "With faith, there is no fear."
Sage Vishwamitra demonstrates grit: wanting to be like Rishi Vashishta, he took on every hurdle. Lord Rama demonstrates the importance of mentorship, going to Sage Vashishta for guidance. Lord Rama chose to make friendships and build alliances rather than overcome his enemies—a good strategy for operating in the marketplace. Sita was an advisor, and Kaikeyi went to war; gender equality in the office is the message here.
On the battlefield, Lord Krishna told a fear-frozen Arjuna: you cannot control the result, I do. So, said Sudireddy, after every effort has been made, enjoy the journey. And when the profits come in, the inspiration is Lord Rama: after winning Lanka, he handed over the kingdom to the right person instead of crushing it or finding a ruler from Ayodhya. Companies should not be top heavy, therefore, but recognize house talent.
Sudireddy, a believer in "human engineering," says Hindu culture gives more respect to the human aspect and learning, over sheer wealth. "Saraswati takes precedence over Lakshmi; guru is more important than the king. They have no money, but respect and power are theirs." He spoke of selling his company, Applied Micro Circuits Corporation. The investors favored an offer which would have enriched them by about $10 million each, but would have meant laying off staff and meddling with the product. Unwilling to betray employees who had labored with him to build the company, he convinced his investors to settle for less. He sold it to another buyer who not only retained the staff but hired more people—and the market capital of the company rose from $800 million to $25 billion at its peak.
4. Holistic Living
Panelists were Dr. Stuart Rothenberg, Maharishi University of Management; Sri Dinesh Kashikar, Yogacharya, Art of Living; Dr. Sailesh Rao, founder, Climate Healers; Dr. Angelina Mehta, Naturopath, Verve Holistic Health; Hilary Garivaltis, National Ayurvedic Medical Association.
This panel's theme was healing and harmony, within and without. "World peace begins with individual peace," said Kashikar. Rothenberg suggested that understanding the Vedic ideal of "Ayam Atma Brahma" is to understand harmony; and ayurveda is about living as one with nature.
In Mehta's view, good health could begin by letting our intuition tell us what the body needs. The body, said Rothenberg, has a tremendous capacity to heal itself. Keys include knowing our constitution (vata, kapha, pitta), focusing on gut health and going vegetarian.
Dr. Rao explained why veganism is good for us personally and compellingly described its benefits to the world.
5. Education
Panelists were Prof. Anil Saigal, Tufts University; Prof. Mahesh Sharma, founder of the Center for Teaching/Learning of Mathematics; Prof. Prasad Jayanti, Dartmouth College; Dr. Parul Kumar, Prof., Suffolk University and teacher, Lexington High School; and Parth Parihar, PhD student, Princeton University.
While focused on the sciences, all panelists agreed that education should inspire young minds and instill joy. Jayanti said students are inspired when a teacher exposes the inherent beauty of a subject. Sharma said a good education between the ages of four and eight is critical for future learning. She cited the Greek system, American experiential instruction, British rigor and the Finnish love of learning.
She likes the holistic Indian gurukul for the teaching immersion, small class sizes and student-teacher interaction. "The focus was not just on academics. Students imbibed respect for knowledge and were exposed to art, music, sport and the shastras."
She is a big advocate for girls in STEM. "There is so much fuss about girls and science. Memorizing times tables is not as important as being able to apply the fundamentals of multiplication and division. Understanding and analysis is key." She stated that so-called "Socratic" question-and-answer thinking started in India.
6. Science & Vedanta
Focusing on the mind-brain conundrum were Dr. V.R. Anand, neurologist, South Carolina; Dr. Rudy Tanzi, Professor of Neurology, Harvard Medical School; Prof. Menas Kafatos, Computational Physics, Chapman University; and Dr. Vinod Deshmukh, Emeritus Associate Professor of Neurology, University of Florida.
Deshmukh said biophysics and bioneurology are embedded systems, like nesting dolls. Tanzi succinctly said: Awareness is existence. Consciousness is an output of Awareness; it is Awareness with attention. Kafatos said we perceive the world not from the outside in, but in fact, the reverse. Indian philosophy, of course, has known this for thousands of years.
Anand, a young neurologist trained in India and the US, is attempting to bridge modern science with introspective traditions. "A large portion of Hindu thought is a rational explanation of ourselves." He believes most scientists are open to ideas, but that Hindu philosophy is not explained in a way that scientists can understand. Even the Upanishads are not "classically" sequential like Plato or Aristotle. "They are more snapshots of what the rishis discovered, an intuitive vision, more in the realm of the personal. This becomes hard to readily transfer to scientists." He sees neuroscience in tantra, and points to the tantric texts which speak of cognitive processes like chetana, buddhi and smriti. "Tantra was part of the rishis' toolbox for realization, and practiced by almost all."
The traditions are there, he says, and Indian researchers need to build the bridges. The world is interested in the connection. Now is the time to redefine and lay out clearly what Hinduism is about.
7. Philanthropy & Service
Focusing on the desire for change were Alpa Ladani, armed forces; Nishith Acharya, advisor on innovation, entrepreneurship and commercialization; Megha Desai, President, Desai Foundation; and Aashika Patel, CCS Fundraising. All panelists indicated that giving of time has even vaster import than money. Ladani said, "It's easy to give money and have someone else do the work," but "there is a lot of satisfaction in investing your time." Acharya, subscribing to Mahatma Gandhi's ideal, said commitment is important, "You can't just do service on Saturday afternoon; you must go deep to understand the issue you are trying to solve."
The Gita says the worst kind of charity is that given with condescension or forced on the recipient. Desai, US-raised, says this happens when the givers do not listen to the people on the ground. Working on menstrual health issues with village women in Gujarat, Rajasthan and Maharashtra, she strives to understand the religious and cultural components of making change.
Desai mentions in her TED Talk that cultivating dignity in the woman is vital if change is to be long lasting. She tells of a 28-year-old who came to a sewing class, having never before stepped out of her marital home and having no friends. Making friends in the class, she finally realized it was neither normal nor okay to get beaten by the mother-in-law.
8. Values that Impact
Dr. Amar Sawhney, CEO, Instylla Inc.; Dr. Rahul Singhvi, operating partner, Flagship Pioneering; Dr. Rajiv Gupta, Harvard Medical School; Dr. Ganesh Kaundinya, founder, Momenta Pharmaceuticals; Dr. Maha Radhakrishnan, Senior VP, Sanofi; Nisha Subramanian, partner, McKinsey. Expecting a dry, left-brain hour, listeners wound up laughing and holding their hands over their hearts, thanks to deft moderating by Udit Batra, CEO, Merck KGaA, Life Sciences, who drew out warm, personal accounts from the speakers.
Singhvi said he was in a pell-mell rat race wanting to make it big and make money, but with success came the realization "no one cares how smart you are." Instead it is about "how much you care about others."
Gupta told of growing up in the interior of Rajasthan and entering school at fifth grade without even knowing the alphabet. What he did know was to recite from the scriptures his mom regularly read to him. He went on to get an engineering degree from BITS and a PhD in the US, teach at USC and then, with kids and wife in tow, get an MD from Cornell. Today, he is a neuro and cardiac radiologist at Harvard Medical School. The lesson he derived from chasing his professional dreams: family support is everything.
Sawhney said he follows the central Sikh tenets—naam japo, kirat karo, vand chakko—and surrounds himself with good people, whom he calls his sadh sangat, spiritual fellowship. Coupled with non-attachment to the fruits of one's actions, this produces good results. Batra seconded the importance of community: "As long as you do something that is good for the collective rather than for yourself, it is sustainable."
Radhakrishnan emphasized finding solutions and making gene therapy accessible to all. Subramaniam envisages a day when getting gene therapy would be like going to hospital for surgery. Kaundinya wants to bring affordable, cutting-edge treatment to all. Sawhney demanded to know why the focus is on rare diseases that affect a miniscule segment of the population rather than widespread ones which impact public health.
9. Commerce
Panelists were Arun Kumar Sharma, financial services; Yogi Sarin, sustainable technology; Sumit Ganguli, information technology; Pradeep S. Mehta, development economy; Saumya Sharma, attorney. The aim was to study the India-US trade relationship and the urgency for India to both learn and unlearn from the US. Arun Sharma said the state of a nation is determined by the willingness and ability of a people to think and work in the collective interest. Example: even though the current administration has pulled out of the climate accords, people in the US are not throwing trash on the street or cutting down trees. Why is social discipline not applied in India, where peace, inclusiveness and respect for nature are fundamental? He wants India to study the success factors that draw worldwide migration to the US.
Sarin wants India to make better public policy decisions. He said alternate energy sources would revitalize India's economy and people, and advocates diverting investments to agriculture. He said that in the last 15 years, the US produced 50 million tons of bio-fuels, enough to meet India's energy demands for two years—yet India has imported Middle East oil rather than US ethanol. He called for India to urgently acquire American technology and look at the US Midwest where farming is big. Saumya Sharma ponders the shifts in investments and business practices between the two nations: Indians are investing in the US now and not just the other way, and US models are not the only kind for young businesses. Her suggestion for ease of business in India: learn the language.