WORSHIP
Temples Are Being Built and Renewed Despite Lockdown
A RAGING PANDEMIC HAS done little to impact the opening of new Hindu temples in various parts of the world. Ireland saw the opening of the Vedic Hindu Cultural Centre in Dublin on August 22, after two decades of persistent effort by the Hindu community. The worship had previously been conducted in temporary premises. "It is a proud moment for us as an Indian community that we now have a Hindu temple to perform our religious rituals in a land away from home," Ravinandan Pratap Singh, a local NRI, told timesnownews.com .
This is one of only three Hindu temples in the country, joining the Vinayaka Temple in Dublin and the Hindu Temple and Indian Community Centre in Donega. As well, there is a Ramakrishna Mission in Dublin. There are 25,000 Hindus in Ireland, just half a percent of the overall 4.9-million population.
About three weeks earlier, on July 29, the Shree Salasar Mandir was dedicated in Padua, Italy, just outside Venice, Italy. This temple is dedicated to Lord Hanuman in the form of Salasar Balaji. The back story is that in 1754 a farmer in the village of Asota near the city of Salasar in Rajasthan, India, found a murti of Hanuman in his field, and it was later enshrined in a temple.
According to Venice restaurant owner Pankaj Sharma, about 1,000 Hindus live near the new temple, and many of the 400,000 Indian tourists normally visiting Venice each year take a side trip to Padua. Some have not returned home on account of the pandemic, and the temple gives them a connection to India and Hinduism as well.
In Melbourne, Australia, the year 2020 marked the completion of several years' work to improve the Sri Vakrathunda Vinayagar Temple. The US $3 million project focused on replacing the central shrine, ten ancillary shrines and rooftop vimanam with elegantly carved granite edifices brought from India. Carving work for the improvements had been going on in India since 2018, under the direction of Stapathi Purushothama, the main architect. He and 20 artisans arrived in Australia a week before March 20, just as the country shut down.
The temple was closed to the public, but construction was allowed to continue. The absence of devotees made it easier for the artisans to complete their work. In all, they placed 1,200 stones, weighing from a few hundred pounds to six tons.
With the work finished, the kumbhabhishekam consecration was set for June, but then postponed due to the pandemic.
---
INDIA
School's Tree Project Honored
The Gurukulam matriculation school in Ooty, western Tamil Nadu, won the "Green Apple Environment Award" from UK-based The Green Organization for its "One Student, One Tree" program started in 2008. The rural school at this popular hill station was established to provide English-medium education to the children of local farmers.
The New Indian Express quotes school spokesperson N. Arjunan, "This scheme motivates our students to continue to plant a tree every year throughout their lives. The inspiring scheme won against some 500 entries worldwide, and we are the only one from India to get this credit. The award will motivate us to pursue our green projects with extra zeal." India's former president APJ Abdul Kalam also praised the project.
---
ENVIRONMENT
Germany Leads Europe in Turning Away from Meat
A STUDY PUBLISHED IN THE scientific journal Foods (bit.ly/GermanyVegan) has discovered that just 45% of Germans questioned said they eat meat "without restraint"—putting them in the minority for the first time. Already 11% are full vegetarian. By comparison, 68.5% of French participants said they eat meat "without restraint." Both numbers indicate there is still a huge number of carnivores in these neighboring countries, but the downward trend is remarkable.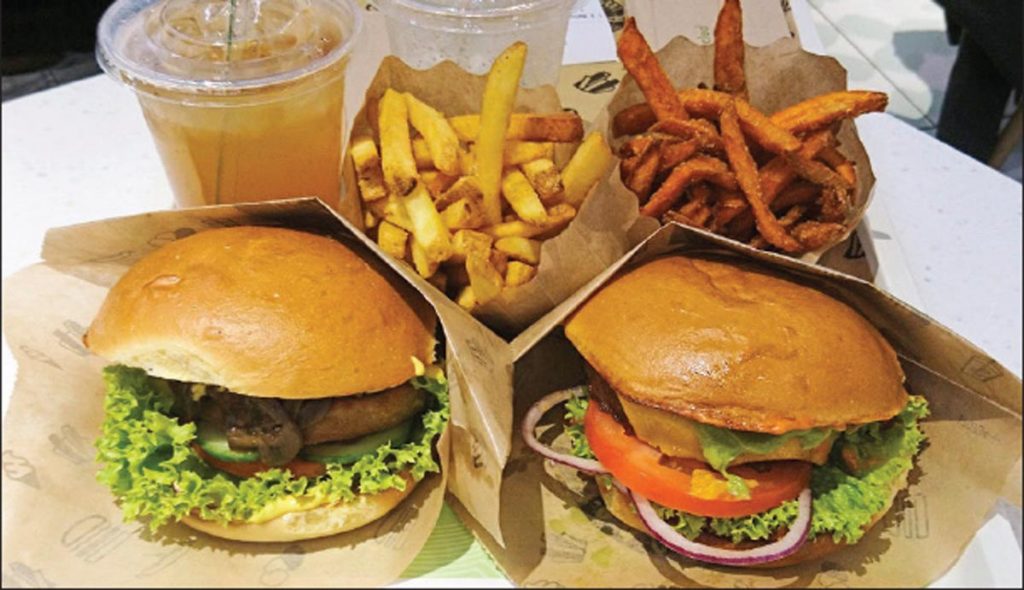 One of the study's lead authors, Christopher Bryant of Bath University, England, told the Guardian newspaper, "The social implications [of the German numbers] here are potentially quite profound. The view that being a carnivore is 'normal' is part of the lay moral reasoning for continuing to eat meat. But once that is a minority view, and meat replacement options become cheaper and tastier, the trend is likely to continue in one direction."
The Guardian also quotes Christian Kuper, who gave up a career in management consulting to start the Vincent Vegan chain that sells plant-based burgers at shopping malls in Berlin and, appropriately enough, Hamburg (whence the ground cow patty in a bun gained its name). He chose shopping malls, he told the Guardian , because "We wanted to go straight into the mainstream—we knew that is where the demand will be."
Curiously enough, Bryant's study was not about vegetarianism as such, but about the likely acceptance of cultured (ie, lab-grown) meat. The study found a third of the French and a majority of Germans would buy lab-grown meat, citing concern for both animal welfare and climate.
---
PANDEMIC
Bali Reopens too Soon
WHEN INDONESIA SHUT down in April on account of the pandemic, Bali had few cases, but its tourism-based economy came to a standstill. Thinking the island somehow immune from the pandemic, local officials decided to open Bali to domestic tourists on July 31. Soon they were receiving 4,000 a day—and Covid-19 cases rose fivefold, according to a report by ABC News Australia. Most visitors came from the nearby island of Java, which has had the highest infection and death rates in all of Indonesia.
By the end of December, new lockdowns were imposed across Indonesia. Designated crematoriums in Bali went from cremating one body a day to a dozen. A priest offers the final prayers, and a limited number of family members are allowed to watch from nearby.
---
UNITED KINGDOM
Stolen Deities Returned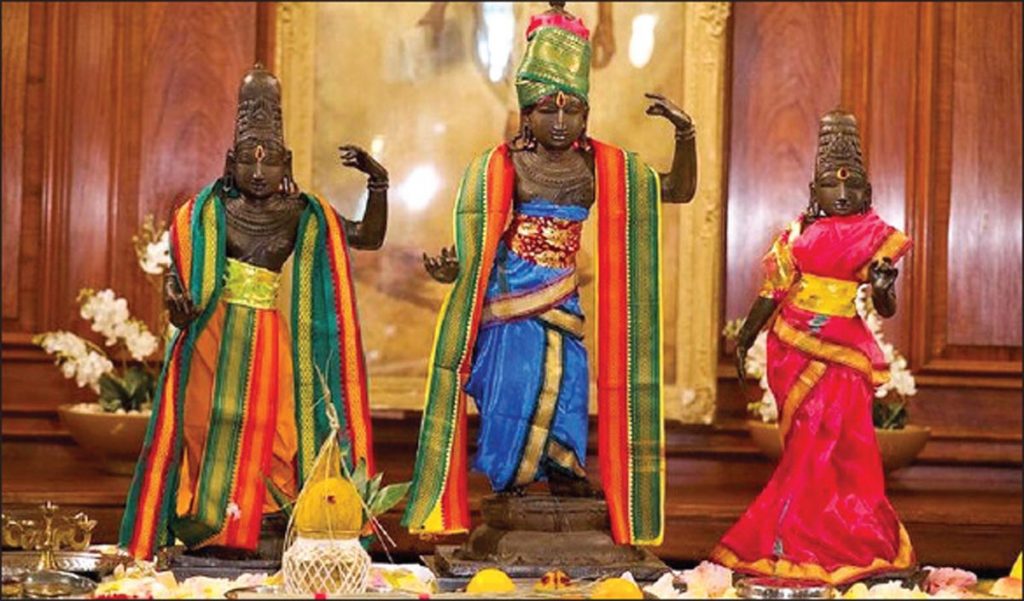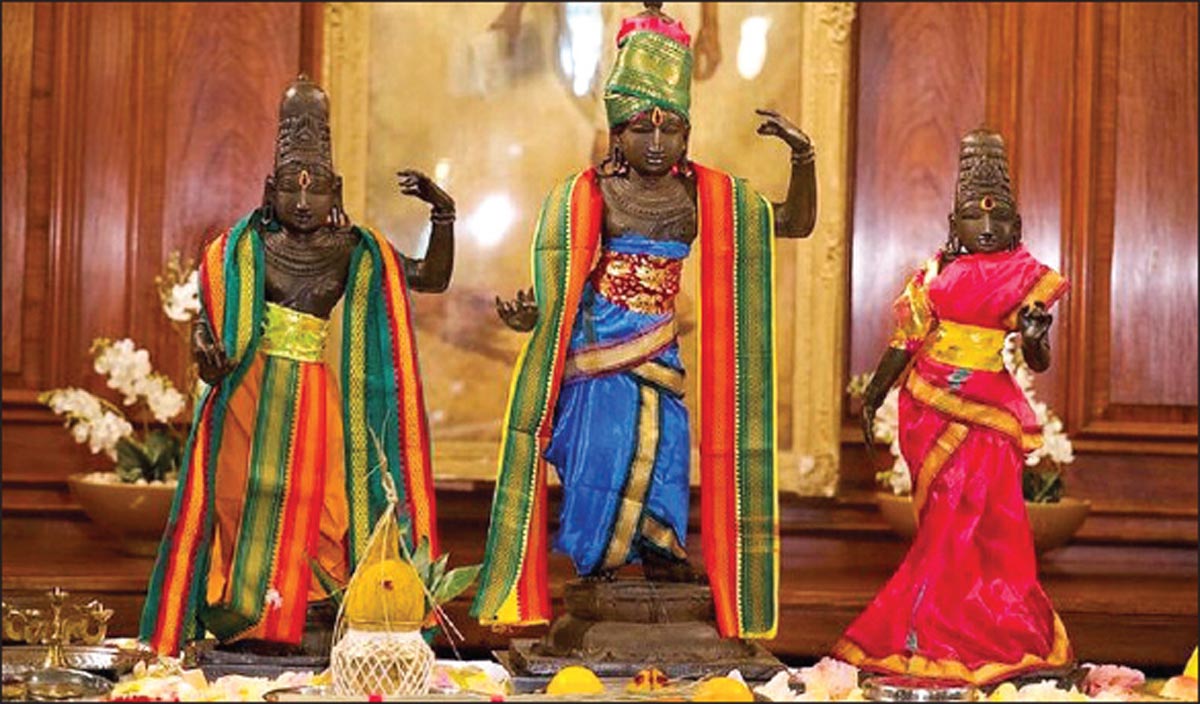 THREE SMALL MURTIS OF LORD Ram, Sita and Lakshmana stolen 40 years ago have been recovered after years of work by the India Pride Project. Dedicated to recovering just such artifacts, one of their members spotted the Rama murti on the website of the British Antique Dealers' Association and ultimately identified it as belonging to a 15th-century temple built during the Vijayanagara Empire. Having located a 1958 photo of the missing Deities archived at the French Institute of Pondicherry, they worked with local police in India and London and successfully confirmed the identity of all three statues. The dealer holding them willingly turned them over to the High Commission of India. Had they been sold, they could have fetched millions of dollars, according to a BBC report.
---
USA
Assessing Yogananda's Impact a Century Later
ONE HUNDRED YEARS AGO , on September 19, 1920, the Indian yogi and guru Paramahansa Yogananda arrived in Boston as the Indian delegate for the Unitarian Conference of Religious Liberals. Yogananda's arrival, along with an earlier visit by another Indian teacher, Swami Vivekananda, began yoga's rise on these shores into a major industry, as well as one of the most significant examples of syncretism—a religious and cultural mash-up—in the history of the West.
Yogananda's Self-Realization Fellowship eventually offered as many as 800 temples, ashrams and retreats in 60 countries. Its blend of traditional Hindu practice with the American self-help culture resulted in the flowering of earlier movements such as Transcendentalism and New Thought. Yogananda combined pop-culture stardom with an approach to faith that emphasized a personal consciousness of the Divine, and the fundamental unity of all spiritual paths, over specific dogma or doctrine.
Humankind's goal was "knowing in all parts of body, mind and soul," he wrote, "that you are now in possession of the kingdom of God; that you do not have to pray that it will come to you; that God's omnipresence is your omnipresence; and that all you need to do is improve your knowing."
Yogananda created a new model for pop spirituality. A bestselling author, his 1946 Autobiography of a Yogi has sold over four million copies and was distributed at Steve Jobs' funeral by order of the Apple founder himself.
According to one attendee at Steve Jobs' funeral, Salesforce CEO Marc Benioff, the implicit message behind the gift of Yogananda's book was "Actualize yourself." Jobs, according to Benioff, "had this incredible realization that his intuition was his greatest gift. He needed to look at (the) world from (the) inside out … his message was to look inside yourself and realize yourself."
A century on, Yogananda's project of self-realization, and his vision of a unifying spiritual force, is more powerful than ever. Indeed, as more and more Americans join the ranks of the religiously unaffiliated, or spiritually remixed, this might just be our new civil religion.
Excerpted from Religion News Service report by Tara Isabella Burton .
---
Briefly
DEVI MANDIR'S NAPA TEMPLE WAS burned to the ground in August by one of California's major forest fires this year. Some of the residents fled the recently built ashram with only the clothes on their back as rapidly shifting winds brought the fire to them.
THE YEAR 2020 MARKS THE 100th anniversary of the birth of Ram Swarup, one of the great Hindu thinkers of the 20th century. He wrote in 1992: "Hinduism satisfies man's deepest spiritual and ethical urges. It has developed different methods that facilitate growth into a more meaningful, unitive and intuitive life. It is pluralist, compassionate and nonviolent in temper. In fact, it has all that man seeks in his deeper being, and it is the product of this seeking."
BARON'S PALACE IN CAIRO, EGYPT, also know as the "Hindu Palace," was designed and built in 1911 by a French architect after the style of temples in Orissa and Angor Wat and served as the home of a Belgian billionaire. The Egyptian government acquired the dilapidated (and reportedly haunted) building in 2005, and just opened it after extensive renovations.
THE BOOK FAITH FOR EARTH–A Call for Action has been released by the UN and Parliament of World Religions ( bit.ly/UNcall ). It has an excellent section by Dr. Kusumita Pedersen on the teachings of the world religions on creation and the environment. Among several points, all agreed that: "The natural world itself has value beyond serving human needs, and non-human creatures have moral significance."
RAGHUNATH TEMPLE IN SRINAGAR is being rebuilt, three decades after being heavily damaged by Islamic terrorists in the campaign to push the Hindu Kashimir Pandits out of the Valley. The temple, dedicated to Lord Rama, was completed in 1860.
ONE CONSEQUENCE OF THE Covid-19 pandemic has been a "large reduction" in missionary work by the Catholic Church, according to a report in Religion News Service quoting a priest, Martin Lasarte. Also, Europe is witnessing an accelerated decline in Catholic faithful, who find "life is very comfortable" without having to attend church weekly, according to Cardinal Jean-Claude Hollerich. Lasarte said he took comfort in the "few, but good" approach and believes "Christianity still has a future."