Among all the yoga teachers that have come to the West, Swami Bua was one of the most authentic exponents
By Priya Ayyar
At a young age, i had the great fortune to learn and study hatha yoga in New York City with an Indian living master of yoga, H.H. Swami Bua Ji ­Maharaj. Swamiji was a teacher par excellence and an invaluable source of knowledge of yoga and its philosophy, theory and practice. Many people would argue that Swami Bua was the best yoga teacher of the modern era. His age put him on par with Sri Tirumalai Krishnamacharya, a claim that deserves more recognition and investigation. Swamiji left his earthly body in 2011 at the incredible age of 122, a testament to his life-long practice. He always told us students that longevity depends on flexibility of the spine, leading a sattvic life and practicing daily sadhana. We celebrated his 110th birthday at his apartment off Columbus Circle with a big party in 1999. We played harmonium and sang bhajans, and he blew his conch, as he loved to do at large gatherings.
Looking back at my time with him, I am incredulous that I was able to learn directly from such a repository of knowledge. I found him in 1994 and took class diligently while studying yoga philosophy and Hinduism. Swami Bua treated me like a granddaughter, often speaking to me in Tamil. He felt a close kinship with me, delighting in the fact that my mother's family settled in Chennai but hailed from Thanjavur, as did he and his family. He would question me about my father's being born and raised in Kerala as a brahmin Iyer. He wanted to make sure the family did not eat meat or fish, as many brahmins in Kerala did, according to him. He stressed the importance of being a strict vegetarian as a yogi, and to be non-harming and nonviolent, to love all of God's creatures. I assured him that my parents were raised vegetarian and my grandmothers were orthodox brahmins who wore nine-yard saris and cooked pure vegetarian food. Swami would not allow meat-eaters in his kitchen. He allowed my mother and me to cook for him and eat with him. Swami would invite me to eat share a meal after most classes, to have some kichidi, sambar sadam, or mango and fruits. He has converted thousands to vegetarianism by his injunction, "Do not make the body a burial ground by consuming the dead flesh of animals!"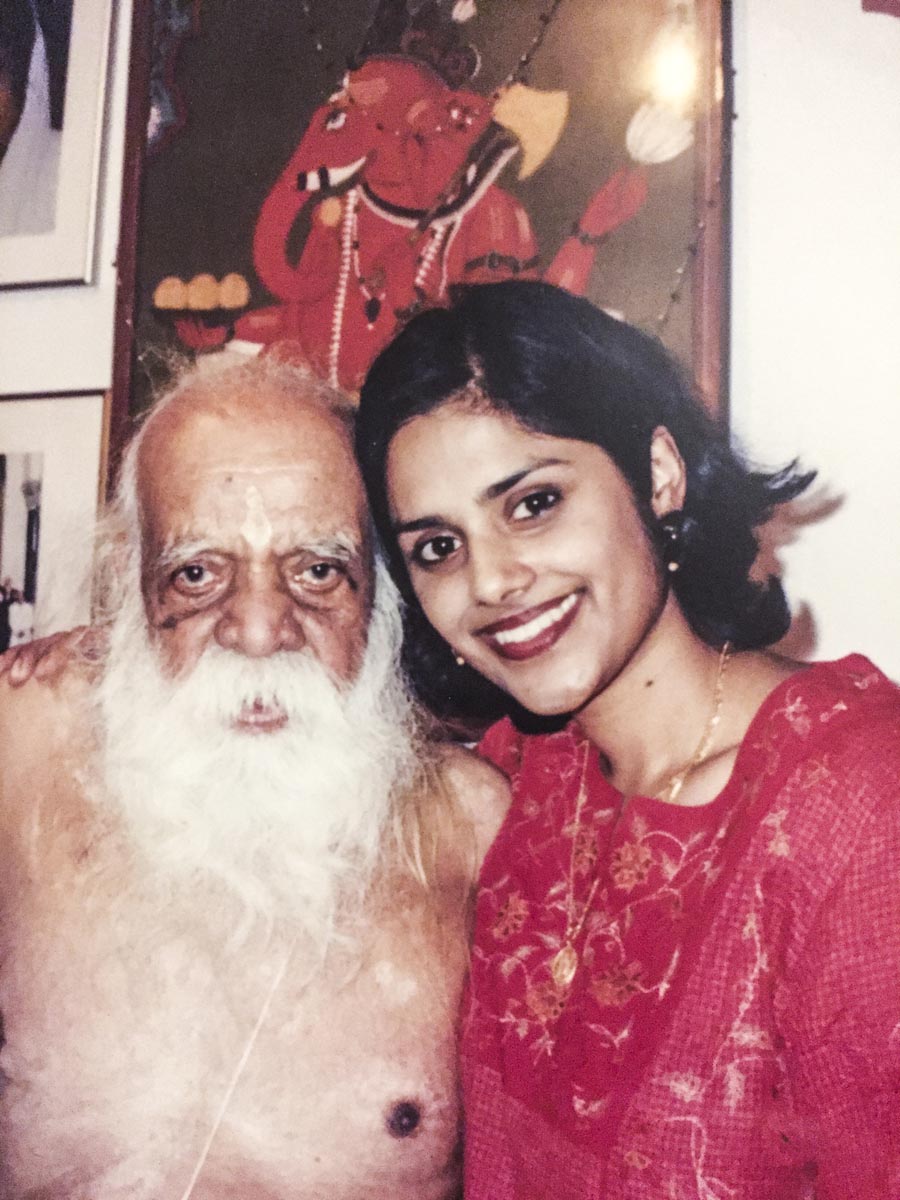 Swami Bua taught a vigorous 90-minute routine of hatha yoga followed by his sublime yoga nidra while lying in savasana. Other senior students will know exactly what I mean when I say that Swami Bua's yoga nidra was simply the best. We can all still hear his inimitable voice leading us in that closing meditation, "Relax your body, relax your mind, give a mental massage, pray to God…"
Swami was very upset at the commercial nature of yoga in the West. He would say, "There is only one yoga for the body. It is called hatha yoga. The other yogas are jnana, raja, bhakti, karma yoga, etc." He would question, "What is ashtanga? Ashtanga means eight limbed! It is not a separate yoga!" He would say, "Vinyasa means flow. It is not a type of yoga." Since Swami Bua was the same age and generation of Sri Tirumalai Krishnamacharya, he watched very closely what yoga was being taught by the next generation, most notably Krishnamacharya's disciples: B.K.S. Iyengar, Pattabhi Jois and Indra Devi. I was so thankful and grateful to him for this clarity. He was teaching the truth of hatha yoga that is one. He was dismayed at what so-called yoga teachers were selling in the West. My gym at the time, Equinox, was starting to list yoga classes on their schedule, calling them by strange names like "power yoga" and "dance yoga."
When Swami Bua would travel to Brazil or Hawaii, some of us senior students would do yoga downtown at Sri Dharma Mittra's studio or Jivamukti to check out other classes. The classes were intense and focused, and these teachers have inspired and taught thousands of students. However, I can speak from experience when I say no other yoga class compared to Swami Bua's. The scope, depth and comprehensive nature of Swami Bua's hatha yoga asana practice is unmatched. His 90 minute sessions worked every muscle in the body. His mudras were taught to balance hormones and glandular function. He taught four variations of Surya Namaskar, explaining that there are actually six variations, but the last two are very advanced. From standing to seated asanas, to floor exercises, twists and, lastly, inversions, his hatha yoga class remains the most thorough I have ever taken—and I have taken hundreds of classes since studying with him.
What is upsetting is exactly what Swami Bua alluded to all along, that some people start their own yoga studios and, even more astonishingly, will offer teacher training without any conception of how long it takes to truly study and understand yoga—not just the physical asanas, but the entire philosophy. Swami Bua told all of us students that we must practice and study a minimum of ten years before teaching yoga. Yes, ten full years. That wise advice was echoed years later in Malcolm Gladwell's idea that mastery of complex skills takes 10,000 hours of practice—which is akin to ten complete years of study. I followed my guru's edict and did not attempt to teach yoga or lead a class until ten years after I began. I took my first class with him in 1994 and I led my first class as a senior student and teacher in the fall of 2004.
How can one learn to be a yoga teacher in a series of weekends? In one month? It is ludicrous, yet many yoga teacher trainings offer just that. I would marvel at how Swami Bua, while sitting at the front of the room in meditation with eyes at half mast, could instruct his students very specifically to make sure they had the proper alignment. "Straighten your left elbow! Your left elbow!" he might say. If you did not heed his instruction, he would question, "Do you understand English?" He was quick to correct any dancers or gymnasts who came to class a little too self-confident and sure of themselves and their flexibility. I heard him many times telling dancers their backs were crooked and their rib cages misaligned. Once someone walked in and just by looking at their navel, Swami said, "Your back is crooked." He was so incredibly observant and focused on the importance of the correct alignment of the body. He also would tell me when I returned from a trip, "Priya, you have lost one kg," or "Priya, you have gained one kg." These observations were always correct. My favorite is when he would spot me for some advanced inversions. Before I attempted scorpion pose (vrishchikasana), he would come over and place his arm out for me to kick up against over my head, then remove his arm once I had found my balance. He spotted me multiple times in various asanas and used his feet to correct my hand or foot placement and perfect my alignment. How I miss the days with such a perfect teacher!
Swami Bua taught yoga at Swami Sivananda's ashram in Rishikesh. There are several black-and-white photos of him there practicing yoga, including the one above of a combination pose many would think impossible. Swami Sivananda conferred the title "Yogiraj" on Swami Bua and later bestowed him with the sacred title "Master of Hatha Yoga." Swami Bua also demonstrated the shooting bow pose in front of a young Sathya Sai Baba at the All India Conference of the Divine Life Society hosted by the Raja of Venkatagiri.
As a teacher, Swami Bua combined stern discipline with great humor and good cheer, using puns and word play to make light of life while encouraging his students to learn yoga and practice with dedication and diligence. I am so grateful to have been introduced to yoga by this living master of hatha yoga. Swami Bua Ji was one of the first Indian masters to bring the classical practices of traditional hatha yoga to the United States. He was the master of masters and the oldest living exponent of hatha yoga. My most humble pranams at the feet of my beloved yoga guru Swami Bua Ji.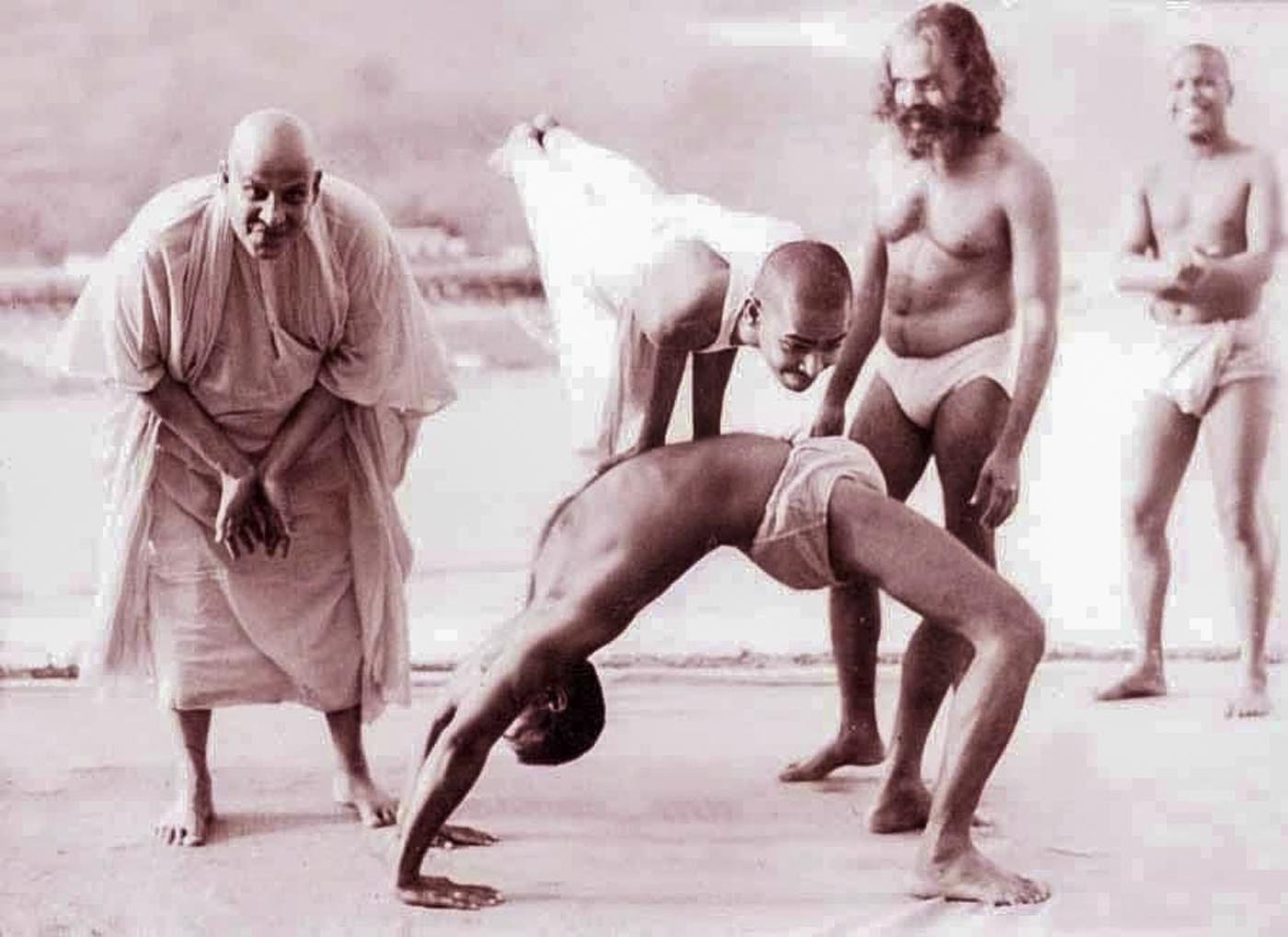 ---
His Blessing from Beyond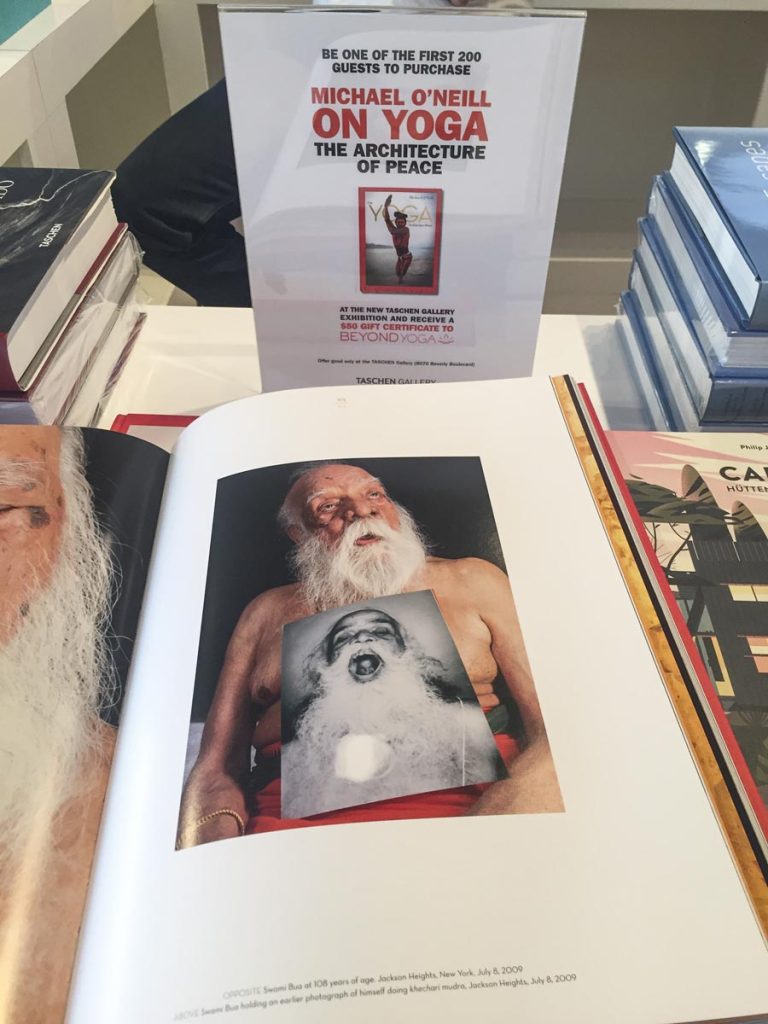 Swami Bua's blessings stayed with me even after his passing. On the very same day I learned I was pregnant, my mother, my husband and I happened by chance upon an exhibition on yoga to celebrate the release of a book by photographer Michael O'Neill. Amazingly, I opened the book exactly to the page of my yoga guru Swami Bua performing khechari mudra! I had no idea of the contents of the book or who was featured inside! I burst into tears of joy as we all felt it was a blessing from God to happen upon that exhibit after hearing such good news. I knew Swami Bua was blessing me from another plane!
---
Priya Ayyar earned her BFA and MFA from NYU's Tisch School of the Arts and currently works in entertainment as an actor, writer, and award-winning audiobook narrator. A native Californian, she lives with her husband and son along the beautiful Central Coast. She has studied yoga, meditation, holistic health and nutrition and Ayurveda. She enjoys chanting and reciting mantras while hiking with her family.