MALAYSIA
Divine Life Society Malaysia offers young Hindus an infusion of fun and philosophy, empowering them with their religion for the rest of their lives

BY RATNAVATHY SIVALINGAM, MALAYSIA

WHEN I WAS ASKED TO WRITE AN Article for HINDUISM TODAY about the Hindu youth camp organized by the Divine Life Society (DLS), Malaysia, memories of my own experience at this very camp 20 years ago flooded my mind. I remember it being intense, fun and mind-awakening.

"How has it evolved over the years?" I wonder. "Are some of the same swamis still there? How is the current generation of Malaysian teenagers responding towards the camps?" Many such questions come to me as I approach Batu Caves, the famous abode of Lord Subramanya in northern Kuala Lumpur. This craggy limestone hill houses a series of hollowed caves and caverns. A beautiful 140-foot-tall statue of Lord Murugan stands beside the 272 multi-colored stair steps leading up to the temple.

I visit on a cool but sunny weekday. As I turn off the main road into the compound of Sivananda Ashram—as this DLS center is known—I notice how picturesque it is, located at the foot of Batu Caves. Waves of bird songs fill the morning air, joined by the voices of teenagers chanting mantras in the nearby prayer hall. The peaceful atmosphere is alive with a sort of tingly excitement. I smile to myself. "The first day of camp has begun," I thought, as I step away from the car, to be welcomed by resident Swami Brahmajnanananda, the organizer of the youth camp.

The Divine Life Society

Founded in 1936 by His Holiness Gurudev Swami Sivanandaji Maharaj, the DLS motto is "Serve, Love, Meditate and Realize." They primarily aim to preserve and advocate ancient traditions and cultural practices, as well as disseminating worldwide the spiritual knowledge found in yoga and Vedanta studies. Emphasizing the global revival of spiritual living, they welcome anyone who is devoted to the ideals of truth, nonviolence and purity, regardless of their religious background. They produce books, pamphlets and magazines and hold spiritual gatherings, discourses and conferences, while also maintaining training centers for spiritual practices.

Inspired by Swami Sivananda, the late Swami Pranavanandaji inaugurated this first center of the DLS Malaysia branch in 1953. Here, activities such as weekly prayer meetings, satsangs, lectures and festivals could take place. Since then it has grown and thrived, sprouting twenty sub-branches which continue to disseminate the teachings of Swami Sivananda nationwide. The DLS Malaysia branch is currently headed by Swami Swayamjayanandaji Maharaj. It has five trustees, eight swamis and swaminis and two brahmacharis; some reside at the DLS Batu Caves branch, while others help to manage other centers.

The society's many activities and services include teaching religion, Tamil language, Carnatic singing, Thirumurai, the Thirukkural, bhajans, hatha yoga and mantras, and classes by the monks. They run the Computer Educational School for some 814 students, the Tadika Sivananda preschool, a medical clinic, the Swami Pranavananda Trust Fund, a library, and two homes for underprivileged children. They have programs providing food for those in need, hold many charity dinners and publish a quarterly publication, the Divine Messenger, which contains articles on various aspects of Hindu philosophy. The society also holds regular religious, motivational and educational camps for youth.
Overview of the Youth Camp

The youth camp held at Sivananda Ashram had been conducted for many years prior to the inception of the DLS Youth Section in 1996. The primary aim of the youth camp is to expound the topics of ethics, morals, religion and spirituality, revolving around Swami Sivananda's Vedanta teachings. In the initial years, the youth camps prioritized lessons on the theoretical philosophies of Vedanta and the Bhagavad Gita. Classes were generally conducted in lecture format, with some time allocated at the end of the session for questions and answers. Speakers were mostly disciplined, strict monks whom the youth both respected and feared. The ambience of the camps was rather serious, and youth mostly attended because their parents wanted them to.

The camp evolved over the years as the monks organizing the camps worked closely with the youth and empathized with their natures, preferences and life issues. The camps were reorganized to be more fun and interactive. Topics were carefully screened to sustain interest and increase engagement. Speakers became friendlier, more approachable and open to discussion, encouraging questions and interaction. Mailvannan, a returning participant, appreciates this: "Usually when swamis give talks, it is slow and boring. But the swamis here give them in a very fun and interesting way." Youth no longer attend because they were told to by parents, but keep coming back because they can't get enough of the experience.

The Four Means and Six Virtues

The theme of the camp this year is Sadhana Chatustaya, the four means of practice that lead to the path of Self-realization as taught in Vedanta. These include the six virtues, Shatka Sampatti, which must be cultivated to realize the inner self. All this builds a sound foundation for the practices of listening to the teachings (sravana), reflecting on those teaching (manana) and deep, contemplative meditation on those principles (niddhidhyasana). The fourfold qualifications (Sadhana Chatustaya) are:

1) Viveka or discrimination, the ability to seek and distinguish between the real and unreal, the permanent and impermanent, and the Self and not Self.

2) Vairagya or detachment from the enjoyment of the fruits of one's action, gradually decreasing one's attachment to worldly objects and desires and aversions in the inner mind. It does not mean one needs to abandon worldly responsibilities and duties to society.

3) Shatka Sampatti includs: i) Samah, mastery of the mind to cultivate tranquility and contentment; ii) Damah, training and control of the internal and external senses to use them in a positive and useful manner; iii) Uparati, withdrawal from sensory experience; iv) Titiksha, forgiveness and forbearance of obstacles on the spiritual path. This frees one from the onslaught of sensory stimuli and pressure from other individuals; v) Sraddha, persistent faith in spiritual practice and the words of one's guru; vi) Samadhana, the ability to focus and harmonize and balance the mind in its thoughts and emotions, bringing it to single-pointedness.

4) Mumukshutvam, intense yearning for liberation and self-enlightenment.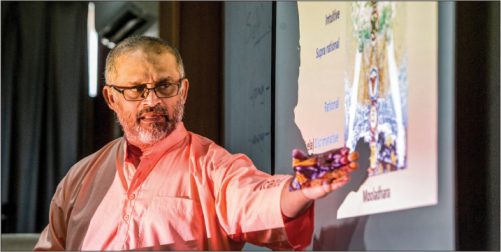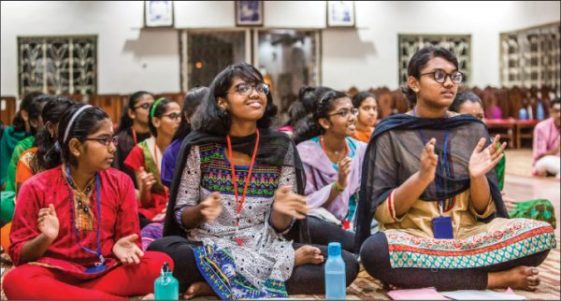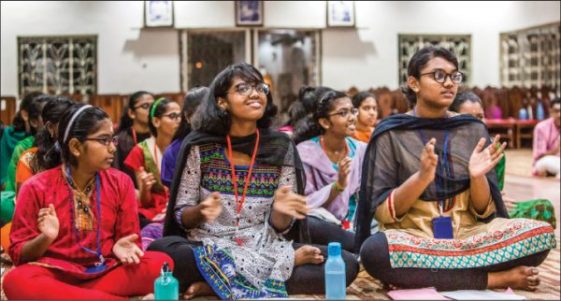 Daily Happenings

The DLS youth camp lasts for six days and is intended for teenagers aged 13 to 16. The camp encompasses a variety of activities that keep most teenagers interested and engaged. Facilitators—dedicated young men and women volunteers from the DLS youth wing—help manage the participants and ensure the smooth flow of the camp.

A typical day's activities start at 6:30am with prayers and mantra chanting led by Swami Brahmajnanananda at the main prayer hall. Prior to attending the prayers, all participants shower and don fresh, clean clothing. Hygiene and punctuality are paramount, and latecomers to prayers and classes are gently reprimanded. They seem to appreciate the sense of discipline. Nilesh shares: "In previous camps, we could be late to the prayer hall. However, this time, I was reprimanded for being late; I had to do toppu kaaranam (holding the ears with arms crossed while squatting, commonly done before Ganesha) for 50 times as I entered the prayer hall. I like this strictness because it trains me to be more disciplined and punctual."

The yoga session after prayers is tough for participants who are used to getting up and going straight to breakfast. Here they are asked to first do early-morning exercise and asanas. A 30-minute vegetarian breakfast is then served. The bhojana, or food blessing mantra, is chanted before meals to seek blessings from Mother Annapurna for the food that is about to be consumed. A second mantra is chanted shortly thereafter to express gratitude to Mother Annapurna. Meals are prepared with no onion or garlic, and little salt. One participant mentions, "Initially it was difficult for me to eat my meals with less salt. When I asked Brahmaji (the organizer) about it, he told me we should not let our senses control our mind, and we should eat what is offered to us. What he said made a lot of sense to me, and eventually I got used to the less pronounced flavors."
Breakfast is followed by two sessions of talks by the DLS swamis, lasting about two and a half hours. This year, these sessions mainly cover the elements of Sadhana Chatustaya and some teachings from Swami Sivananda. Talks are filled with humor, visuals and day-to-day examples. Clearly, the monks have thought deep and hard on their delivery in order to keep participants engaged and interested.

Questions from the group are highly encouraged, and no question is ridiculed or deemed wrong. Participants are very focused and ask some intelligent questions that are of great help to everyone. Though every speaker does a terrific job, Swami Mumukshuanandaji and Swami Brahmajnanananda are clear favorites. I hear participants and facilitators alike mention looking forward to Swami Mumukshuanandaji's talk, and indeed his session was enthralling. Swamiji includes a lot of humor and has a way with words and a demeanor that teenagers can relate to easily. He explains, "It is important for us to understand, relate to and reach out to teenagers. We must remember that we have also been teenagers ourselves, so we know exactly what they go through at this stage. When I was camp organizer, I observed that some of the participants hardly understood the sessions that were being delivered and were often caught off guard by the speakers. I used to surreptitiously hand them notes to help them better understand the session."

The swamis' talks are followed by facilitator-led sessions where participants can seek advice on spiritual practice as well as issues they face in their lives. Many—especially first-time participants—hesitate to approach a swami with their questions, but find it easy to speak to the facilitators, who are closer to them in age. Facilitators are free to use their sessions as they choose. Some conduct quizzes and games, and others hold character building workshops.

Then comes a two-hour break for lunch are relaxation. Resting during this time is encouraged. Swami Brahmajnanananda explains, "Here these children arise early in the morning on a daily basis. Some may not be accustomed to this. They attend talks for a long time that are sometimes heavy in philosophical content. This might be mentally tiring, so it is crucial that they get good rest and a mental break, allowing the lessons to sink in and be absorbed, and so they can feel rejuvenated for the afternoon sessions."

I see that the youth look forward to the afternoon workshop sessions, which are conducted by experts in their respective fields. Incorporating lots of visuals and some humor, these interactive workshops focus on helping teens deal with issues they face in life. Topics during my visit include "Finding the champion within you," "Consequences of drug use," "Managing the anger within you" and "Compassion." The presenters relate real-life examples and invite participants to share personal testimony. I am very surprised that so many participants came forward to open up and share their challenges (controlling anger for example), with some testimonials being very personal.

I find the session on drugs to be an absolute eye-opener. The speaker is well versed in this area, having worked as a drug enforcement officer for numerous years. He explains the types of drugs, and stresses the perilous effects of drugs on one's life, encouraging participants to keep away from them. Participants are notably engaged during the session.

During the karma yoga session, participants work in teams to clean and maintain different areas of the ashram. They enjoy this session, too. I hear positive feedback from several about the work, that it helps them bond with each other while inspiring them to be self-motivated to keep things clean.

From 5:30 to 7:00pm we gather for a recreation session with physical activities and games, which everyone looks forward to this period. Participants then shower and dress for an hour of prayers, which include the singing of Thirumurai and bhajans, followed by dinner.

At the day's final and very popular session, participants are encouraged to ask questions, share testimonials, give feedback on the camp, and showcase their talents. Some sing or tell jokes, while others perform short plays. Many students forego their rest time to work together on planning and practicing their plays. This is the pattern for the first four days.

The last two days take on a free and easy style. A quiz session helps participants recall what was taught during the talks. Students are urged to experience gratitude for all that they have in their lives.

On the sixth and final day, the students go on a short yatra (foot pilgrimage). "The yatra is the most famous part of the camp," says Linkeswar. "We go to the nearby temple, sing bhajans and clap our hands. The vibration is so strong that it can bring out devotion in students who do not usually prioritize prayer."

After the yatra, participants and facilitators offer final feedback, showing me this was truly an enlightening experience for one and all. The campfire session that night, with games and street-style food prepared for the participants, is a huge hit.
FEEDBACK
Testimony About the DLS Camp
Teens talk about their experiences, and facilitators share why they became involved
BY RATNAVATHY SIVALINGAM

IN SPEAKING WITH THE PARTICIPANTS at the Divine Life Society Youth Camp at Batu Caves, Malaysia, I was impressed by the unquestionable devotion and sense of accountability towards Hinduism and to learning more about its practices: 'This is our religion. If we don't learn it, then who will?" Participants and facilitators alike express how the camp has helped build their character in terms of discipline, punctuality, collaborative nature and the confidence to speak in public.

Facilitators speak passionately about giving back to Hindu society. All attended the camp themselves as teenagers, to great benefit, and feel the need to dedicate their services to ensure that the current participants enjoy similar benefits.

Participants' parents are also very supportive about sending their children to this camp. They feel that the camps strengthen their family bonds and help their children become more knowledgeable in spiritual practices.

Vignes Tamilanban, 28, Facilitator

Vignes comes from Kedah, Malaysia and currently works as a pastry chef in the hotel industry. He has been active in the DLS from a young age. His father, a long-term, ardent devotee of Swami Sivananda, earned the "Guru Seva Ratna," a title bestowed upon a select few devotees who have dedicated a lifetime of service to Gurudev. Vignes considers himself privileged to be born into such a family. Of Swami Sivananda he says, "He is God-like, and has given me a lot of knowledge on Hinduism."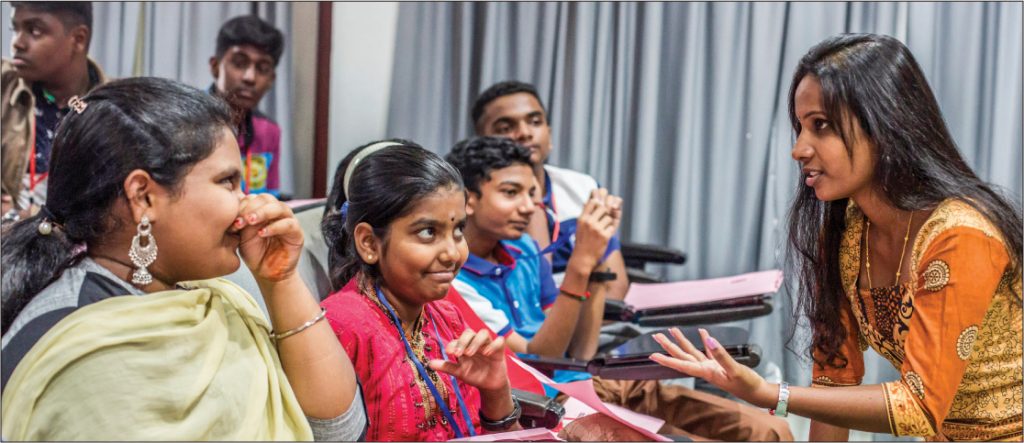 In his teens, as a member of the Sungai Kangan DLS branch in Kedah, he attended camp for about five years during school holidays. Upon completing his studies, he became involved at the DLS headquarters at Batu Caves and became a camp facilitator.

The camp is held during the winter holidays, one of the busiest times of year for a pastry chef. Working day and night, he rushes off to camp, despite a lack of rest and sleep, to serve as facilitator. "My bond with the ashram drives me to do so. The ashram is like a second home to me. Spending time here helps me connect to spirituality. When I was young, someone else sacrificed their time and energy to organize these camps for us. It was hugely beneficial for me, and it's time I paid it forward. These opportunities for seva don't come often. The camps are only held once or twice a year."

Vignes believes the camp plays a huge role in helping participants become more spiritual, rather than only being religious. He feels that though most Malaysian youth do worship in temples, they basically think of Hinduism in terms of culture, celebration and tradition. By attending satsangs, reading books and connecting with swamis and satgurus, they can come to understand the depth of Hinduism. This is something that the teenagers are exposed to at camp.

Vignes stated that the impact of the camp is not immediate, but it sets something in motion. He says even the opportunity to step into the ashram is a blessing for a good life, and "The mark of a successful camp is the ability to clearly convey the message to even five out of the 28 who attend it."

Durgambigai, 21, Facilitator

Durgambigai was born and raised in Kuala Lumpur and has been involved with the DLS since childhood. Her father was an ardent devotee of Swami Sivananda, and she often accompanied him to prayer meetings and bhajan sessions at the ashram. She started attending camp at the age of 12. "At that time I was a very shy person. The first time I had to speak in front of a crowd, I almost cried. Swami Mumukshuji gently encouraged me, and I told myself I could do it. I gradually became more confident and started leading bhajan and devaram sessions. Eventually, I led a workshop session on self-confidence." She has been a facilitator for four years.
Durgambigai serves at the youth camp in order to give back what she has gained during her time as a participant—and because she loves being a facilitator. "I enjoy answering questions from students, and this helps me expand my knowledge as well."

Durgambigai feels that the youth in Malaysia are extremely unknowledgeable about Hinduism and its practices. She holds the parents responsible. "Many parents do not seem to care and are not interested in their children's religious upbringing. This could be because parents themselves do not know about religious practices." She believes the camp is a good avenue for such an education, and thinks the talks could be made even more interactive and fun. But she admits, "We can only show the youth the way. Whether they follow is up to them."

Linkeswar, 16, Returning Participant

Linkeswar is excited about being interviewed for HINDUISM TODAY. His family are long-time subscribers, and he is glad the world will read about the DLS youth camp.

Linkeswar is from Kuala Lumpur and was born and brought up in a religious environment. His family performs daily rituals such as their morning prayers, surya (sun) mantra and bhojana mantra. He says performing rituals together as a family creates a strong bond and helps them function better as a unit. "It creates a positive vibration at home and makes it a comfortable place to live in."

Linkeswar's father and cousins attended DLS camp as youngsters, and he started at the age of 12. Understanding Hinduism is important to him, and he says the teachings at camp have helped him learn about his life purpose, karma, dharma and moksha, liberation from the cycle of birth and death, which he learned can only be attained by adhering to certain religious practices. He says it is crucial that every Hindu know their religion well and take responsibility for spreading it. "It is really important to know, or else I will be ignorant. I'd like to help my religion grow because it inspires and motivates me."

Linkeswar speaks knowledgeably about Sadhana Chatustaya. He plans to gradually put the teachings into practice when he gets home, prioritizing the areas he needs to strengthen most: "The prayers and mantras, and controlling my mind. Mastering my mind will help me focus better on my studies. The camp reminds me of inner areas I have to work on."

Hindus in Asia are in a sad state, he says. "All teenagers must attend these camps to learn the spiritual practices of Hinduism and help our people improve."

Laveeniah, 15, Returning Participant

Laveeniah lives in Rawang, Malaysia, and is actively involved in the Rawang DLS branch, where she got the invitation to attend this camp. This is her fourth time at camp, and she loves it. Her cousin, sister and brother are attending with her. Laveeniah said she learned the proper way of performing spiritual practices at previous camps, and currently embraces 10 minutes of worship at home every Tuesday, Thursday and Friday, with the chanting of japa, mantras and singing bhajans. She says her prayers have helped her perform well in her exams.

Laveeniah says the camp has been her source of knowledge on Hinduism and its spiritual practices, which have been really beneficial to her. "Swami Brahmajnanananda has taught me a lot about Hinduism. For example, we should rise and pray each morning, and always shower before prayers. We should also chant mantras and do japa."

Apart from learning about Hinduism and making new friends, she says "This camp allows me to become well versed in Hinduism. I can then teach those who are unfamiliar with the religion. Next year is my last year as a participant, and I believe I will be very well versed by then. This camp has been very beneficial, rather than me idling my time away at home."

She does feel there should be more teaching about God and Gods. "Given a chance, I will definitely come back again."

Nilesh Shanmugam, 16, Returning Participant

Nilesh, from Penang, Malaysia, was introduced to the camp by his uncle, Swami Brahmajnanananda. This is his second time at the camp. "I didn't know much about my religion when I came here, but now I know the importance of adhering to a vegetarian diet and the reason for the numerous Gods, and I can chant some mantras, for example the bhojana and gratitude mantra for food, which I have incorporated into my daily spiritual practice. My mantra pronunciation has improved, too. I now pray three times a day, unless I am out of the house. Praying and chanting mantras have helped me become more focused on my studies."

Nilesh is the only Hindu boy at his school, and his schoolmates often ask about Hindu practices. This camp has not only given him new Hindu friends, it has empowered him to answer the questions of non-Hindus. Further, he says it has tremendously helped him develop and refine his behavior and character. "When I was here at 13, I realized that I had a lot of disciplinary problems. By the time I returned home, I was a lot more disciplined. I put to practice my knowledge from the camp. I have seen positive changes in myself." He says the camp surprised him. "I thought it was going to be a waste and we wouldn't learn much about our religion. But I've learned a lot. The camp is also very balanced. There were lots of games; I had a lot of fun. Many of my friends do not know much about religion. I think this camp is a great place to start."

Girija, 13, New Participant

Girija lives in the USA and is visiting relations in Malaysia. Her mother is Malaysian and her father is American. She decided to attend the camp to learn more about Hinduism, which she considers to be her culture. She also felt that attending the camp would affect her positively.

"This camp is better than any camp I've attended in the US," she says. "Those were pretty disorganized. I thought this camp would be in the jungle, with barely any facilities and few teachers, and it would be old-fashioned and unfun. But it is very neat and clean. The facilities are good, with lots of bathrooms and toilets—you don't have to wait in line. The teachers are nice. Some of them use comedy to help the students relax and listen, while others are serious. But all of them teach really well so you can remember. More than any of my other learning experiences, these teachers want to make sure you understand what you're learning. They took our phones away on the first day, and I hardly noticed it. I think it's actually a really good thing to do."
Girija wants to learn more about Hinduism, as her knowledge is limited. Her mother is quite busy, and her father doesn't know much about Hindu beliefs and practices, though he wants to know more. When she gets home, she will teach her father what she has learned. At home she tries to pray every morning, and she chants mantras before meals. "When I pray before I eat, the food tastes better."

Girija feels that such camps are extremely important for younger people to learn about Hinduism, so they can carry on and practice the Hindu tradition even when the elders have passed away. In addition, camps like these instill positive values in attendees and keep them away from alcohol and drugs. She says the talk on drug use was excellent because of how the speaker elaborated on the consequences. "At camps in the US where they've talked about drugs, they only spoke about the effects on the drug user. Here, they also explained how drug use would affect other people in your life."

She hopes future camps will incorporate more basic topics. "This camp is for people who know Hinduism. I don't, really. I'd like to know more about the Gods and their functions. My school's social studies program does not teach anything about comparative religion, and we have no prayer hall. Social studies tells us where a religion came from but doesn't really tell you about the religion. I think this experience will make me become more spiritual, stable and enlightened. I would like to attend again and again."

Mailvannan, 14, New Participant

Mailvannan comes from Ipoh, Malaysia, and actively participates in the DLS branch there. This is his first time at the camp. He hadn't wanted to attend, as his experiences at other camps had been boring. But his mother convinced him to attend. Mailvannan describes himself as a religious person. "I'm the one who prays at home. I sing at least three devarams and chant mantras nine times because my Ishta Devata is Lord Siva. Every time there's a special puja for Swami Sivananda, Swamiji invites me to the DLS center and I sing bhajans and chant Swami Sivananda mantras."

He says chanting mantras has helped him control and focus his mind and feelings and shape his character. "I used to be arrogant and often spoke rudely to my mother. Now I have better self-control and am less arrogant, because I know this body is impermanent."

On the first day, he wished he hadn't come: "There were no activities except chanting mantras, singing bhajans and listening to speeches." But after that, the DLS camp caught him by surprise: "I realized this was going to be very unique and interesting. There were lots of fun activities."

Mailvannan's attitudes changed tremendously at camp. "Doing karma yoga, which involved cleaning up areas of the ashram, made me realize the importance of keeping things clean for positive energy to flow in. At home, it is usually my mother who does this. From now on, I will clean up my room by myself." He knows it will take time to put into practice everything he learned at camp. He intends to prioritize improving his behavior, such as respecting his parents and being nicer to his younger brother.

These camps are filling a vital need in Malaysia, Mailvannan affirms. "Most Malaysian youth are not interested in spirituality because their parents are too busy making money in this modern-day living. They place no importance on spiritual life, so the youth are left in the dark with no proper guidance. These days especially, youth need to know more about religion, as it is easy for them to stray away. By learning about spirituality, they become more connected to God and less likely to to stray."

Mailvannan wants to attend camp again next year: the facilitators were friendly, the games were exciting and the talks by swamis were funny and interesting. "In fact, I plan to become a facilitator in coming years."

Sri Swami Swayamjayananda

Swami Swayamjayananda has been president of DLS Malaysia for the past five years. Initially he volunteered his medical services at the Sivananda Clinic on weekends. Reading Swami Sivananda's books fanned his interest in monastic life, and in 2011 he quit his career and entered the sannyasa order.

Swamiji believes Hinduism is ingrained in all Hindu homes in Malaysia in one form or another. "If you look at any Hindu home, there is always an altar, be it in a small corner of the home. This is the tradition. I feel that Hindus look to God when in need. If you don't go to God in times of distress, who else can you go to? This basic need ensures the eternal existence of Hinduism. It will never be washed out. The most important message I would like to carry across is that every Hindu must perform some form of spiritual practice."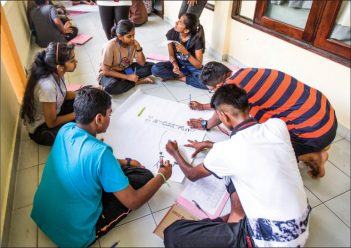 Swamiji also strongly feels it is the parents' responsibility to introduce children to the spiritual path. "We have to be directly involved in our spiritual growth. Until the parents do something about this, the children will never follow."
Swamiji emphasizes the importance of inculcating human values and developing the character of children, in tandem with religious practice. "This is something that needs to be incorporated from early childhood. For example, even if a family employs a maid, the children need to be taught to respect the maid." He maintains that performing prayers is one of the only ways children can be guided along the correct path, as parents have restricted time with their children due to the urban lifestyle most families lead these days. "All too often, parents are at work 10 to 12 hours of their day. Personal prayers will certainly help children become better people."

Swamiji strongly urges vegetarianism in spiritual practice and opposes animal sacrifice. "Vegetarianism leads to a sattvik (pure, peaceful) mind. According to the Upanishads, the most nutritious part of the food goes to the mind, as the mind needs it to function. Meat consumption is human desire, and this can be curbed by the control of the mind." He speaks of the importance of having a guru. "Whichever guru that is most acceptable to your individuality, you should have. Most of us do not know where to start in our spiritual lives. I think this is a major concern, especially for youth. The Vedas and Agamas are very complex texts, which can only be understood if you study them deeply. Gurus are able to give people the Vedas in a special simplified form.

Swamiji stresses the importance of parental attitudes towards the camps: "Parents should not send their children to the camps with the thought of simply getting time off for themselves. They should explain to their children the reasons for being sent here and the positive things they will learn."

He says many parents fear that the child might end up becoming a monk if they spend time at the monastery. "You should never look at it like that. Destiny is something which you and I cannot change. We do not push anybody here towards becoming a monk." Swamiji strongly affirms that becoming religious can help you excel in either path, householder or sannyas path, and that many people do not understand these two paths in Hinduism.
Swamiji stresses the importance of all youth respecting and honoring the Hindu tradition. Youth need to be able to differentiate between religious rites, spiritual teachings, traditions and customs. Teaching these to children makes a great difference.

In the future, Swamiji says, the DLS aims "to coordinate and continue the work started by our founders, and possibly, even raise the standards and increase the number of spiritual camps at DLS."

Swami Brahmajnanananda

Swami Brahmajnanananda has been in the DLS since 1992. He was initiated into the sannyasa order in 2014 at DLS Rishikesh on a Mahasivaratri day. Trained in Vedantic and Sanskrit studies, he currently teaches Sanskrit and Vedanta in DLS sub-branches around Malaysia. Swamiji also gives public talks when requested and organizes the annual youth camp and adults' basic Vedanta camp twice a year.

Swamiji was asked about Malaysian youths' views and the priorities they place on Hindu beliefs and practices. "That is a difficult question to answer. Malaysian youngsters have different ideologies about religion. Some do practice, yes, but a majority feel that this isn't the age for them to be religious. They'd rather spend their teenage years focusing on secular education; they regard religion as something meant for adults or older people."

However, Swamiji knows some Malaysian youth who perform Hindu religious practices faithfully. These are youth who come from strongly religious families. But another group of youth are involved in practices of a lower nature, such as animal sacrifice in temples. He attributes this to a lack of real knowledge about religion. "Parents lament that there was no one to teach them. However, there are many organizations who are willing to conduct religious classes."

Swamiji emphasizes the importance of developing religious knowledge. "Without that, we can't have good character. Good character comes under dharma. Without the right dharma, we can't be good human beings. The duty of DLS, as a spiritual organization, is to give children religious knowledge, however possible."

Swamiji has seen participants benefit tremendously from the youth camps, and he hopes they return to help at the ashram. Many attendees are now doing really well and have become professionals. Some are also conducting religious classes.

Swamiji explains the innovations he has introduced in the camp, such as life-skills and behavior-management workshops: "We can't just teach them, for example, that they need to pray every day, the mantras and the mudras. We also need to teach them about principles they can apply in their daily life. Many people view religion as a separate aspect of life, failing to understand that religion is all-encompassing. It includes ourselves, God and the world. We need to realize this fact."

Conclusion

The DLS Malaysia youth camp provides tremendous opportunities for Hindu teens to understand and connect with their religion, and most importantly, give them pride in their spiritual origins. The organizers, DLS monks themselves, work tirelessly and go to great lengths to provide a memorable experience to all participants. Attending the camp also enables teenagers to meet other Hindu youths of similar upbringings. This is something every participant looked forward to in the camp. We thank the Divine Life Society Malaysia for this amazing seva in continuously educating teenagers in Malaysia about the Hindu religion.