A psychic Chinese girl in Malaysia grew up loving all things Indian/Hindu. Following her destiny, she created a temple and became its priest.
AMMA LUCY CHENG BEE HWA WAS born to Chinese Taoist parents on March 3, 1958, in Batu Pahat, Johor, Malaysia. Located on the Strait of Malacca, the gateway between the Indian and Pacific Oceans, the area has been a cultural melting pot from time immemorial.
From six years old, Lucy would be glued to the black and white TV, watching Indian movies with subtitles. "In school I always gravitated towards things Indian—including mixing with Indian friends." Though her parents had followed a modern Chinese tendency to give their babies Christian names regardless of their own religion, her father was angry about her daughter's interest in all things Indian.

Fascinated by the full moon, six-year-old Lucy watched it the whole night from her window and still went to school the next day. "My sister would inform my father the next day and he would beat me with rattan." Now 61, she is still faithful to her moon watching.

"As an infant, I was sickly and I had a foot deformation, so I dragged one foot while walking. This defect corrected itself naturally at six years old when I became drawn to Siva." She also had eczema on her legs, so she wore knee-length socks to school. "My mother would drag me from one traditional healer to another for treatment. At 8 years old, an Indian healer told my mother that I would become a Hindu when I grew up. My mother assumed this meant I would marry a Hindu. She would not have been able to bear the truth, so the healer did not tell her that I would remain unmarried and be a Hindu priest. This healer advised that I not eat meat, as it would aggravate my eczema. This advice was followed and my eczema cleared up."

Lucy shared with me that she has psychic powers and channels messages from Siva. "I had the sixth sense in me from a young age. I will know if some danger is about to happen. I will inform the person concerned to be careful or not to go to a particular place on a certain day."
Until the age of 40, she led a relatively normal life. She moved north to nearby Muar in Johor Bahru, Malaysia's fourth largest city, a picturesque port on the estuary of the large Muar River. Its recorded history goes back to the 14th century; it is a popular tourist attraction and in 2017 was voted the cleanest city of South Asia. Lucy worked at Raja Specialist Maternity Gynaecological Centre in Muar; she has 23 years' experience as a nurse.

In 1997, while still working as a nurse, she started doing personal readings to help people who were having marital or other life problems, referring to a Chinese horoscope book and utilizing her psychic communication with Lord Siva. In 1998 she registered a company called Sivan Horoscope Muar, which she operated from a two-story house in a residential area. Eventually Lucy resigned her nursing job due to constantly falling sick. She became fully committed to vegetarianism, which helped in her recovery. She has never been interested in married life.

Lord Siva Calls from Varanasi

In 2003, at age 45, Lucy's lifelong interest in Hindu religion and culture called her to Varanasi. She signed up with an ordinary tour group, which also included two Malaysian gurukal priests who were making the pilgrimage to the holy city. "My father wondered why I, being Chinese, wanted to go to a poor country like India, and that, too, to Varanasi." To this day, Lucy herself can't understand how she was drawn to Siva to the extent that feels her soul belongs not to her but to Siva.

Amma recounts her experience at the security counter at Varanasi's famed Kashi Vishvanath Temple, "The gurukals were let in. But I was given a thorough checkup, as they assumed I was an Uyghur national, though I was dressed in a sari and had my head covered in the Hindu style. I told them I was a Malaysian Chinese Buddhist Hindu. They were perplexed and asked me what on earth that meant. They were so suspicious, they checked my compact powder case for explosives."

All she knew was that she could not leave Varanasi without bringing back a Siva Lingam, which she bought at one of the shops. Arriving back in Muar, she placed the Lingam at her home altar. Once it was situated, she could not help but do the pujas daily. She also bought a framed picture of Siva in a shop in Muar to place in her house. As the power of the shrine grew, family and relatives began dropping by to join her early morning worship. "People also came to talk about their problems, and I did what I could to help them by encouraging them to think positively."

A Temple Is Born

She says "Slowly the group grew, and I had to think of moving into bigger, more proper premises." Using an inheritance from her father, in 2008 she bought several shop-lot units at Jalan Haji Abdullah, Sungai Abong, fifteen minutes from the center of Muar. On June 8 of that year, she had the ground-breaking ceremony for her new place of worship. For this ceremony it was necessary to have the founder's horoscope reading. The priest told her this was her last birth, and on her death she will "merge with the fire." She hired architect Sabathiar R. Pakrisamy from Nalladal, Tamil Nadu to convert the existing structure into the temple. Three years later, on February 2, 2011, the consecration ceremony was held. She has been operating the temple ever since.

"Built along the lines of the Kashi Vishvanath Temple in Varanasi in Uttar Pradesh, India, the Sri Kasi Visvanath temple in Sungai Abong resembles the Varanasi temple but with some adaptations. I wanted to put a marble Linga in the garbhagriha (womb chamber), but as this represented the northern style, I was advised against doing so by the locals. Hence I opted for the stone Lingam," says Amma.

Breaking into the male-dominated field of Indian priesthood is a difficult feat even for an Indian woman; what more for a Chinese? "There was a lot of resistance to take me on initially, but I persisted; and with the support of the other gurukals and of my favorite stars, Rahu-Ketu, I succeeded."

The temple itself is 22 feet wide by 69 feet long. The ornate main sanctum is centered towards the back. In the left rear corner is Amma Lucy's consultation room with a Vasuki Naga seat. This is often where she sleeps. The second and third floors are used for meditation and gatherings.

Alone among all temples in Malaysia, this Sivan temple offers a dawn service on Mondays, Amavasya (new moon day) and Purnima (full moon day), starting with abhishekam at 4am and finishing with arati between 5:30 and 6:00. On other days, services start at 5:30am. Amma Lucy readily admits that she only knows one mantra—Aum Namah Shivaya Namaha, which means "I bow down to Shiva." Yet, with just this one phrase, she fills the hall with her mesmerizing voice. She also calls out devotees to sing songs during prayers. Speaking in the Malay language, she will ask those present—Tamil, Chinese and a handful of North Indian followers—to pray to Siva together so that Malaysia does well and the people live in good health and harmony. Devotees also practice the adhi patham walk in the temple—walking slowly, step by step, with one foot in front of the next.

Amma Lucy's place has become famous. Busloads of visitors from Malaysia, Singapore and Thailand throng to the temple during weekends, public holidays and other auspicious days. Amma says, "They learn about us through word of mouth. I am something of a curiosity, which drives people from near and far to come and see me. Hearing me talk in Malay in the temple after puja is peculiar and unique for them. It leaves them baffled!" She lets out a hefty laugh, "Sometimes, I can see the perplexed look on the faces of foreign visitors. They are perplexed that I, a Chinese lady, am doing prayers for the Hindu God Siva? 'And she is talking to us in Malay. Does Siva understand Malay?' The Divine Being understands all languages, just as do souls."

She maintains a strict dress code. Attire must be veshti for men, and sari or a Punjabi suit for women, complete with shawl. If she sees men not wearing a veshti or women not wearing a shawl, they will get a stern warning in Malay. Some Indian women bring extra shawls, as inevitably someone will have forgotten theirs. She also reiterates the importance of being silent during prayers. If someone talks during prayers, it affects the flow of things, and disturbs the person doing the puja, so they will get a good scolding. Those who come late will also be reprimanded after puja.
For Muruga Govinda Rajoo, 61, a retired teacher in Muar, going to the temple for the dawn prayers has become a routine affair. He said that initially the idea of dawn prayers every Monday morning was frowned upon and thought to be absurd, but now he feels a great loss if he is absent. "For the past four years I have never missed a single Monday morning puja. I found myself immersing in the ambience, vibrations and peace of the temple. I feel proud to be associated with this temple. Amma maintains a high standard of self-discipline. No noise, no cell phone ringtones. The slightest whisper can be heard by Amma, and devotees are always reminded to be silent."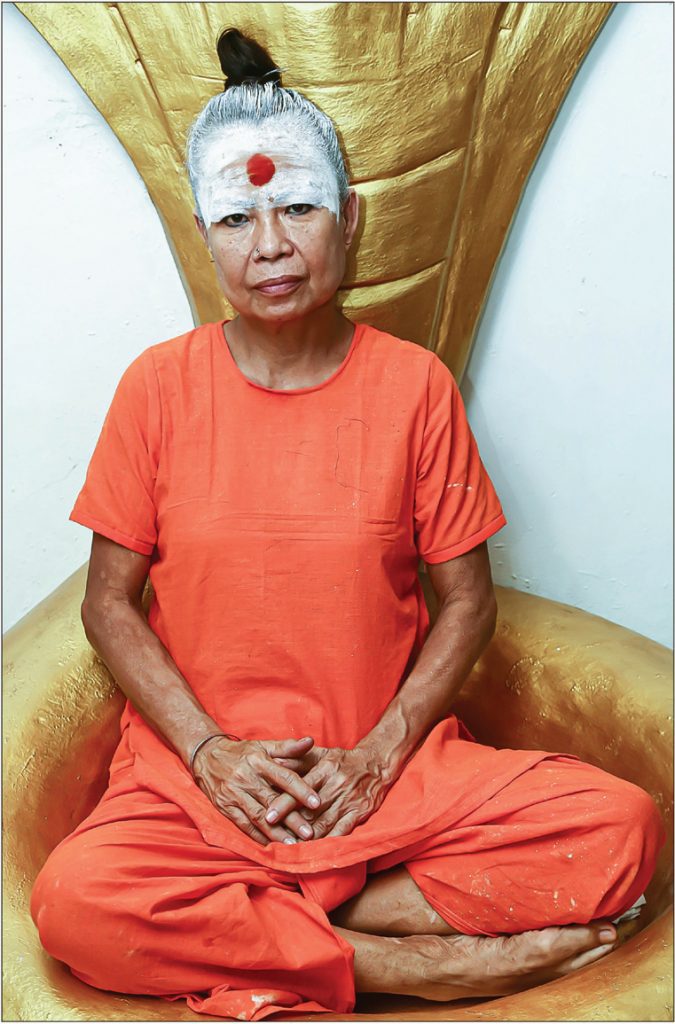 Amma believes in a participatory approach, so devotees help in the rituals, for instance passing the puja light and flowers to Amma as she moves around the temple during puja times. She also prepares select devotees for full puja duties. Volunteers regularly help in preparing for puja, packing sweets and rice to be given out as prasadam, and cleaning the temple. When there is a shortage of hands, Amma does not hesitate to grab a mop and do the cleaning herself. She balks at cooking, though: "When I was young, I never learned to cook, as we had a kitchen helper at home. In the temple, the volunteers help in the kitchen. And my brother also often prepares dishes for me." Amma stresses that serving the temple in any way increases one's good karma and positive energy.

Kailasam Muthusamy, 72, another retired teacher, first came to the shop building before it was converted into a temple. "I am not a ritual person; I am more into welfare work. I am active in various NGOs, such as the Hindu Sangam, the Cancer Support group and Kiwanis Cub. Sivan Amma was helping poor people and guiding them spiritually. I don't come for the dawn prayers. It is the needy that attract me, so I come to help whenever social activities are held. She used to have chanting sessions for adults and also for school children. I used to guide the school children in whichever way I can."

Amma Lucy's Consultations

Lucy holds consultations seated on the Vasuki Naga seat in the back room. "I don't do jatagam (horoscope) reading as such, as I have no training in this. When I began my company, Sivan Horoscope Muar, I did not know I would be building a temple. I did not know what other name to use for the company. When people bring their birth charts, I tell them I do not do that type of reading, but if they want they can tell me their problems and I will help them with advice and by seeking Sivan's help."
Khoo Lai Heng, 73, a veterinarian, came for consultations with Amma Lucy in 2008 concerning a kidney stone. "She told me everything will be OK. True enough, later, when I went for my check-up, the doctor said I did not need an operation. After my first consultation with Amma, I became a volunteer. I am a free thinker, so I was attracted to this unique temple and the way she conducts things. She is strict on discipline, and as long as you follow the system, it is ok. I help prepare items for abhishekam, as well as registration of those who come for the dawn prayers." He says that if one observes Amma carefully during consultations one can notice Siva's presence in her. "You can see a subtle change for an instant as she seeks Sivan's help."

Amma Lucy advises against making vows, instead encouraging visitors to pray for everyone's health. "If one makes a vow and does not fulfill it, the curse will fall not only on the person concerned but also on their future generations," she said. "This is why the Pradosam and Ammavasya prayers are good, as we can pray for our ancestors to negate any bad karma that has befallen us."

During personal readings, she advises devotees on how to progress in life and move on to greater heights. "Praying to Goddess Vasuki helps to reduce one's karma and to forgive the sins of our forefathers who did not fulfill vows they had made. One also prays to Vasuki for a peaceful life for the dead and to beseech their protection for the family," she explains. "I just use my innate powers to help people struggling in day-to-day life and to set them onto the spiritual path. I don't like people dwelling too much on negative things. I tell them stay away from black magic, and asuras. If you are involved in magic, then don't come here. Referencing a Sanskrit phrase, Amma proclaims, there is just matha (mother), pitha (father), guru (teacher), deivam (God)."

She urges devotees to be strong and take control of their life. "Thinking negative things is asuran's style. If your business is not good, don't think someone is casting a spell. Rather, work things out logically to overcome the situation. If you think otherwise, then it defeats using the vibhuti (sacred ash used in Hindu ritual). One must think positively."