Finding Siva in Varanasi
Follow Savita Tiwari to the banks of the Ganga in Kashi, where she offers us a Mauritian's perspective of this holy city, said to be the world's oldest
BY SAVITA TIWARI, MAURITIUS
Savita, 36, grew up in India and is now a resident of Mauritius. She is an avid journalist, blogger, writer and poet with a love of dharma and a penchant for learning more about Hinduism. Email: savitapost@gmail.com

TRAVELING IS TRAVELING, WHETHER you travel in the outside world or inside your own soul. I've found that when taking a pilgrimage within, the vista is far vaster than what you'll find outside of yourself. Externally, one's body goes from place to place, but internally, we traverse different levels of consciousness to finally reach a place where the dividing line between internal and external is blurred. Then comes an introduction to one's true self.

Varanasi is a place that can take a person on this inner journey. Speaking for myself as a non-resident Indian Hindu, every step of such a journey is taken with great passion. I am from Mauritius—an island where the echo of the Ramayana still rings through the air. This journey is an important pilgrimage for me.
Kashi is the city of 88 ghats—large steps leading down to the river. To some, it is still Banaras. The official name is Varanasi, because it is situated between the Varuna and Assi ghats. I prefer the name Kashi, as it is the beloved city of Mahadev Siva. Not only does the Ganga flow through this city, but the origins of much of Indian culture find root here. Kashi is the city where Siva Himself gives the tarak mantra—the mantra of liberation—to every person whose body is brought to the Manikarnika Ghat for cremation.

This is my first-ever visit to Kashi, and it came about rather unexpectedly. I was invited to participate in Pravasi Bhartiya Divas (PBD) 2019, an event held by the Indian government to celebrate the achievements of non-resident Indians. I reach the city at night. Just after exiting the airport, I come upon the whole of Kashi bathed in its evening, tri-colored lights. We are accommodated by the Uttar Pradesh government in a high-class tent-city. A friend of mine is accommodated with a family in Kashi, as there is no space left in the hotels. I kind of wish I were in the same situation. Then I could see authentic Kashi culture closely—something nowhere to be seen in the crowds of the tent city.

The next morning the convention takes off with great enthusiasm, due to the presence of two prime ministers—India's Narendra Modi and the chief guest, Mauritius' Pravind Kumar Jugnauth, who was the inspiration for having 400 delegates from Mauritius participate in the convention. We Mauritians are the event's second biggest delegation after Malaysia. PM Modi welcomes all five thousand event guests by saying: "Welcome to the oldest inhabited city on the earth, Varanasi!" At that moment I realize how fortunate I am to be able to visit the sacred city.

The Mauritian prime minister's speech is special. While on the stage, he seems to be viewed more as a migrant Indian figure than a prime minister. He says, "If India is incredible, then Indianism is unique. Being associated with India in any way makes you special." I cannot agree more.

The next two days pass in networking and attending various sessions. Everyone is busy making cultural, social and economic ties with delegates of various countries. We run between the tent city and the Trade Facilitation Centre, where the convention is organized. In all this chaos I am dying to see the real Kashi, the city of Mahadev, a city from which the river of Hinduism has originated.

On the third day all delegates are taken three hours outside Varanasi, to the river Prayag, for a sacred dip. All transport, accommodation and food has been arranged by the Uttar Pradesh government. As a member of a foreign media delegation, I am tempted to simply enjoy VIP treatment, but that would mean missing the real Kashi. After fighting with my outer mind, I decide to stay back in Varanasi and explore the oldest city on earth. I'm so glad I did.

The next morning, I check out of the tent city and make my way into the real city. I have already booked online at the Shanti Guest House, a small place with low budget rooms for longer stays, just over 200 yards from the famous Manikarnika Ghat. Each day I am there I see a beautiful scene from the building's terrace. The river Ganga shines with sunlight; before it, the smoke of the cremation ground's pyres rises up, dispersing into the Indian sky.

The car from the tent city leaves me at Manikarnika Gate on Gaudhuliya Road, which runs parallel to the river. The area is crowded with small buildings separated by a maze of densely populated, narrow lanes. No vehicles can fit down these ancient city streets. To reach my lodging, I have to walk about half a mile through shoulder-to-shoulder crowds, making my way around people, cows and funeral processions. Due to an early-morning rainfall, the streets are slippery with an aromatic mixture of earth, water and cow dung. Diving headfirst into the real Kashi, I find myself a little intimidated.

Arriving at my place of stay, I settle my luggage in my room and order a strong cup of coffee. When I feel confident enough to walk again on the slippery streets, I venture out to the nearest riverbank at the Manikarnika Ghat. This ghat is the most renowned in Kashi. Here, the whole of Kashi delivers its deceased for cremation. If one is cremated here, it is said that the soul is liberated from the cycle of birth and death.

The narrow lanes cannot easily accommodate a full funeral procession, so often a body is taken to the nearest ghat and then transported to Manikarnika by a special boat called shav-vahini. These are run by charitable trusts and are free of cost.

The whole market near this ghat is piled to the rooftops with firewood, which hundreds of shops sell for cremations. Manikarnika receives around 250 bodies every day and is thus known as maha shamshan, "where the fire is never quenched."

As Mauritians, being in Kashi is even more overwhelming for me and others of our 400-member delegation. Kashi is the birthplace of Ramacharitamanas—the Ramayana—which has been a guide for Hinduism on our small island for as long as Hindus have resided there. In 1832, the first 32 Indian indentured labors were brought to Mauritius by French sugar-estate owners. Other than the clothes they wore and a few meager possessions, the laborers had with them several copies of the Ramayana, the great epic authored by poet Tulsidas. Without Hindu swamis or priests to guide them, these workers anchored themselves in this renowned text, keeping Hinduism alive through the generations. It was the Ramayana that provided values and became the axis of religious life for Mauritian Hindus. Kashi is not only the place where it was written. As the story goes, it is here that Mahadev Himself approved the book by placing His trident mark upon it. Hence Kashi is a place of worship for all Mauritian Hindus. The couplets of the Ramayana can be heard here in the early morning hours, accompanied only by the sounds of the waves of Mother Ganga. Hearing these couplets makes this place feel like home.
My next stop is Tulsi Ghat. The best thing about Kashi is that you won't find any transport once you enter these small lanes. You have to walk around and experience everything on the human level. All the ghats are connected with each other, lined up along the river's edge. You can walk from one ghat to another on their riverside steps. At the Tulsi Ghat, a tourist tells me about the original 16th-century copy of the Ramayana, penned by Tulsidas himself. It was stolen in 2011 from the Hanuman temple on Tulsi Ghat, but was fortunately recovered six months later. Since then the treasure is brought out of its safe only once a year, on Tulsidas Jayanti. I'm not there on the right day to see the text, but simply visiting the room where Baba Tulsidas composed it still gives me goose bumps. As far as we writers are concerned, I consider Tulsidas the eldest member of our community and myself one of the youngest.

After a whole morning of adventure and eating sweet prasad at every temple, my stomach wants something more nutritious. I am guided to Kachori Gali—a whole lane dedicated to different Varanasi delicacies. I make my way to a shop with the smallest crowd. The staff are elderly, but clearly masterful cooks. There is no place to sit; you stand in the busy lane to eat what is served. I don't like to stand and eat, but no one else is bothered by it, so I also start my meal.

After just a few bites, I hear a group of people chanting a mantra over and over. I can't make out a word of it, but it sounds quite familiar. The sound grows louder, and I soon realize the words are "Ram naam satya hai." It is a funeral procession. The group appears around the street corner and is coming right at me. I am shocked to see a funeral procession from such close proximity, as this is not something you'd see where I'm from. My shock is intensified as it comes closer and closer. Here on this small street, there is nowhere to go to escape. I look around and realize nobody else is freaking out; all are enjoying their food. I duck to the side and close my eyes as the procession passes, the dead body being lifted just over my head. The owner of the shop, who is also the main cook, notices my situation. Trying to comfort me, he says with a smile, "This is normal in Kashi. Now you eat, or else the kachori will go cold." It takes me a whole two minutes to comprehend what just happened. As I collect myself, I think, "Welcome to Kashi: a place where you can eat food in front of a funeral procession as if nothing happened; a city that is beyond birth and death, for they not only celebrate birth here but also death."
I finish my kachori and return to my hotel, as I've experienced too much in one day to digest it all. Early the next morning I decide to take a holy dip in the river Ganga. My hotel manager, who is also a part-time priest and yoga teacher, tells me Dashashwamedh Ghat is the best place for a holy bath. I walk until I reach Kashi Vishwanath, Gate no. 4, and take a shared electric taxi.

My co-passenger is a college girl from Banaras Hindu University. With the PBD badges still around my neck, we quickly strike up a conversation, as we are both part of the convention. I ask about her studies and future plans. She says she want to move to the city and find success after completing her studies. I remember myself 15 years back. It seems every youth wants to explore the world. It's interesting, because someone from Varanasi would never find this kind of peace anywhere else. I just smile and wish her the best of luck for her future, adding, "May you also find peace and happiness, along with money." She gives me that look of "please don't lecture me, I've had that enough." Maybe I would have done the same in my teens. Every age has different priorities.

The taxi leaves me at Godhuliya market, so I have to walk a little over half a mile to reach the ghat. While walking, it seems as though the early morning is just for me. Many earlier risers have already done their worship or sold all their flowers and are heading home. The whole walk is accented by the many fragrances of flowers, mixed with the resounding bells from the temples and melodic hymns by devotees. The whole scene is so palpably divine. Along the way I find the Kashi Vishwanath temple trust counter near the ghat. I decide to sponsor a puja at the main shrine, and I get a booking for 5pm.

Dashashwamedh Ghat is full of people bathing in the cold water with ease. I find myself a relatively private corner on the bank of the river, just in case I let out a shout while plunging into the cold water. It takes me 15 minutes to sheepishly take four slow steps, until the water is to my knees. Then I notice a woman sitting comfortably halfway in the water chanting mantras. She registers my trepidation and says, "It will be a one time shock, just jump in!" I smile and think, "easier said than done." But then I remember Mauritius, and how I used to bow in front of the sea and think to myself that some part of the Ganga was mixed into those waters, having drifted to where I stood from Mother India. "Now here I am, knee deep in the real Ganga, in Kashi, and I am too hesitant to take a dip!?!" With my confidence boosted, I let out a loud scream of "Om Namah Shivaya!!!" I plunge underwater, and come out with a powerful feeling (and with some cold-water-induced numbness), having dived into the lap of Ma Ganga. The woman then tells me, "Take seven dips. It's auspicious." I respond, "I am a devotee, but not that amazing of one. I'll try three dips instead." She argues, "Do at least five then." I muster up my courage and do the five dips, each time shouting "Aum Namah Shivaya!"

When I think I'm done, the lady says with a grin, "Only two more and you'll complete the seven. Go for it, and you will be free from the cycle of birth and death." This lady would sure make a great salesperson! Ignoring my numbness, I do two more. While performing my seventh and final dip, I have the sudden thought: "What if this woman is Ma Ganga Herself, here just to make me take all seven dips. Maybe she will magically disappear when I get out of the water." But when I come up, there she is, with a crooked smile saying, "See, I have made you take seven dips." I smile at my innocent thought that God might appear for me.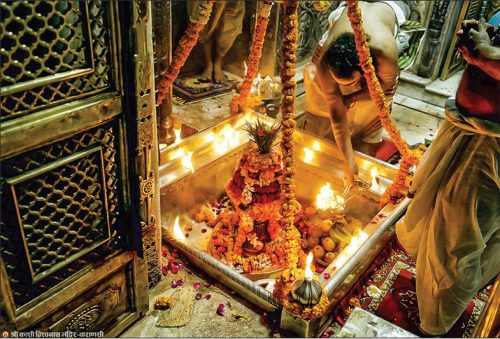 I pass the rest of the day walking from one ghat to another. I do a little some shopping for sarees and souvenirs, and I spend some time talking to the saints and babas on the ghats. I ask them silly questions like, "Have you ever seen Mahadev?" And I listen to their long expositions on universal oneness, the history of Kashi and other stories about the city, Mahadev and Ma Annapurna.

At 4pm I reach the main Kashi Vishwanath Temple gate and show my puja ticket to the guard, who then takes me inside the temple. The puja is being done in a hall in front of the main Jyotirlingam. Puja starts at 5pm and ends at 6:30. Sitting in front of a Jyotirlingam for a Siva abhishekam is something I never thought I would get a chance to do in my life. Before beginning the puja, the priest tells me to stay afterwards for the 7pm Sapta Rishi Arati, which I do. The arati starts, and a group of priests settle in front of the Jyotirlingam, while singing Shiv Nirajanam in sri raga, a classic North Indian tempo. I am sitting just outside the sanctum gate. As soon as the puja reaches its zenith, all the priests start ringing bells and passing five-fold lamps before the Jyotirlingam. Others start playing drums, the energy levels begins to rise and everyone seems to enter another world.

Some find Siva while sitting on the banks of Ganga; some can even find Him in the darkness of the narrow lanes or in the burning bodies at Manikarnika. Others find Him on the steps of ghats, and some see Him in the divine Ganga Arati. I find Him in the Sapta Rishi Arati at Sri Kashi Vishwanath Temple. In the middle of the arati one tear starts to fall from my eye and just like that, I find Him. I feel His presence. It is a feeling which cannot be expressed, just felt. Everyone has their own way of finding Him. I suppose mine is through the power of this ancient temple and the divine music being played.

In Mauritius, Mahasivaratri is our biggest festival. We are worshipers of Siva. I once heard from our acharyas that Siva never leaves Kashi. I understand the meaning of that while walking the ancient streets of Kashi and especially at the Manikarnika Ghat where "Ram Naam satya hai" endlessly resonates. In this city, people address one another by the name "bhole" (devotee of Siva) and "Mahadev." Kashi has all the grace of Siva, because here, death—our great journey from one world to another—is a celebration.

This Kashi yatra will remain intact in my mind in the same way Kashi has remained vibrant and alive for ages. My deepest salutation to Baba Vishwanath's city of Kashi and to Mother India, from a Mauritian traveler who swam through this great ocean of spirituality before finally landing ashore on this pristine strand of divinity.