USA
Court Rules Against Hindus in California Education Suit
IN A SETBACK FOR HINDUS SEEking fair representation of Hinduism in school textbooks, a US District judge ruled in favor of the California State Board of Education in February and against the California Parents for Equalization of Educational Materials (Capeem) and three Hindu parents suing on behalf of their children. The ruling was not unexpected, as it is quite difficult to prove, as was required, that the state's History Social-Science Framework had encouraged "excessive entanglement with religion" and was therefore against the US Constitution's "Establishment Clause."

"A reasonable observer would not view the standards and framework as primarily denigrating Hinduism," US District Judge Charles Breyer wrote in his 33-page ruling. Capeem and the parents sued the State Board board in 2017, saying it adopted recommendations from an anti-Hindu group of history teachers called the South Asia Faculty Group when it drafted new education guidelines in July 2016.

Judge Breyer rejected their claims on three points. He wrote that use of email excerpts from the concerned scholars—some quite interesting for their candid comments on the process—was hearsay. According to a report on courthousenews.com, "The judge found allegations that the state overemphasized negative aspects of the caste system and singled out Hinduism as 'a contributor to patriarchy' unfounded."

He also ruled on what had been one of the most striking student testimonies during the Framework adoption process, that of a 6th grader whose class was divided into "castes" and the higher instructed to treat the lower unfairly. He said it did not violate the Establishment Clause because "it does not involve the role playing of a devotional act, like taking communion."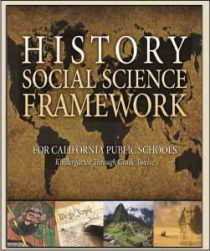 USA
Those with No Religion on the Increase
According to the 2018 General Social Survey released by the University of Chicago, there are now as many Americans who claim to be of no religion (23.1%) as there are evangelical Christians (22.5%) or Catholics (23.0%). The statistical dead heat represents a long-standing trend in the US away from organized religion. Those so trending range from atheists and agnostics to the "spiritual but not religious" (SBNR) and those who decline to be affiliated with any organized religion.

We found the report's details equally interesting. For example, those who never attend a religious service went from 10% in 1970 to 30% last year. From 1990, those who "know God exists and have no doubts" dropped from 73% to 53%. The belief in life after death has remained almost steady at 70 to 74% for the last 50 years. The number who believe the Bible is the "word of God" fell from 38% to 29%, and those who (unkindly) consider it a "book of fables" rose from 13% in 1985 to 21% today. The massive survey is considered the most authoritative evaluation of current beliefs and trends in US society.
AUSTRALIA
Catholic School Bars Hindu Girl for Nose Piercing
SANYA SINGHAL, 15, WAS SENT home from Aranmore Catholic College in early 2019 when she refused to remove the diamond nose stud she received during a recent coming-of-age ceremony. The school ignored a letter from her mother explaining the jewelry's religious significance in her tradition and pointing out the Christian students can wear a crucifix around their neck and Muslim girls a headscarf. The students all wear uniforms, with earrings allowed for girls. Sanya, 15, had attended Aranmore, in Perth, Australia, since third grade.

Despite being privately run, Catholic schools in Australia receive substantial federal and state government funding, which makes the question of religious tolerance all the more relevant. In 2017, a Sikh boy was refused admission by a Christian college in Melbourne for wearing a turban. A government tribunal eventually ruled in his favor.

In March, after six weeks off, Sanya was told by officials that she could return to school without removing the nose ring. In April, the Hindu Council of Australia issued a list of "Hindu sacraments worn on the body," specifying which can be removed (e.g., bangles and rings), which cannot (mangalsutra indicating marriage) and which depend upon the particular tradition (ear rings and nose studs).
USA
Replacing Punishment with Self-Reflection
TWO SCHOOLS IN BALTIMORE, Maryland, are receiving attention for embracing what will hopefully be a growing trend in US public schools. Both the Robert W. Coleman Elementary School and Patterson High School have chosen to implement yoga and meditation as alternatives to the long-standing practices of detention and student suspension, as those outdated practices have been found to be rather ineffective in terms of cultivating positive changes in student behavior.

Both schools have been working with the Holistic Life Foundation, which has been functioning for over a decade to "help children develop their inner lives through yoga, mindfulness and self-care." With their help, Robert W. Coleman Elementary has implemented yoga sessions to begin and end each day, as well as a Mindful Moment Room where students can opt to go for self-reflection or be sent when being disruptive. Once there, students are assigned an individual trainer to lead them through a meditative regimen. Mindful Moment Program at Patterson High School is currently raising funds for full implementation, which includes the same programs for their high-school students, as well as a three-week training period to teach the entire student body a routine to center themselves, which is to be performed each day school-wide. Both schools have seen improvement in student behavior and learning.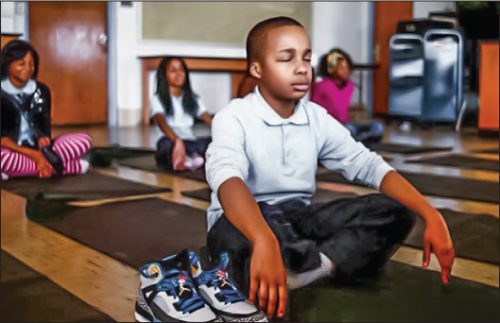 KERALA
Sabarimala Allows Entry of Women
THE TRAVANCORE DEVASWOM BOARD, which administers Kerala's famed Sabarimala Temple, quietly agreed to abide by an India Supreme Court ruling striking down the temple's centuries-old prohibition on women of menstruating age. The ban—unique, we believe, to this temple in India—is attributed to the celibate status of the presiding Deity, Ayyappan.

The September, 2018, ruling set off a series of protests and near-riots across Kerala, mostly in opposition to ending the ban. Critics complained the supposedly secular government was meddling only in the affairs of Hindu temples. Kerala's communist government, for example, has not attempted to force Sunni mosques to allow women entry. Nor have they demanded the Catholics ordain women as priests. Ironically, there are Goddess temples in both Kerala and Tamil Nadu which ban the entry of men.

Temple lawyer Rakesh Dwivedi told Reuters news service that they came to their decision after a "lot" of discussion and felt they should respect the judgment of the court. The matter has now died down.
JAPAN
Swastika Debate Continues
WITH 2019 RUGBY WORLD Cup and 2020 Olympics being held next year in Tokyo, a particular use of the swastika common in Buddhism has attracted attention in Japan. There the manji, as they call the good luck symbol, is used on tourist maps to indicate the location of a Buddhist temple. In 2016, the official Geospatial Information Authority of Japan (responsible for mapping the country) posed a fairly radical idea: replacing the swastika with a three-story pagoda on all foreign-language maps to avoid upsetting uninformed Western tourists who only associate the symbol with Nazis.

According to a report on theoutline.com, many in Japan took to social media to express their dismay with the as yet unimplemented proposal. T.K. Nakagaki, a Buddhist priest and interfaith leader in New York, suggested the government work to educate the tourists rather than erase Buddhist tradition. "It's not right for the West to appropriate the symbol, defile it, and then claim that the East can't use it," Nakagaki stated.
ENVIRONMENT
Industrial Meat and Dairy Enterprises Are Worse for the Climate than Power Generation
IT HAS LONG BEEN AN ARGUment of vegans and vegetarians that the farming of animals is a major factor in the production of greenhouse gases. But the extent of that impact remained largely unquantified. In April, 2019, this point came to the forefront when Forbes magazine published a report quoting Steven Chu, stating that industrial agriculture of meat and dairy, with the associated land usage, generates more greenhouse gas emissions than power generation. Chu is a Nobel Prize winner, the former US Energy Secretary, and the president of the American Association for the Advancement of Science.
His findings came after conducting an examination of the world's most carbon-polluting industries in an attempt to better gauge their comparative environmental impact. He started with a close look at meat and dairy. As he stated, "If cattle and dairy cows were a country, they would have more greenhouse gas emissions than the entire EU twenty-eight."

Another important point by Chu that Forbes cited is that humans and the animals they eat account for 96 percent of the carbon mass of mammals in the world, while all the Earth's wildlife accounts for just 4 percent.

In 2009 the Worldwatch Institute attributed 51 percent of the world's carbon emissions to livestock. This number puts into perspective the huge environmental impact of animal agriculture.

Offering potential partial solutions, Chu points to the trend towards lab-grown meats, which could provide food for humans in a more environmentally friendly way than industrial meat and dairy. He also mentions symbiotic fertilization, by which plants are able to work with microbes in the soil to access needed nitrogen. This would reduce the need for fertilizers if it could be used with major animal fodder crops like corn.
Briefly…
A RECENT PEW RESEARCH STUDY looked at the level of four-year college education among religious groups in the United States. The research concluded that, based on this marker, Hindus are the most educated religious group, with 77 percent of Hindus having college degrees. Coming in second were Unitarians with 67 percent, followed by Jews, Anglican church adherents, Episcopal church members, atheists and agnostics, Muslims and, finally, Catholics at 26 percent. The study looked at the percentage of higher education within religious groups regardless of their size. Hindus still represent one of the smallest religious demographics in the US.

IN EARLY FEBRUARY, THE ANCIENT Sri Govindaraja Swamy temple in Tirupati, Andhra Pradesh, experienced the theft of three diamond-studded golden crowns. According to an article in India Today, the crowns, which adorn the temple's processional Deities, weigh 1.3kg and are worth hundreds of thousands of dollars.

ON APRIL 20, THOUSANDS OF INDIans living in the United Arab Emirates and around the world rejoiced as the foundation stone-laying ceremony was held for the first traditional stone mandir in the UAE. This large temple complex in Abu Dhabi is a project of the BAPS Swaminarayan Sanstha. The event included a Vedic ceremony performed by BAPS leader Mahant Swami Maharaj. During the assembly, Pujya Brahmavihari Swami, a senior BAPS sadhu who is overseeing the construction, stated that this mandir will be "a spiritual oasis for global harmony in the middle of the desert." See: www.mandir.ae