The Covid-19 pandemic has brought disruption unprecedented in recent history to most of the world, including a billion Hindus. Faced with closed temples and canceled festivals, Hindus have compensated by increasing the intensity of worship, meditation and yoga within the home and harnessing the powers of the Internet to access temple rituals and satsangs with gurus and fulfill as best as possible the key rites of passage. In this report we share the personal accounts of more than two dozen Hindus from the US, India and Nepal.
By Lavina Melwani, New York
Back in march, few predicted that a tiny virus was about to cause a worldwide pandemic, upending life as we know it. As we go to press July 31st, 17,422,252 people across the world have been infected by Covid-19, with 675,584 deaths. The US is the world leader in these grim statistics, with over 4.5 million infections and 152,940 deaths. India, too, has seen increasing numbers, with 1,638,827 infected and increasing by 50,000 a day. There have been over 35,745 deaths in India, increasing by an average of 735 per day. A 24-day nationwide total shutdown begun on March 24 did not have the desired impact.
Millions in America, India and elsewhere are under quarantine and lockdown or simply sheltering in place, struggling to work from home and manage their families while dealing with the crisis. India in particular has experienced heart-rending misery during the lockdown. Thousands of impoverished migrants, told to return to their villages, had to walk all the way back.
New York, initially the epicenter of the pandemic in the US, has flattened its curve, but the disease is raging in over 33 states in the country. Social distancing, masks and frequent hand washing are the new safety measures. There is no end in sight; health authorities, including Dr. Anthony Fauci, have said we are still in the "first wave." The more virulent Spanish Flu lasted from February 1918 to April 1920, infecting a third of the world's population in four successive waves and killing an estimated fifty million people.
In our report, we'll first discuss the pandemic's impact on Hindu temples and organizations, then share first-person testimony from people around the world on how their religious life and activities have changed—often unexpectedly for the better.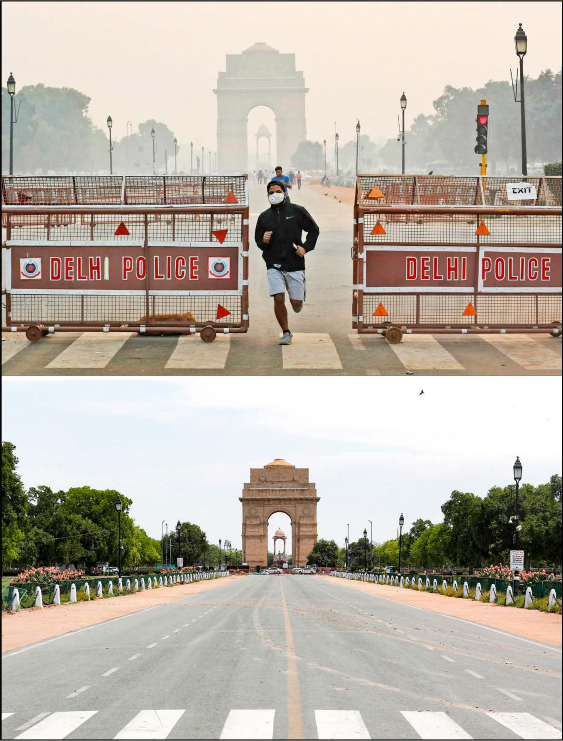 Hindu Temples Adjust
Although temples and places of worship closed during the quarantine, most Hindus have a home shrine and could therefore continue their worship and entreat the support of a higher power. In times like this, all can attend the temple within themselves. As of press time, many temples have reopened to limited numbers of devotees, under social distancing rules; others, in Texas, for example, have shut down again. Nearly all have made efforts to provide online access to the worship, which the priests have continued uninterrupted.
The Ganesha Temple of Flushing has now reopened for socially distanced darshans. Its famous Ganesh Canteen—ranked one of the best Indian restaurants in New York, despite its modest name and unlikely location in a temple basement—is providing deliveries, curbside pickup and socially-distanced, sit-down dining. The temple is providing online darshans and yoga classes via live Facebook feeds.
All BAPS Swaminarayan temples worldwide closed on March 19. This included the huge Akshardham complexes in Gandhinagar and New Delhi and every other BAPS temple in India, as well as those in the US, Canada, UK, Europe, Africa, East Asia, Australia, New Zealand and the Gulf countries.
Within a week, the individual BAPS temples were offering webcasts in Gujarati, Hindi and English on YouTube (bit.ly/BAPS-satsang), allowing devotees to access their formerly in-person weekly assemblies and other activities for each age group: children, teens, young adults and families. Daily postings to their YouTube channel also offer darshan and talks by Mahant Swami Maharaj, festival celebrations, bhajan sessions by the swamis, newly published talks by Pramukh Swami Maharaj, reports of their pandemic-related community service projects and much more. On March 29, their six USA temples held a Mahapuja, "great worship," for the well-being of everyone and a quick resolution to the pandemic. The ceremonies, conducted by the swamis of each temple, were joined online by 12,000 BAPS families across the country.
Swami Chaitanyamurtidas reports: "Although the sense of community, physical gatherings, and temples are core pillars of BAPS devotees' lives, all devotees have embraced the adjustment—quite smoothly, actually. Many have focused their attention and energy inwards, spending more time in devotion or reading religious texts.
"Heavy emphasis has been placed on improving the bonds of family through regular family gatherings. Hindu spiritual wisdom has helped our devotees cope and adjust smoothly to the disruption of life. Devotees miss the mandir environment and now realize how much a mandir was an integral part of their life. They have also realized that the lessons they have learned from going to the mandir have become extremely useful in these difficult times."
With Temples Closed, Hindu Worship Goes Online
Beginning in June, BAPS began a cautious reopening, temple by temple. Devotees could come for darshan of the Deities by appointment only, wearing masks and maintaining social distancing. The main Robbinsville, New Jersey, temple remains closed.
BAPS intends to permanently continue several of the programs developed during the pandemic. These include the daily blessing by Mahant Swami Maharaj and their "BetterLiving" initiatives for the youth on YouTube, Instagram and Apple Podcasts.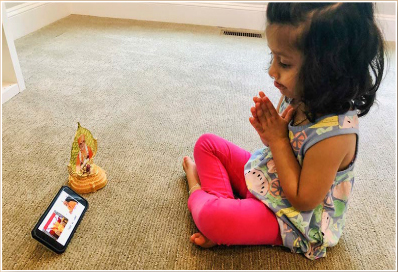 Other spiritual groups, from Sadhu Vaswani to Chinmayananda, have provided a positive boost in these stressful times by offering Gita classes and satsangs via Zoom, Skype and other virtual platforms. A group of Indian women on Long Island who had met every week for Gita classes have simply moved to Zoom to listen to their guru imparting wisdom. On Zoom they can still see each other and chat, though they miss sharing the hot chai and delicious vegetarian food after the weekly discourse!
Unfortunately on Zoom a group bhajan is impossible because of the audio time delay. One person can lead, but others have to follow along by themselves without hearing the others. Video recordings appearing to show a choir singing in unison on multiple small Zoom screens, are not live; they have been mixed by a sound engineer.
Bhairavasundaram Sivachariar, founder and head priest of the Boston Sri Kalikambal Shiva Temple in Massachusetts, closed his temple to the public on March 15th, continuing the daily pujas in private. April's popular nine-day Vasantha Navaratri celebration was broadcast online, as was a 16-day Maha Lakshmi yagna performed for the welfare of the community and the quick recovery of the economy. "The common feedback we received," he writes, "is that these livestreams allowed for many to take their minds off their worries for a few hours, which provided great solace for them during these tough times." The temple reopened in June—to just ten masked and socially distanced devotees at a time.
A total ban on their operations would have presented a serious problem: pujas in the temple must be conducted daily, and if terminated on account of a catastrophe, begun again only after major rituals of purification restore the temple's spiritual powers. They did face shortages of milk, fruits and flowers for worship, but made do as best they could.
Devotees continue to donate to the temple to meet day-to-day expenses, lessening the financial impact. Last year they bought land for a new temple, as they currently operate out of a storefront. Fundraising for that project has been put on hold for now (see: bit.ly/kalikambaltemple). But optimism rules: "As Sivachariyars, it is our duty to serve Lord Shiva through temple worship, which in turn blesses not only those who come to the temple but the community as a whole. Despite these tough times, I am confident that Lord Shiva will guide the world through these challenges."

Pandit Hemant Ramrakhyani, priest at the small Satya Narayan Mandir in Elmhurst, Queens, now has 500 people attending puja online, more than double the temple's actual capacity. Pandit has conducted several funerals using Zoom. In one particularly difficult situation, a young man was not being allowed to attend his father's cremation at a local crematorium. After Hemant intervened with the funeral home, the man was allowed to be present while Pandit chanted the prayers via a video phone call. The bereaved son got some closure, but due to the Covid-19 restrictions he was not allowed to press the button to ignite the funeral pyre. The Satya Narayan Temple has now re-opened in a limited way, with worshipers, masked and observing the two-meter distance, allowed to enter for brief darshan.
Organizations Go Online
Suhag Shukla, executive director of the Hindu American Foundation reports: "As the realization set in that this was indeed a fast-spreading and deadly pandemic that wasn't going to be ending any time soon, our discussions at HAF shifted to asking what we as an advocacy organization could do to meet the needs of our members and the community at large. These discussions were also informed by the challenges we were personally facing—issues with focus, with balancing young children attending virtual school from home and trying to get work done, worries over uncertainty and the safety of the elders in our respective families.

Hindu Hospital Chaplain Tells Her Covid Story
By Shama Mehta, Dearborn, Michigan

In-person, face-to-face interactions with patients, families and staff have always been a key aspect of a chaplain's spiritual care. But the Covid-19 pandemic has shifted the way chaplains can conduct spiritual care in hospitals. Instead of in-person meetings, now a large part of my day is spent being a liaison through phone and video calls between patients and their families. The hardest part is when a patient is nearing the end of life and their family is unable to visit them in person. If some of those family members have also been infected, they are also unable to be with each other. I've spent many hours conducting conference calls with such families.
One particularly difficult situation that I had to deal with revolved around a multi-generational family that all lived in the same house. Three adults of that family were infected with COVID and were hospitalized the same day at different locations. Because they all lived in the same house, the rest of the family, though asymptomatic, were quarantined in the home. The patient who was hospitalized at my location was actively dying, and I was paged to be of support to the family. I went to the patient's ward and made a conference call to the rest of the family, including those who were hospitalized and those at home, so they could say their goodbyes over speakerphone. It was heartbreaking to hear the pain in their voices as the family expressed themselves. After the expiration of the patient at my site, I continued to follow the other two patients upon their request.
The pandemic's impact does not end with the passing away of a patient; it has also changed the way funerals are conducted. One Hindu family who lost a loved one to Covid-19 were only able to see their deceased loved one through a video call, and only a very limited number were allowed to attend the funeral home before cremation. The pandit, contacted through video-call, conducted a modified version of recitation of mantras before the deceased was cremated. The immersion of ashes in water is still pending for some families I know.
In May, I lost my maternal grandfather in India. His death was not Covid-19 related, but the lockdown in India severely impacted the way his antyeshti samskara took place. As a family, we are still waiting for an opportunity to gather, both here and in India, to truly grieve. The inability to hold the traditional rites and rituals around death and dying has resulted in complicated grief situations. The healing and unfolding of the grieving process can only be addressed slowly over time.
The hospital staff has also been experiencing unprecedented levels of stress. The Spiritual Care Department developed printed cards with notes and quotes of encouragement to distribute to staff as a reminder of our presence. During shift changes, we have continued meeting individual staff members in a physically distant setting to allow them to share their stress. We pray, read sacred literature, and often simply listen. I am routinely told by staff that just seeing us making our rounds brings them comfort. The spiritual care team itself also gather periodically to share our emotions, the highs and lows of our work. We all pray together, each in our own way.
I have been at the bedside of patients in intensive care and critical care units, all gowned up, to support patients and staff as best I could. In normal times, spiritual care has depended largely on nonverbal communication—body language, smiles, holding a hand or even sharing hugs during a crisis. But now all that is hidden or prevented by masks, gowns and protocols. The pandemic does not allow any human touch, so the challenge has been to continue finding more words of strength, comfort and encouragement.
On a personal level, I find myself wanting to spend more time listening to devotionals and bhajans. I am thankful to be able to come home to my family, share my emotions with them and be grateful for our time together. We've always worshiped together, but now we are studying the Upanishads as a group. Satsangs have moved online and the pujas are being live streamed from the temples, but the inability to gather socially and worship as a community is affecting the mental health of many, creating issues which may still have to be addressed after the pandemic is over.
Shama Mehta is a Board Certified Chaplain through the Association of Professional Chaplains. She works as a hospital chaplain at Beaumont Health in Dearborn, Michigan. She holds a Master's in Pastoral Ministry (Interfaith Chaplaincy) and is also a Qualified Bilingual Medical Interpreter
"Shifting to online programming wasn't a huge leap for us. From the beginning, HAF has had a distributed workforce, with staff members working from home offices in several different states and time zones. Also, we already offered some online programming, such as our Dharma Ambassadors and Dharma Advocates programs (which are still being offered), and other webinars on topics related to our work. To these we added a seven-part 'Coping with Covid' series with a group of experts.
"Financial support is another matter: well over half of our fund-raising occurs at in-person events, usually an evening of sharing, entertainment and food. We've hosted one online so far and plan another for August."

Vineet Chander, Coordinator for Hindu Life at Princeton University and full-time Hindu chaplain, reports on how his counseling work has been impacted. "As I've experienced it, Hindu college students went through many of the same experiences as their non-Hindu counterparts… the shock, the disappointment, the anxiety/worry, and in some cases the feelings of displacement, isolation, loneliness, loss of community."
He explains that many of these students had relied on the Hindu activities on campus to keep them grounded in their faith, and suddenly they were home and no longer had these anchors unless they came from families with an active religious life. He has set up online activities to replace what was in person before, including one-on-one "virtual coffee dates" and group study programs on Zoom.
One unexpectedly successful program he developed is called "Shanti in Place," a weekly meditation and philosophic discussion. "The idea was to hold a short, guided meditation, and then give a brief talk on principles drawn from Hindu wisdom texts that might help us navigate anxiety in this time. The program has resonated with a lot of folks—students, grad students, staff, faculty, locals, some of whom identified as Hindu and others who didn't."
The international students experienced anxiety, frustration and helplessness—and sometimes anger and outrage—at their uncertain visa situation. The pandemic also brought up tensions around what is home for them—India, which they may want to go back to, but can't because of the shutdown, or America, where their prospects of staying permanently are suddenly less certain.
Vijay Pallod of Texas, a prominent activist in the Hindu community, has found it difficult to stay positive in the current situation, but his Hindu faith is helping him to not worry too much about the future. In normal times, he'd be attending two or three Hindu community meetings every week, but now everything has gone online. His family made the best of celebrating Holi at home. International Yoga Day, usually a big event in Houston, went virtual, with an appearance by Swami Ramdev of India.
The Hindus of Greater Houston have sponsored a Hindu Heritage Youth Camp every summer for the last 35 years. This year the camp was conducted virtually, with its organizers discovering ways to make it an even better camp. The community has also sponsored blood drives and distributed food to the needy.
Houston-area temples, closed in mid-March, opened again in June for about six weeks, but are now shut down again as cases have spiked in Texas. The daily pujas continue, many live-streamed. Hardest hit have been independent priests who would conduct worship at people's homes. Their income has dropped to near zero, and they cannot claim unemployment benefits.
Celebrations Adjust to the Pandemic
Impact on Home and Family
As part of developing this article, HINDUISM TODAY sent out a request for personal testimony on the pandemic's impact. We received a wide range of responses with informative and insightful observations which we share here with our readers.
Nepal-born Dr. Sthaneshwar Timalsina, Professor of Religious Studies at San Diego State University, had to replace his popular weekly satsang with friends at his home with an online version. "It took some time to find alternative ways to stay in touch with our extended family, but slowly we found new means to communicate. Digital platforms became active and colorful, and we confronted our distress with humor. Even though this shift is inherently dissatisfactory, as it lacks the quality of real corporeal presence, it has expanded the scope of our reach. Now our small home satsang gathering has become intercontinental, with members joining from all over the globe."
Easan Katir of Davis, California, a financial planner and a local advocacy director for HAF, finds the pandemic has affected his religious life in a positive manner. He was already teaching religion classes online, but has increased the frequency at his students' request. Before the pandemic, he would see his guru (Bodhinatha Veylanswami) in person only once or twice a year, but now he attends online satsangs with him every Sunday—with 80 participants instead of the 20 that could attend in person. The local Concord Murugan Temple now conducts pujas online. As HAF's local advocacy director, he used to travel extensively to conduct training sessions. "Now, I conduct these classes online. Expenses are reduced dramatically, and people participate from all over the world."
Namrata Ragade of Oregon shares her experience: "As the pandemic spread and we all hunkered down, I soon observed it was easier to 'live in the moment.' I did not have to plan much ahead, because worldly activities had come to a halt. Next, my sense of hurry and need to get things done melted away. This mental freedom allowed me to deepen and enjoy my spiritual life.

"My religious group initiated weekly online Zoom satsangs, which have been a boon and allowed me to connect with other devotees in a way that had previously not been possible—a needed anchor in these uncertain times. The slower pace of life has allowed me to enjoy my walks in nature, cook new dishes, finish books partly read in the past, and explore my creative self, which had been hidden. This has brought forth a deeper joy and contentment, previously not experienced."

Karolina Goswami of Delhi, who has a popular YouTube channel on India, reports the pandemic has brought financial challenges, but also allowed her and her husband to meditate and exercise more, as well as engage in more social work. "I think the pandemic has shown us how fragile we all are. We may eventually have a good scientific solution for this virus, but there is no guarantee more new viruses will not emerge in the future. Therefore, our best defense is our own immune system, and we have learnt how much more we need to take care of it. India's timeless heritage—in terms of yoga, ayurveda and spirituality—comes to the rescue again."
Vatsala Sperling (who often writes for HINDUISM TODAY) and her husband, Ehud, were visiting their Costa Rica farm when the shutdown started in mid-March. They've been stuck there ever since, in a rural area with limited access to stores. But they somehow have a 5G Internet connection, so Ehud can still run his publishing company and she is continuing her homeopathic practice. Their son Mahar is managing their local reforestation program.
The pandemic has altered Vatsala's perspective: "Is life just about work, a safe place to stay during lockdowns, and having enough to eat while the virus roams free? Every day of the four months of sheltering in Costa Rica, I have found that life is also about finding meaning in our existence, in developing ourselves as healthy individuals with relationships that nurture our longings for love, connection and togetherness.
"In order not to get overwhelmed by close proximity, we have created a system of personal boundaries. We do not listen to each other's work conversations, and we respect everyone's need for personal space and solitude, reading time and entertainment. One ground rule is that the 24/7 news channel is never turned on!
"In 'my time' I do yoga and walk ten miles daily on the dirt road in front of our farm, not encountering anyone. This helps me relish the present moment, relate to the sounds of a babbling brook, the breeze and the birds, watch specks of clouds covering the sun and realize that as in the sky, so in life: clouds are transient, sun is permanent. I worship what is permanent and feel grateful for the transient.
"I use my cell phone to hear M.S. Subbalakshmi singing Vishnu Sahasranamam and Suprabhatam. I sing aloud Hanuman Chalisa and many bhajans and shlokas that I had committed to memory while growing up in India. In the absence of a soundscape that connects me to my homeland, I have re-discovered Indian religious chants!
"Rural Costa Rica is 99% Catholic. I am the only Hindu here and have no Hindu communities and temples to go to. In the absence of external affirmations of my faith, I find that religion and spirituality boil down to what I carry within me and the Gods I can meditate on, visualize and sing about."
Aran Veylan of Edmonton, Canada, sent this heartfelt report: "The gently ringing bell pierces the early morning stillness and the soft light of a dipa lamp illumines Ganesha's expressive form. It is a familiar ritual performed in countless Hindu home shrines through the millennia, but in mid-March of 2020 it quite unexpectedly became the only show in town for many devotees as temples worldwide began a Covid-19 lockdown. At our local Maha Ganapathy temple in Edmonton, the priests continued to perform their daily worship, but no one was allowed to attend, and the temple doors were closed.
"Suddenly we were on our own, isolated in our homes and no longer standing shoulder to shoulder with our fellow devotees enjoying light banter and prasadam while basking in the afterglow of the temple puja. Released from the tugs and pulls of worldly engagement, our life became simpler and less ramified within our family bubble, especially when we dialed back the media input to one or two sources once or twice a day. The mind quieted and meditation deepened. The continuity from each morning meditation to the next became more palpable.
"Finally, after about 108 days of isolation, doors creaked open. Passing through, we found ourselves in a "new normal" of temperature checks, questionnaires and mandatory masks. But we have emerged energized and strengthened by our spiritual retreat, enjoying once again the company of devotees and deeply appreciating the presence of Lord Ganesha in His temple on the banks of the Blackmud Creek."

Suhag Shukla of HAF said, "Personally, the biggest change in our lives has been the complete halt of travel. My husband and I travel quite a bit, for both work and leisure. We do enjoy it, but we had definitely underestimated the time that's swallowed up before and after the actual trip.
"With that and even local social engagements out of the picture, it's opened up more time to increase our focus on personal growth with more frequent Gita readings with a group of friends locally; weekly online lectures on Vedanta; going on long walks; eating at home more and trying new, healthy recipes, among other things.
"I've picked up Hindustani classical vocal again and am even trying my hand at some gardening, in spite of a black thumb. We miss the ability to visit friends and family, and worry about not being able to be there physically for our loved ones, should they need us. For now, though, we are deeply fortunate to have our health, a stable home, the virtual camaraderie of friends and family, and work that is deeply fulfilling."
One Delhi's Family Story
Surviving Together
As the virus rages on, we have a heartening story to share about a family who could not be torn apart—even by coronavirus. Dr. Mukul Garg lives in Delhi in a joint family of 17 family members in which all the adult family members became infected—yet all survived, even the elderly grandparents aged 90 and 84. Their story attracted considerable media attention.

Asked how he managed to stay positive under such dire circumstances, Dr. Garg told HINDUISM TODAY: "Staying positive was the only choice we had during that time. As we would say, we could either swim or sink, so we swam. My family members are deeply religious and spiritual. They relied on prayers to keep themselves up. I read a lot about the disease and realized it could be managed well if the symptoms were mild. So we had a blended outlook, religious and scientific, towards the disease. In times like these, living in a joint family was life saving for us. We benefited from each other's positive energy and relied heavily on each other for emotional and psychological support."
Asked how important it is to have faith in these difficult times, Garg had a deep answer: "I believe faith is a very subjective matter. For my parents and grandparents, God Is faith. In difficult times, they surrender themselves to God and believe whatever will happen, it will have a purpose by God.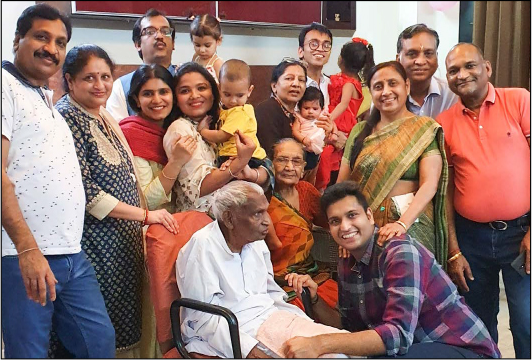 "People of my generation pray, but we also have faith in science and medicine. We believe diseases can be treated, phenomena have scientific basis and coincidences can happen. And I think we have been extremely lucky to have beaten the odds. Plain lucky. Period."
The Food Dimension
The quarantine has another silver lining. People are discovering themselves as well as their families. Many have taken up new activities such as learning a new language or skill via the Internet. Cooking has become a passion with many families, who now have time to plan, experiment and rediscover the pleasures of executing traditional recipes with grandparents and children.
Hotels, motels and restaurants (many of them Indian-owned) have been among the hardest-hit industries, with shuttered doors, laid-off workers, no clients and no income. But restauranteurs soon started finding solutions and feeding people, quickly getting into delivery service so they could stay in business and keep their workers employed. Home deliveries have become a lifesaver for restaurants, employees and customers alike.
Surbhi Sahni, who owns Saar Bar and several other restaurants with her husband, chef Hemant Mathur, transformed the way she works by starting a new home food business called Tagmo, in which she offers a meal plan and delivers homemade Rajastani, Punjabi and Bengali meals, along with desserts. "We love feeding people the foods of India, and our weekly meals reflect how nutritious and diverse Indian food is. Each week we feature a different regional cuisine. We also offer gluten-free and vegetarian food."
They are doing what they can to help in the Covid-19 crisis: "Our community is our lifeline, so we offer a pay-it-forward meal donation to people in need and frontline medical workers. We're also partnering with NYC Department for the Aging to bring nourishing meals to the elderly."
Several restaurateurs are teaming up with nonprofits to feed the needy as well as health care workers. They have sought donations and city alliances to cook meals for food pantries. Chef Chintan Pandya and owner Rony Mazumdar of Adda Indian Canteen and Rahi have linked up with World Central Kitchen and Off Their Plate to provide hot Indian meals to hundreds of hungry people.
Vikas Khanna, the noted Michelin chef and host of MasterChef, has been working to feed millions in India during the pandemic. Khanna has been a chef at several New York restaurants, including Junoon, and is currently the chef of Kinara in Dubai. Quarantined in New York during the pandemic, he marshaled his generous spirit, his celebrity and his cell phone to start the Feed India campaign, connecting his food industry contacts with people in old age homes, hospitals and slums. In its first 100 days, the campaign delivered 20 million meals and dry rations. Using the power of social media, Khanna has linked thousands of fans and supporters to those struggling in India's small towns.
Due to high unemployment, food insecurity is one of the biggest challenges of the pandemic. M.R. Rangaswami, founder and chairman of the board of Indiaspora, a US-based nonprofit, wanted to do something immediately that would be high impact and scalable, and which would help both America and India. Indiaspora launched Chalo-Give for Covid-19, which has raised over a million dollars to feed the hungry. Donations are allocated to two major organizations, Feeding America and Goonj.
Conclusion
We've updated our pandemic statistics as we go to press at the beginning of August, but we cannot know what will happen next. We know the Spanish Flu abated after its first wave, but it returned again and again, striking down millions. Hopefully Covid-19 will not be so brutal, and we can all soon return to a more normal life, strengthened by insights gained during lockdown on the true meaning and purpose of life.
About the Author
Lavina Melwani is a New York-based writer for several international publications and regularly blogs at:
Covid-19: The Nepal Experience
By Thomas Kelly, Nepal (Photos also by Thomas Kelly)

Until late may, nepal was an outlier in south asia and the world for its low number and slow rise of confirmed Covid-19 cases. The country went into relatively strict lockdown on March 24, and cases remained under 1,000 up until May 28. But since then, cases have increased over tenfold as tens of thousands of migrant workers began returning home from India, which eased its internal travel restrictions on June 1, and as Nepal began a phased reopening on June 15. Nepal's case tally is over 12,000 today, although the death rate remains anomalously low—fewer than forty people have died. This may be partly explained by the fact that, so far, most of the infected have been youth. As I write, Nepal, with its 50% recovery rate and 0.2% fatality rate, is a sharp contrast to the United States, whose 3,600,000 confirmed cases and 138,000 deaths produce a fatality rate of 4.1% and a recovery rate of 44.4%.
Why are Nepal's numbers of Covid-19 so few? Many reasons have been offered: its tropical climate, protection offered by the tuberculosis vaccine Bacillus Calmette-Guérin (BCG), exposure to malaria, and a weaker strain of the virus in the Indian subcontinent. Fifteen global health and infectious disease experts, researchers and epidemiologists all warn that there is little scientific evidence to back most of these claims. "There is currently no data to suggest better immunity among South Asian populations, no reason to believe the potentially small benefit of hot, humid weather will even be visible against a backdrop of a nearly 100%-susceptible population," said Jessie Abbate, an infectious disease and epidemiology research scientist with the French Laboratory for Translational Research on HIV and Infectious Diseases. "There is no evidence of any functional mutations resulting in different 'strains' of the virus anywhere (let alone strains with different rates of virulence), and a recent study has shown no correlation between BCG vaccination and Covid-19 susceptibility." Demographics with large youth populations, however, is suspected of helping curb the virus's impact in the region.
According to a recent paper in The Lancet, the world's richest countries accounted for more than 90% of all reported Covid-19 deaths by early May. Demographic data from the Centers for Disease Control and Prevention reveal that age is one of the biggest risk factors for the disease. In the U.S., patients 65 years and older have accounted for 80% of deaths from Covid-19. The Indian subcontinent, meanwhile, has a relatively young population, with a median age of 27.6 years. This, experts say, is one of the more reasonable explanations for the low number of Covid-19 infections and fatalities in South Asia.
The lockdown, of course, hit the most marginalized the hardest, and soon the borders of Nepal were surging with migrant workers in India fleeing home with no income, no place to stay and no transport home after India's five-hour warning of lockdown on March 25th. Unfortunately Nepal had locked its borders—to its own people—the day before.
For many, the lockdown in Asia was a call for retreat, an ideal time to recite japa or mantra and honor the family Deity of the home. During lockdown no one was allowed out to offer rituals at local temples. Early morning and evening, Kathmandu residents would rush for essential food supplies and a few would stop at temples for prayer. The Nepal government gave permission for only 25 pilgrims at a time to enter the holy Pashupatinath Temple, and they must honor social distancing. In a display of kindness, guards, staff and volunteers are making sure cows, monkeys and birds on the temple grounds don't starve during the country's lockdown, which has stopped the crowds that used to daily line up to feed the animals. "We are trying to make sure that these animals are not starving and they are taken care of," said Pradeep Dhakal, an official of the Pashupatinath Development Trust, which controls the temple and surrounding areas.
Ritual gatherings of Hindus have suffered immensely during lockdown. The first heavily affected Hindu festival was the spring festival of Holi, celebrated with caution even before governments started enforcing lockdowns. In Nepal, Bisket Jatra in Bhaktapur was cancelled and Nepalis were locked in their homes for Chait Desain and Nepali New Year. Even the Indra Jatra festival in September looks uncertain.
Key festivals have persisted, with appropriate social distancing. On April 10th, amidst the nationwide lockdown, the Mahasana (bathing ceremony) of Rato Machhindranth and the related Kumari Puja were completed quietly in Nepal's city of Patan. The tradition of pulling the chariot of Machhindranath was begun in 879 ce by King Narendra Dev and is believed to bring good health and good luck. That is why it was considered essential to conduct this festival even within a pandemic—as many here believed the pandemic was caused by people's sins.
---
By Hari Bansh Jha, Nepal
Before the lockdown started, there was a sense of panic among the people here. They feared consumer items would disappear from the market. Therefore, there was a buying spree for essential commodities. However, there was no such shortage of essential commodities in the local market, though the public transport services remained closed during the lockdown. Except for the shops selling essential food items, all other shops were closed. Movement of people was restricted. The Indo-Nepal border was sealed, and the cross-border movement of people between the two countries came to a standstill.
As compared to several other places, there have been fewer cases of Covid-19 in Janakpur, where I live in Nepal. For this, the credit goes not so much to the government, but to the Hindu lifestyle. We live mostly in the open space and they avoid shaking hands with each other. Such a practice is itself a form of social distancing.
The Hindu system of cooking food is another factor that largely checked the spread of Covid-19. Hindus mostly eat well-cooked food rather than raw food. Also, the different spices that we use in cooking have medicinal values. Such factors largely saved us from the Covid-19 disease, in my opinion.
I, along with my family, remain largely confined to our home during the entire lockdown period. Rarely, I go to my farm during the morning hours, which previously had been my daily practice. But now I am enjoying the quiet. I find myself more relaxed now than ever before in my life. The pollution is much reduced, as there are fewer transportation services on the roads. Because of the improvement in environment, even Mount Everest, the highest peak of the Himalayas, can be seen from several areas of Nepal's Terai region and even from the adjacent Indian territory, which was unthinkable before. New birds have been observed recently, and for some reason, the amount of rainfall has increased. All such developments in nature are soothing to the heart.
During the lockdown period, I have concentrated on reading religious texts like the Devi Bhagwant Mahapurana, as well as the Shiva Mahapurana. Also, I am more regular in meditation. Even though people have been suffering a lot from Covid-19, it has allowed self-realization and spiritual progress to grow faster. Such a time for inner striving comes after centuries, and the people in our generation are lucky to have it.