Thailand
Ganesha Is Huge Here
The world's largest ganesha statues are not in india, but in Thailand! Here, the elephant-headed God is called Phra Phikanet, worshiped as the Deity of fortune and success, and the remover of obstacles. While Ganesha is found all over the country, three extra-large statues are picturesquely situated in Chachoeng-sao province. You can visit all three in a day trip from Bangkok. A pink Ganesha at Wat Phrong Akat, 160 feet high by 62 feet wide, sits next to green fields and a beautiful golden Buddhist temple. A standing bronze statue at Khlong Khuean Ganesh International Park is 98 feet tall, and a reclining Ganesha at Wat Saman Rattanaram is 52 feet tall and 72 feet long.
---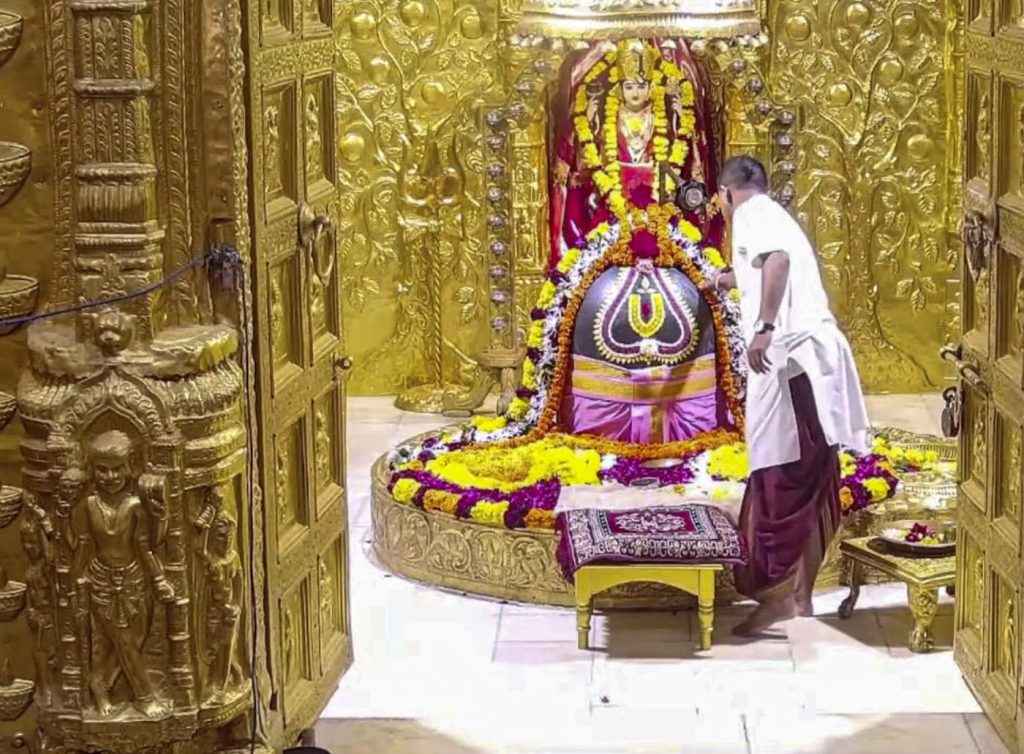 India
Temple Live Darshans Online
In april 2022 the temple360 website was inaugurated by Union Culture Minister, Meenakshi Lekhi. The goal is to direct visitors to live video feeds in temples all around India, primarily the 12 Jyotirlingas and Char Dham. Ms. Lekhi explained that the recent global lockdowns precipitated this need. So far, 29 temples are included, nearly all of them in North India. Each page has a short description of the temple and links to its livestream and donation pages. Most links go to the websites of the temples themselves, while some streams are hosted by the temple360 site itself. Some of the feeds only show the temple facade, such as at Kedarnath in the Himalayas, where you see devotees milling outside. See: temple360.in
---
Malaysia
The Tale of Kellie's Castle and Mariamman Temple
When william kellie-Smith traveled to Malaysia from Scotland in 1890 at age 20 to work as a engineer, he didn't imagine expanding a Hindu temple someday. With substantial profits from a business venture clearing 9,000 hectares of forests in Batu Gajah, Perak, he bought 1,000 acres of jungle land in Kinta district, where he planted rubber trees and mined tin. With fortune made, he married his Scottish sweeheart, Agnes, bringing her to Malaysia in 1903.
He made plans to build a huge castle on his estate with Scottish, Moorish and Tamil Indian architecture, and brought 70 craftsmen from Chennai, India. In an April 2022 interview with The Star, Sri Maha Mariamman Devotees Association president P. Velmurugan said Kellie-Smith had noticed people praying at a small shrine at his Kellas Estate when he passed by daily. When asked what they were doing, they said they were praying to Goddess Mariamman (Amma), as She was known to grant wishes. He then prayed for a child and his prayers were answered.
"Overjoyed, and as a show of gratitude to the Goddess, in 1907 Kellie-Smith instructed the craftsmen to stop work at the castle. He ordered them to start building a temple instead, a promise he had made to Amma," said Velmurugan. Kellie-Smith died unexpectedly of pneumonia, and the castle was never finished; it is now a tourist attraction. A new book in four languages called Forgotten Tales and Existing Facts pays tribute to Kellie-Smith's contribution. "We want everyone to read the actual history of this tourist landmark (castle) and temple," said Velmurugan.
---
Conversion
Tamil Nadu School Students Targeted
Thirteen-year-old rajan (name changed), a student of Class 8 in a school in Tamil Nadu's Tirunelveli city, recalls how he was told during an extra class that if he needs good marks and wishes to perform academically better than his peers, he must pray to no other God but Jesus. Not doing so will bring "failure in life and deformities to his body," Rajan told CNN-News18 in early 2022. In April, a video of a Class 6 student from a school in Kanyakumari city was widely shared on social media. She was seen complaining to the administration of her government school about how one of her teachers was telling her and other classmates to read a Bible, and that all other Deities are Satans. In January, 17-year-old Lavanya, a Class 12 student in Thanjavur city, ended her life due to alleged torture by two nuns of her school. The girl reportedly said in her dying declaration that they were forcing her to turn to Christianity.
In the wake of these and other recent headline-grabbing incidents of unethical religious conversions reported in schools, the special investigations team of News18 traveled extensively across south Tamil Nadu, visiting various government and private-run schools. Recorded testimonies of students, parents, activists and educationists claimed that conversion in this part of the state is rampant. They also raise questions on how the lack of action on the state administration's part has been fueling such practices. News18 found that similar conversion activity is also present in tuition centers. See their full report:
bit.lyschool-conversions
---
Activism
One Swami's Mission to Improve
Education During British Times
Prior to british occupation, education in India was decentralized, localized and, through the network of rural communities, democratic. It was also cost-effective. The British government, instead of upgrading this system, introduced a more centrally controlled, capital-intensive education. This created disparities in the literacy of communities, which was blamed on Hindu society. Yet, the Hindus pursued democratized education and upgrading of their traditional institutions, even in the colonial settings.
An article at swarajyamag.com tells how Siva Shanmuga Meijnana Sivacharya Swamigal (1873-1942) countered missionary propaganda and bureaucratic harassment by providing holistic, dharmic education to children in Tamil Nadu. Affectionately known as Jnaniyar Swamigal, he was concerned about the spread of cultural and spiritual illiteracy that came with the British mode of education. He also painfully saw how social stagnation was creating its own malaise in society. In order to change that, he went on extensive tours giving wonderful discourses, showing the richness of Tamil language and Saiva spirituality. At the same time, he took special care to create Saiva-Vaishnava harmony. For the full tale visit:
---
Cambodia
Preah Vihear Temple Assisted by China
Preah vihear is a hindu temple situated atop a 1,720-foot cliff in the Dangrek Mountains of Cambodia, about 248 miles north of capital Phnom Penh and 124 miles northwest of the famed Angkor Wat complex. The 11th-century temple (photo left) was included in UNESCO's World Heritage List in July 2008.
The Khmer Times reported in April 2022 that Kong Puthikar, director-general of the National Authority for Preah Vihear, said China is the co-chair (with India) of the International Coordinating Committee for the Safeguarding and the Development of Preah Vihear. "In the role as the co-chair, China pledged to conserve and restore Gopura I, Gopura II and Gopura III [three of five]," he said. A gopura is a temple entrance gateway. China has already sent its technical team to study and assess the risks and structure of the three gopuras. However, the actual work is not yet started, due to the impact of global lockdowns.
Preah Vihear is one of Cambodia's three sites registered in the World Heritage List. The other two are the Angkor Archaeological Park in northwestern Siem Reap Province and the Sambor Prei Kuk Archaeological Site in central Kampong Thom Province. Kong Vibol, director of the Preah Vihear Provincial Tourism Department, is confident that Preah Vihear, once complete, will be a popular destination for Chinese tourists along with Angkor Wat.
---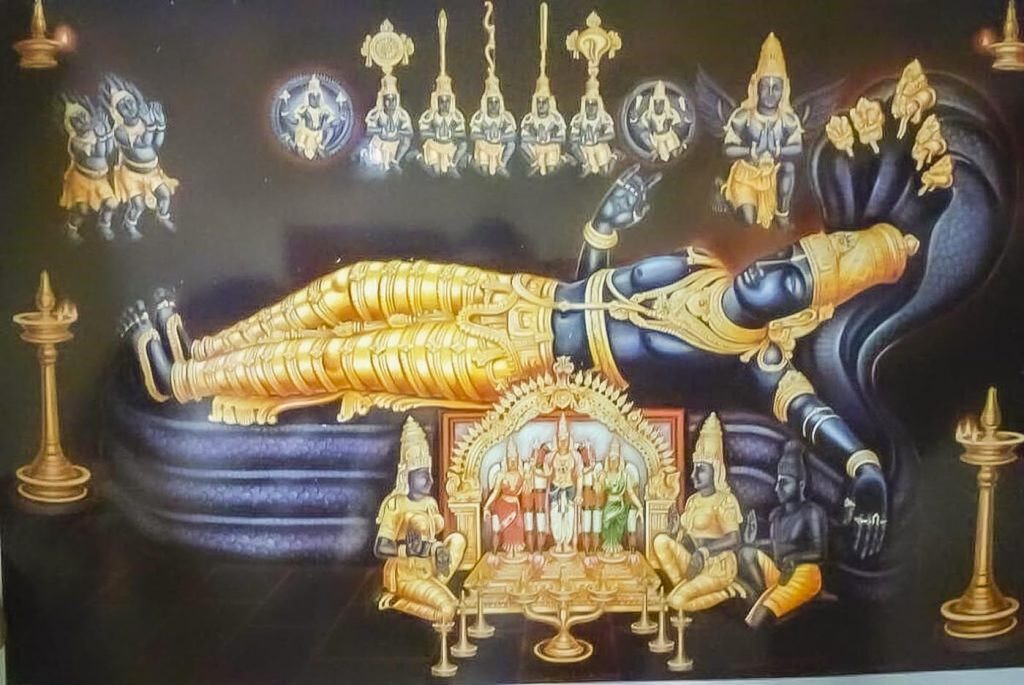 Gods
Deity Made of 16,008 Fossils
The adikeshava perumal Temple in Thiruvattar, Tamil Nadu, India, is being readied for kumbhabhishekam (consecration) after 400 years. A May 2022 report in The Hindu shares how the statue of Adikeshava is unique not just because it is the longest—22 feet— among the Deities of the 108 Divya Desams (Vaishnava holy sites), but it is also the longest Kadusarkarai yogam Deity in India. It was created by covering 16,008 salagramas (a fossil ammonite that is representative of Vishnu) with kadusarkarai, a paste made of over 60 medicinal and mineral ingredients, including jackfruit gum, sandalwood, triphala fruits and bilva fruit.
Lauded in song by Vaishnavite minstrel Nammalwar, Adikeshava was the principal Deity of the Travancore Royal Family before they relocated from Padmanabhapuram in Tamil Nadu to Thiruvananthapuram in Kerala.
Damaged at many places, the Deity required refurbishing. Restoring this type of Deity in a traditional manner is a lengthy, complex and time-consuming process. There are not many experts who know the method of doing lebanam (the process of applying the paste) and the ingredients that go into making it. S. Subramaniaru is the priest of the Kalpakamangalam Madam, which is vested with the right of conducting and overseeing rituals at many temples. He says, "We have decided to work from the Mathur Madam, because we found an old wooden box there containing the ingredients needed for making the paste. It is evident it has been done in the past." Read more details at bit.ly/adikeshava.

---
Festivals
65 Saivite Saints Paraded During Annual Celebration
Arubathu moovar is an annual procession of the 63 Nayanmars plus Tiruvalluvar and Manikkavasagar, as part of the Panguni Uthiram chariot festival in Kapaleeshwarar Siva Temple, Chennai, India. The saints are the leading figures and poets of the South Indian Saiva Siddhanta sect. Casualwalker.com documented the parade in April, 2022, noting that all the streets around the temple were filled with cheerful and energetic devotees.
The procession is headed by Goddess Kolavizhi Amman, followed by Sri Vinayaka and the four Samayacharyas—Appar, Sundarar, Thirugnana Sambandar and Manikkavasagar. The bronze statues of the saints are paraded in a palanquin lavishly decorated with ornaments and flowers. The Samayacharyas are carried in a separate palanquin. Statues of Kapaleeshwarar, Karpagambal and other Deities are also decorated with colorful and fragrant flowers and taken in procession around four Mada Veedhis (streets) in and around the Kapaleeshwarar Temple. See vivid photos at bit.ly/arubathu.
---
Briefly
South African floods heavily damaged a Hindu temple in Chatsworth in April 2022 after the Umhlatuzana River burst its banks. The Vishnu temple had stood by the river for 70 years. It also suffered major damage in the 2017 floods.
At least 16 people died in Kashmir in July 2022, with rescuers searching for dozens more missing, after flash floods swept away hundreds of tents near a popular Hindu pilgrimage site. Around 10,000 people were camped near the remote Amarnath temple, nestled in a Himalayan mountain cave, when a sudden cloudburst triggered a deluge. The Indian army deployed two infantry battalions and special forces units to help with the search.
Australia's victoria state will soon become the first to ban public display of the Hakenkreuz (Nazi swastika). The Nazi Symbol Prohibition Bill also recognizes the significance of the swastika for Buddhist, Hindu, Jain and other faith communities as an ancient and sacred symbol of peace and good fortune. The bill does not prohibit the display of the swastika in such religious and cultural contexts.